A new decade. A new era of craft beer. And the beer world has never looked so good. Last year we announced that 'beer cans are the new record sleeve', and the past 12 months have seen beer's hit parade packed with show-stopping chart toppers, underground gems and critically acclaimed debuts.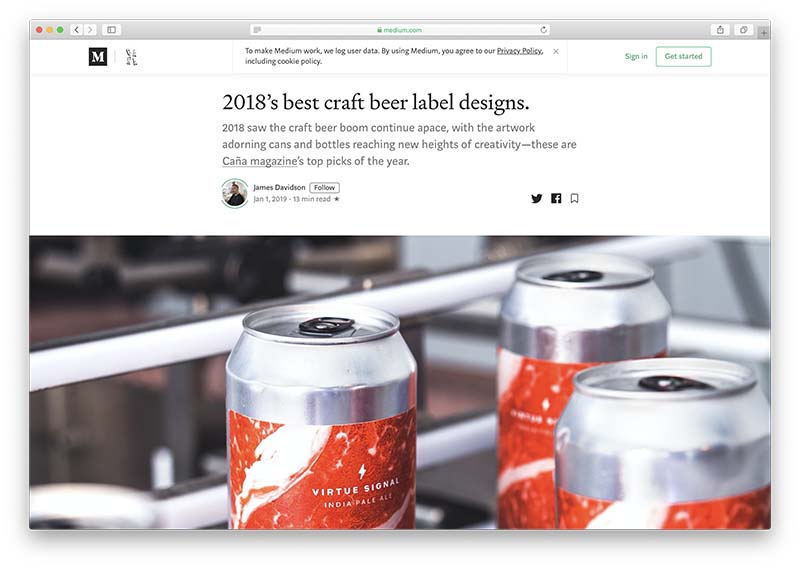 Last year's Medium-based roundup of the best beer label design proved to be the impetus we needed to take the Caña concept online whilst we cook up our print edition plans, ergo it was high time to honour 2019's mightiest visual odes to the beers they embrace. Welcoming new entries alongside some golden oldies, this collection of the best beer art isn't a Grammy style best-of-the-best; rather a celebration of those who brought aesthetic joy to our drinking in 2019.
Many of the breweries and label designers featured in the last edition have continued marvelling us with their game-changing artwork, but have been left out as victims of their own success; many of their house styles are so powerful that it's nigh-on-impossible to choose a stand-out design, others have adopted a bold graphical paradigm that sees each label a variation on a theme. And besides, we needed room to cram in all the design excellence that was fresh for our radar in 2019.
Illustration to typography, chaos to minimalism, photography to street art and creative concepts that extend beyond the can, here's our rundown of last year's very best in craft beer label design.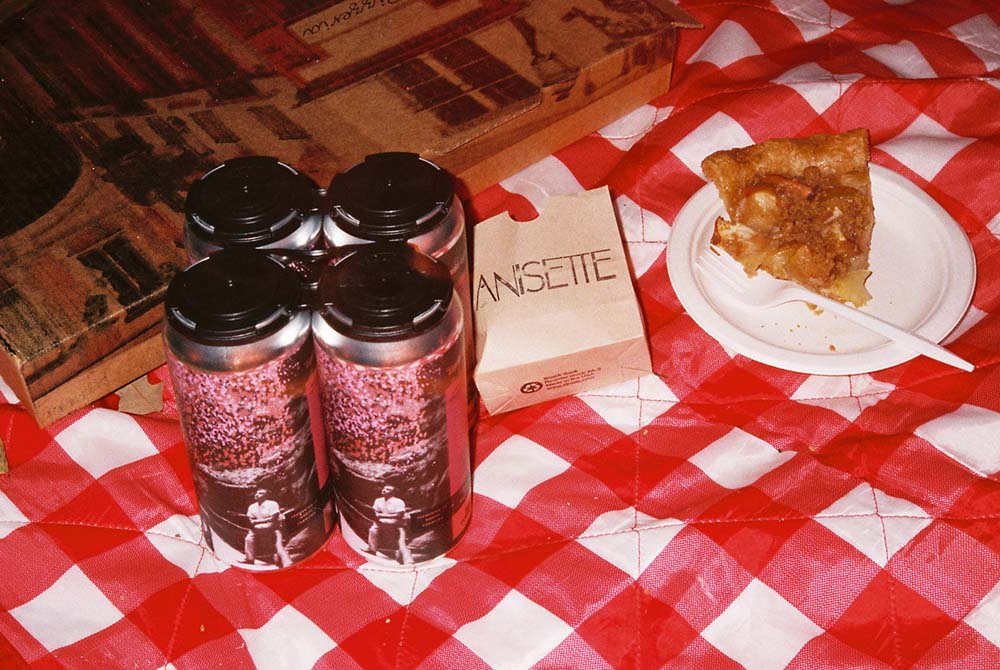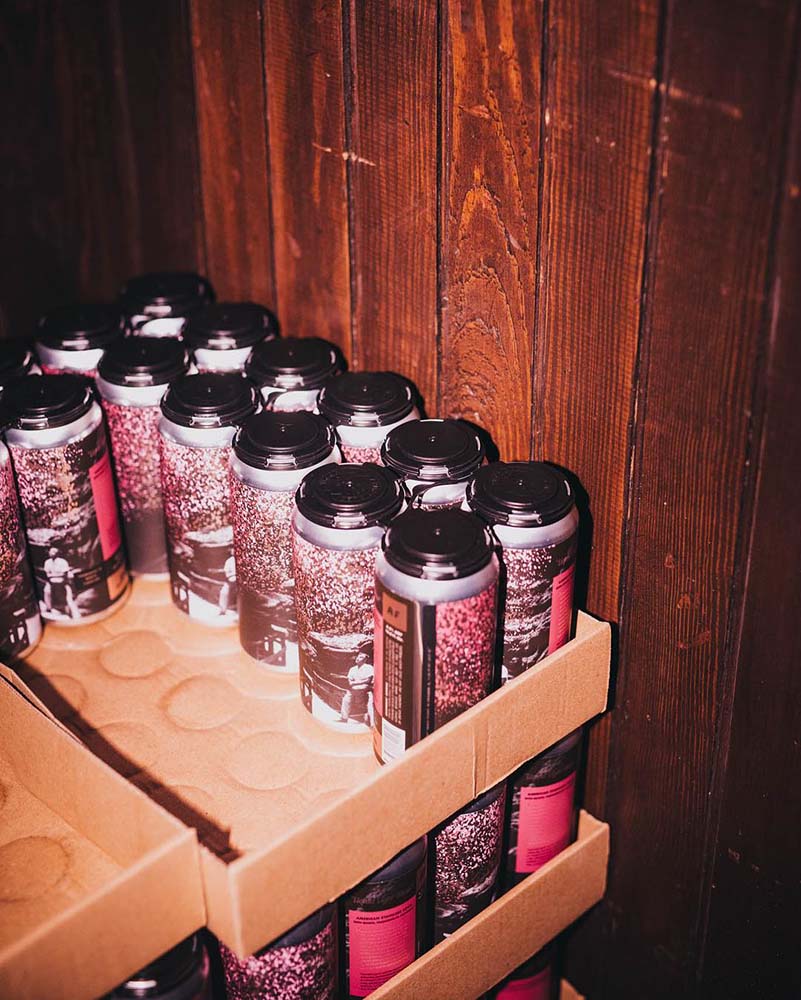 Ancillary Fermentation, Liquid Light Show.
For Ancillary Fermentation, 2019 was about more than simply the artwork that adorned their beers. Their experiential pop-up taprooms delivered new levels of experience to the world of craft beer; and 'flavour tripping' on synsepalum dulcificum in an old historic chapel was the exemplar of their singular modus operandi. The artwork of this fruited sour deserves its place in the upper echelons of beer design, but the avant garde experimentalism that came with its launch truly set this Raleigh craft brewer apart.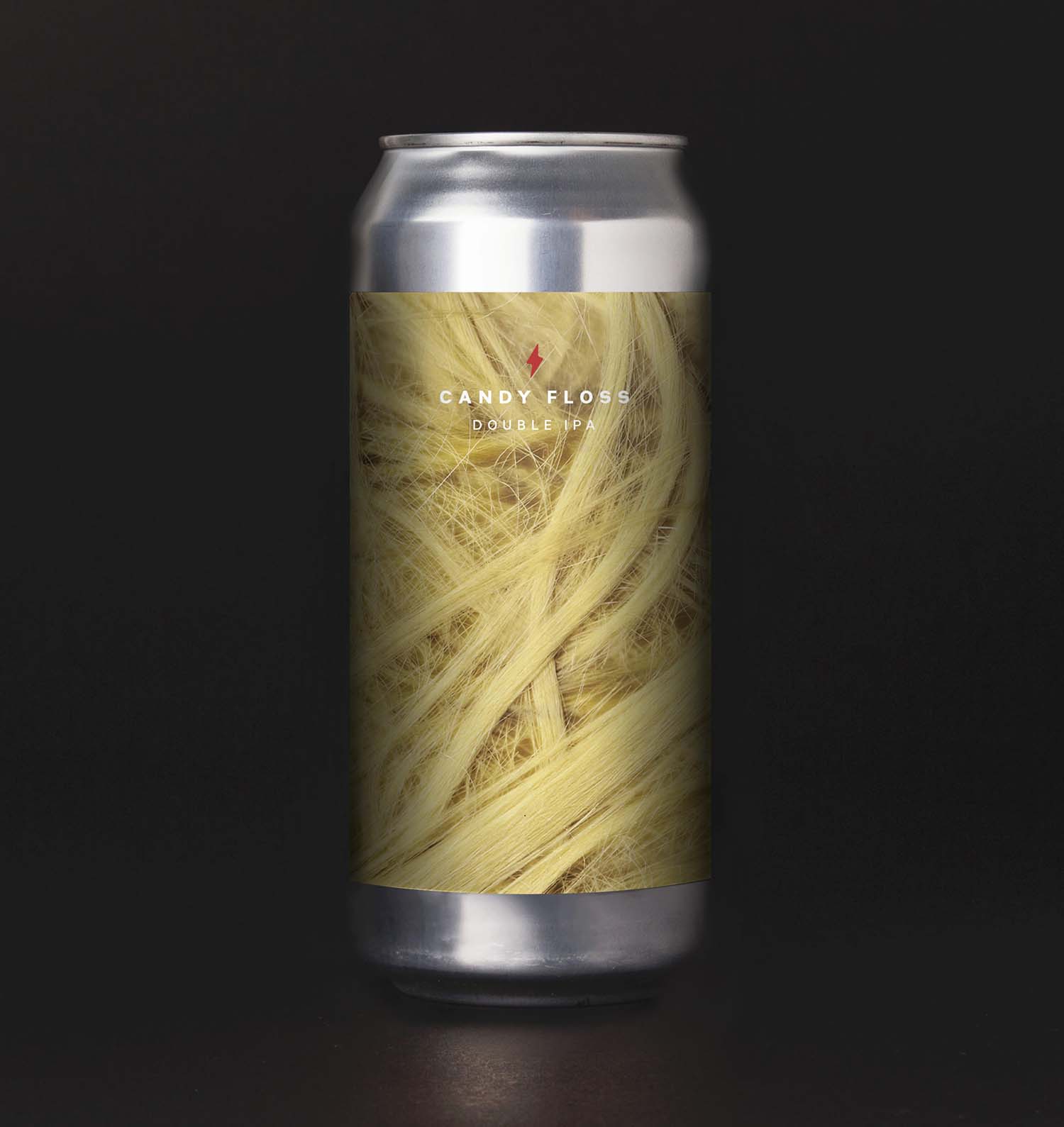 Garage Beer Co., Candy Floss.
This edition of best beer art has intentionally steered away from designs with a similar approach to those witnessed in our 2018 list, but Acreb Studio's continued excellence for Barcelona's Garage Beer could not be ignored. Whilst Sevkan Ariburnu turned out many an award-worthy design throughout 2019, as is the case with the previous year, we can't resist it when she goes big. With a similar aesthetic to 2018's meaty Virtue Signal, the artwork for this juicy DIPA stars an unconventional wrap-around close-up; this time proving that blondes do have more fun.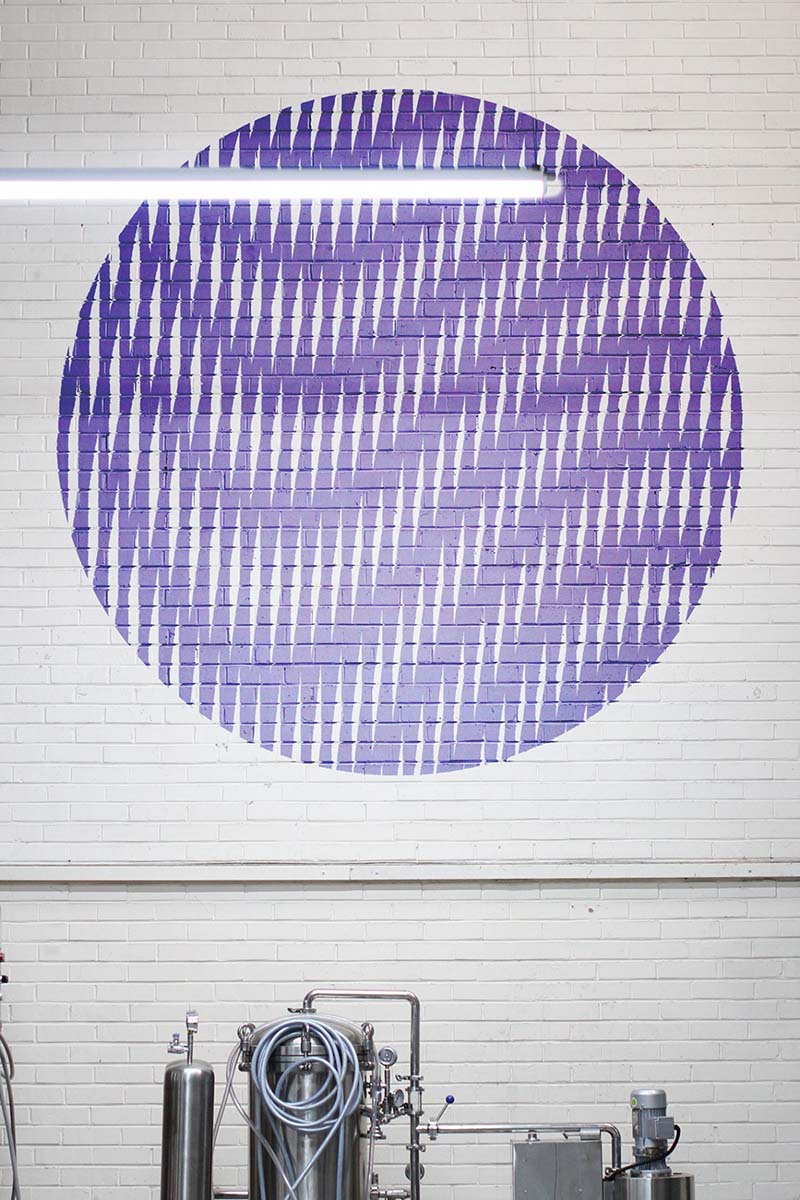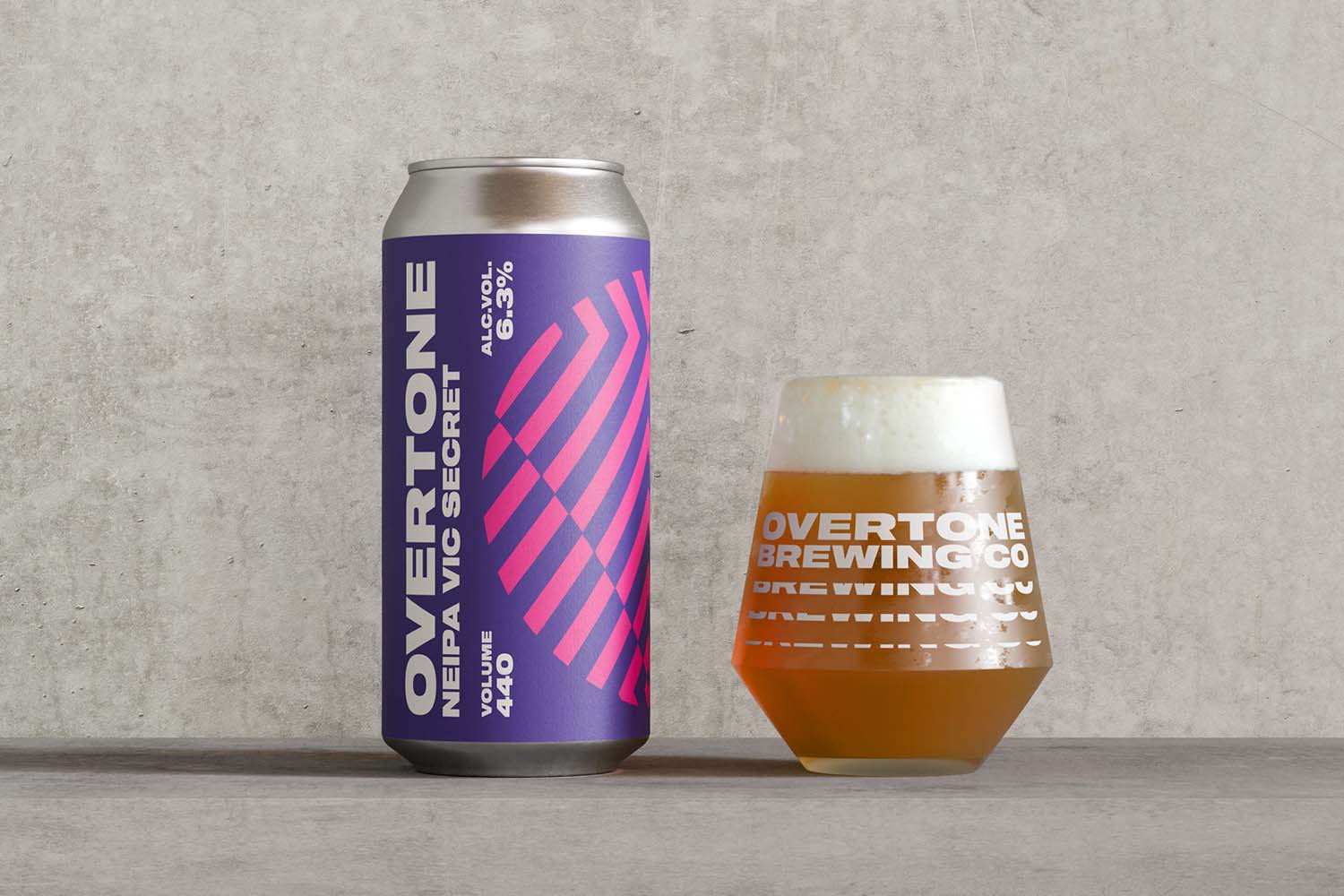 Overtone, NEIPA Vic Secret.
A new Glasgow brewery offered a carte blanche for fellow Glaswegians, Thirst Craft, whose comprehensive branding job for Overtone Brewing is a thing of real beauty. Inspired by the brewery owner's love of techno, Overtone's O has been expanded into 12″-style motif that harks to iconic record labels and pulsating frequencies. "With bottle shop shelves looking increasingly like an eclectic art gallery," revealed the designers, "we needed to ensure that Overtone made an immediate and sustainable impact without sacrificing creativity."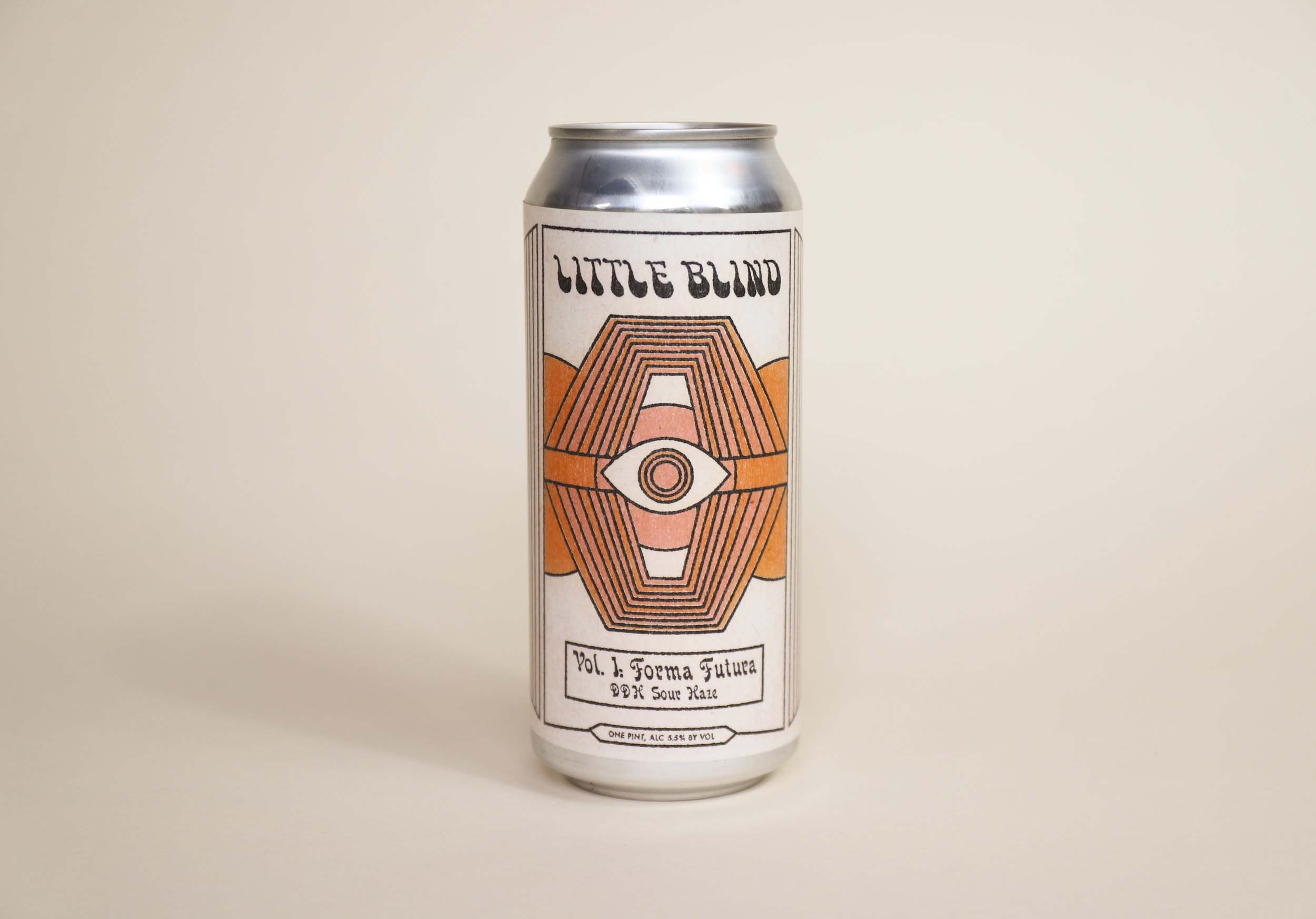 Little Blind, VOL I: Forma Futura.
Our hearts skipped a beat when we discovered this small-batch nomadic Brooklyn beer brand on a recent trip to New York. Taking a romantic stroll down nostalgia boulevard, Daren Thomas Magee's joyous artwork for Little Blind is a psych-inflected little slice of wonder; each beer release as beautiful as the sleeve of a dusty old '70s record you've just hit crate-digging gold with.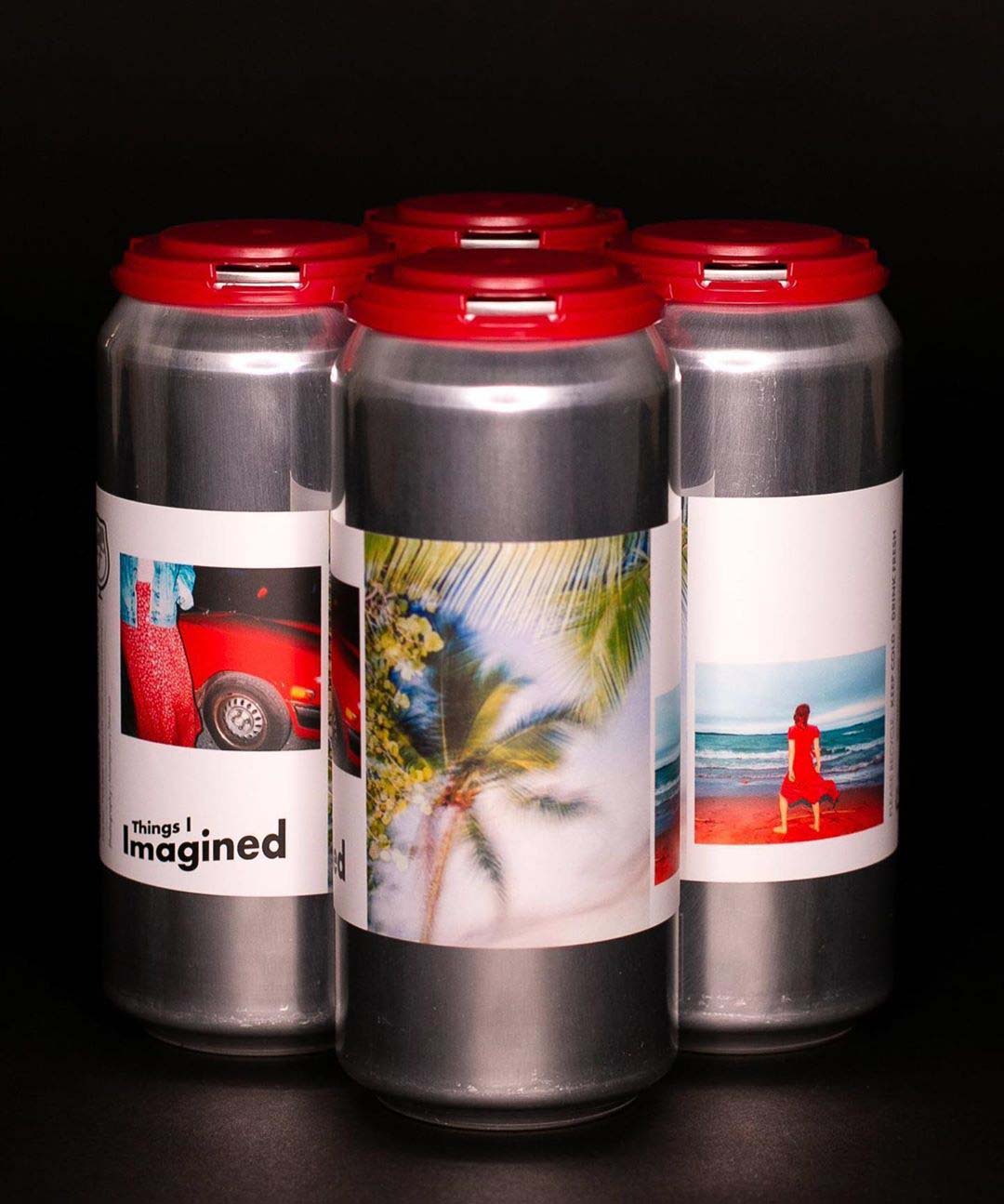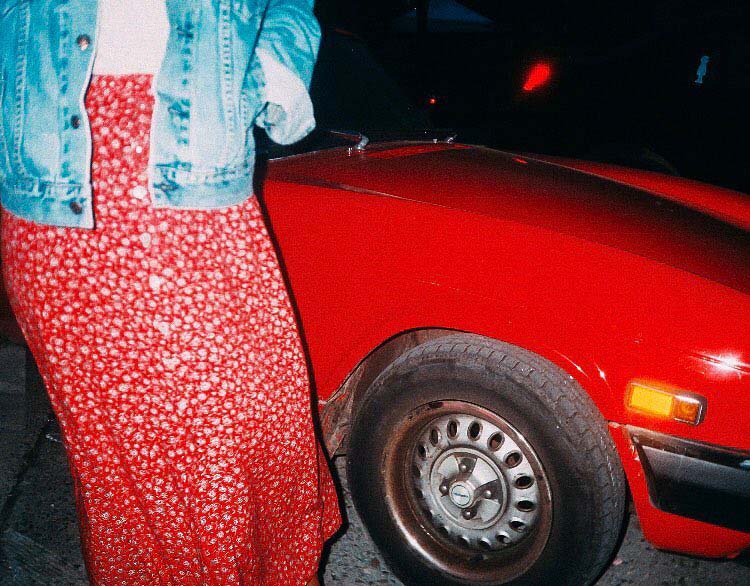 Foam Brewers, Things I Imagined.
A pleasing trend that took flight during 2019 was that of photography increasingly finding its way to beer labels, and Foam's brilliant collaboration with Vermont photographer Montgomery Sheridan was one of the very best. "Exploring photography as a medium for can art has been on our minds for some time," say the Burlington brewery, "as it's one of our favorite (and most useful) art forms. When we decided to make it happen, we thought of Montgomery off the bat. It's been a long time coming that we collaborated with her on a project like this, as she's played such a vital role in creating imagery that helps represent who we are over the past year." The IPA release coincided with an exhibition of Sheridan's work at the brewery.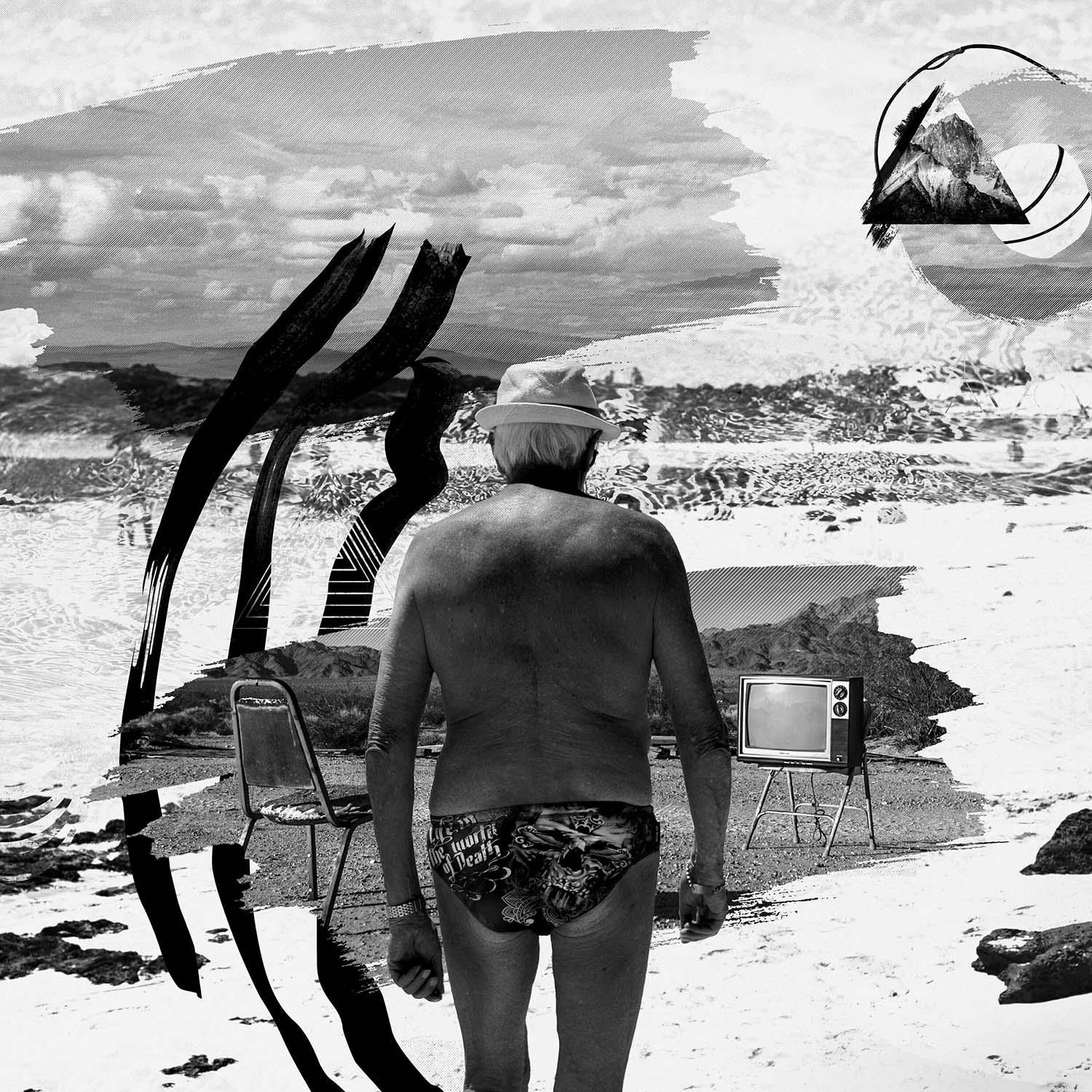 Lost & Grounded + Sam Davis.
Can craft beer art reach a pinnacle as momentous as being displayed at Tate Modern? For its second season, the BEER+ART tap takeover brought together eight breweries and eight artists; taking beer art beyond its conventional boundaries with brewers pairing the art talent with one-off brews. All eight are more than worth of your attention, but our pick was Bristol designer Sam Davis's photo collage piece for which fellow Bristolians, Lost and Grounded, produced a Vienna-style lager.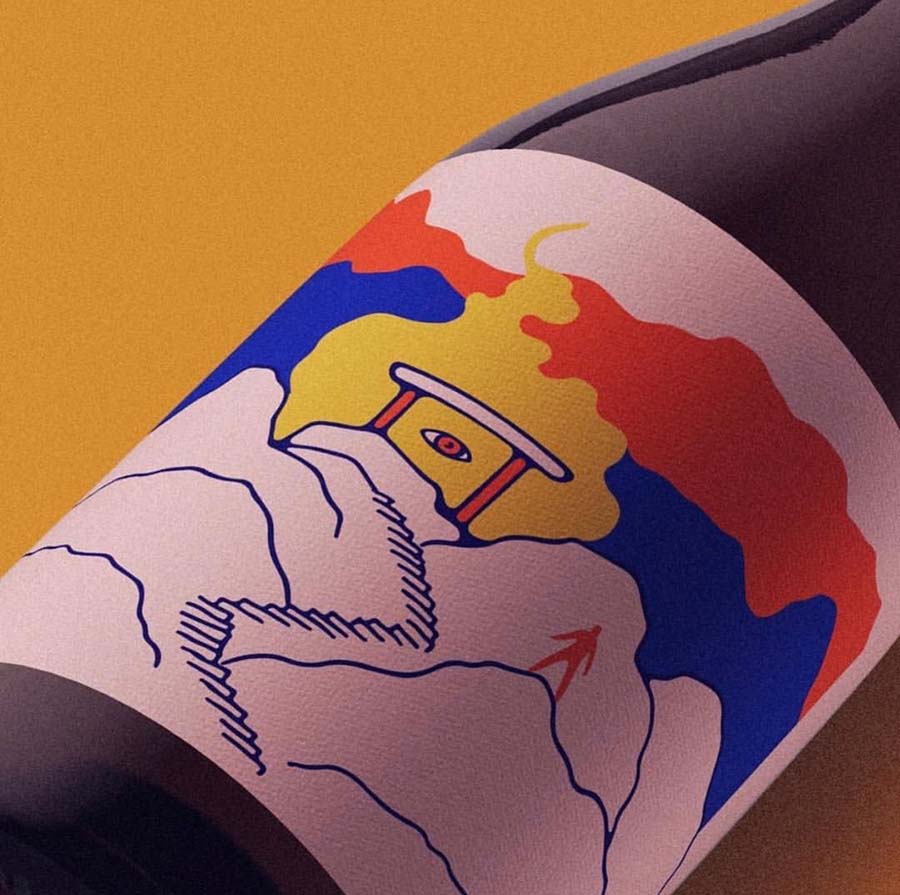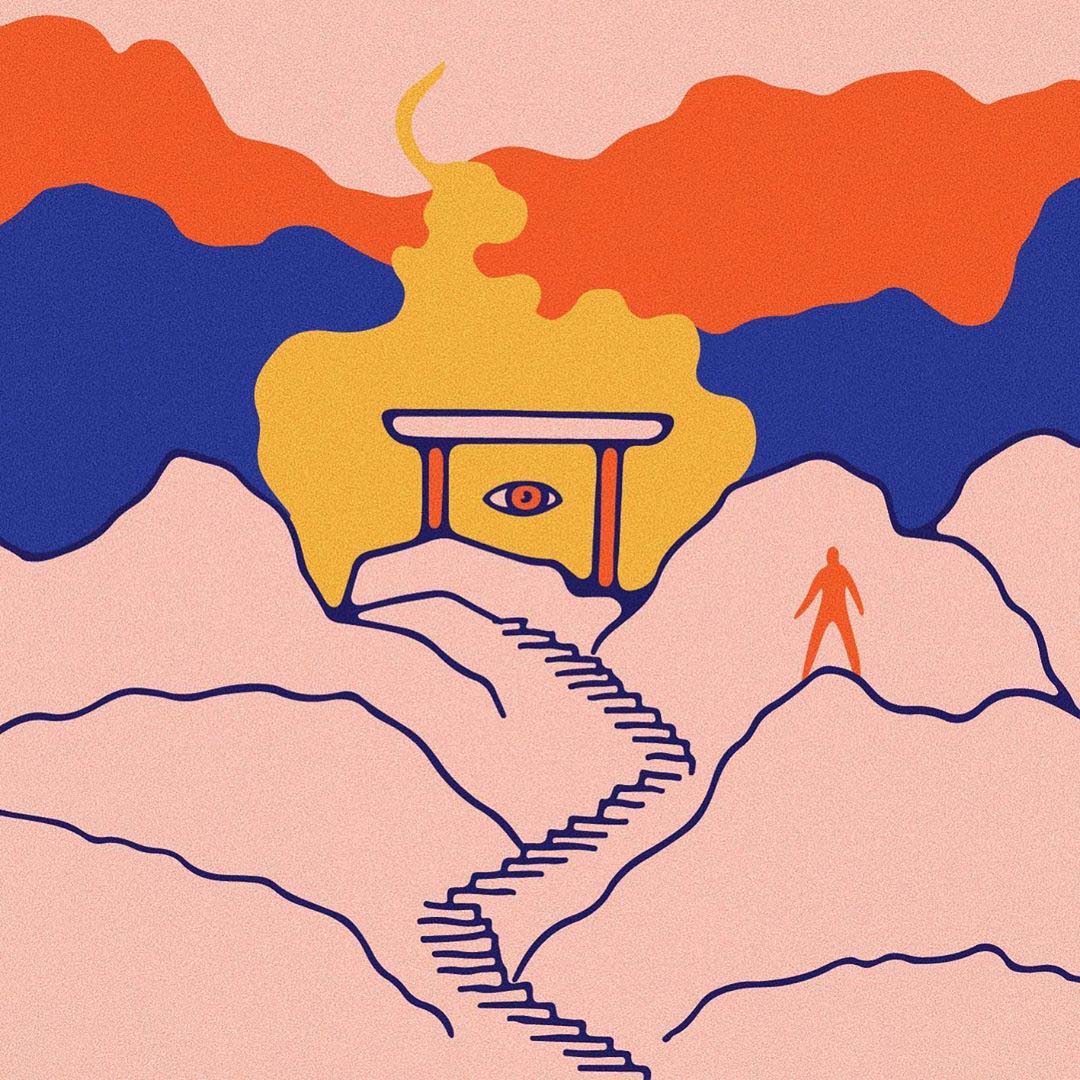 Archetype Brewing , The Sage.
Asheville's Archetype Brewing bottled their Belgian Strong Ale, The Sage, for the first time in 2019, and it arrived with a beautiful piece of illustration from Orlando-based artist Sean Jones. The beer's name taken from a spiritual archetype of wisdom, knowledge and power, Jones's whimsical artwork evokes a journey of discovery.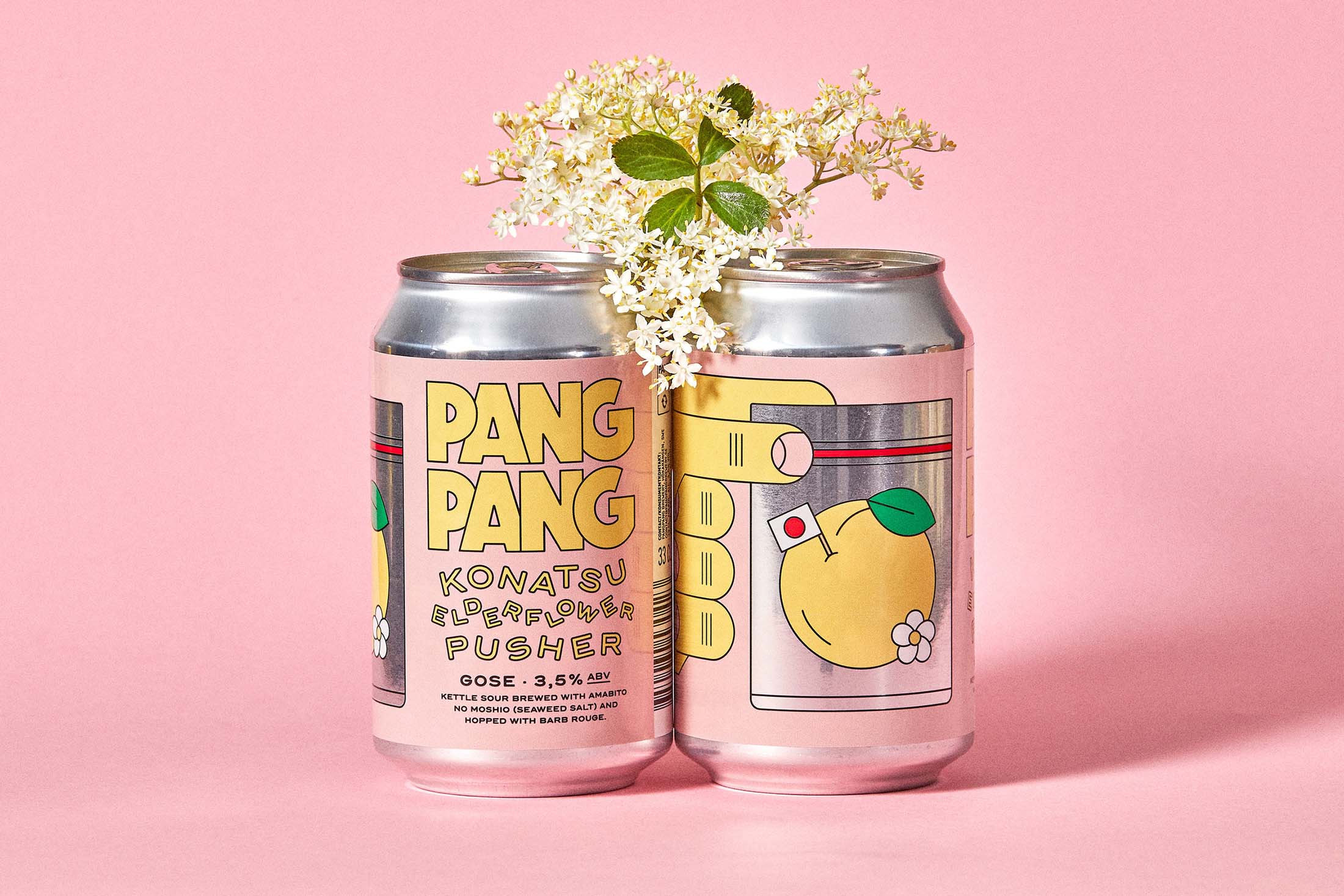 PangPang Brewery, Konatsu Elderflower Pusher.
Stockholm microbrewery, PangPang, have been dealing in delicious design since their inception in 2014, and their eye-popping Pusher series does not disappoint; the latest a konatsu elderflower gose whose artwork is as tantalisingly tangy as the contents.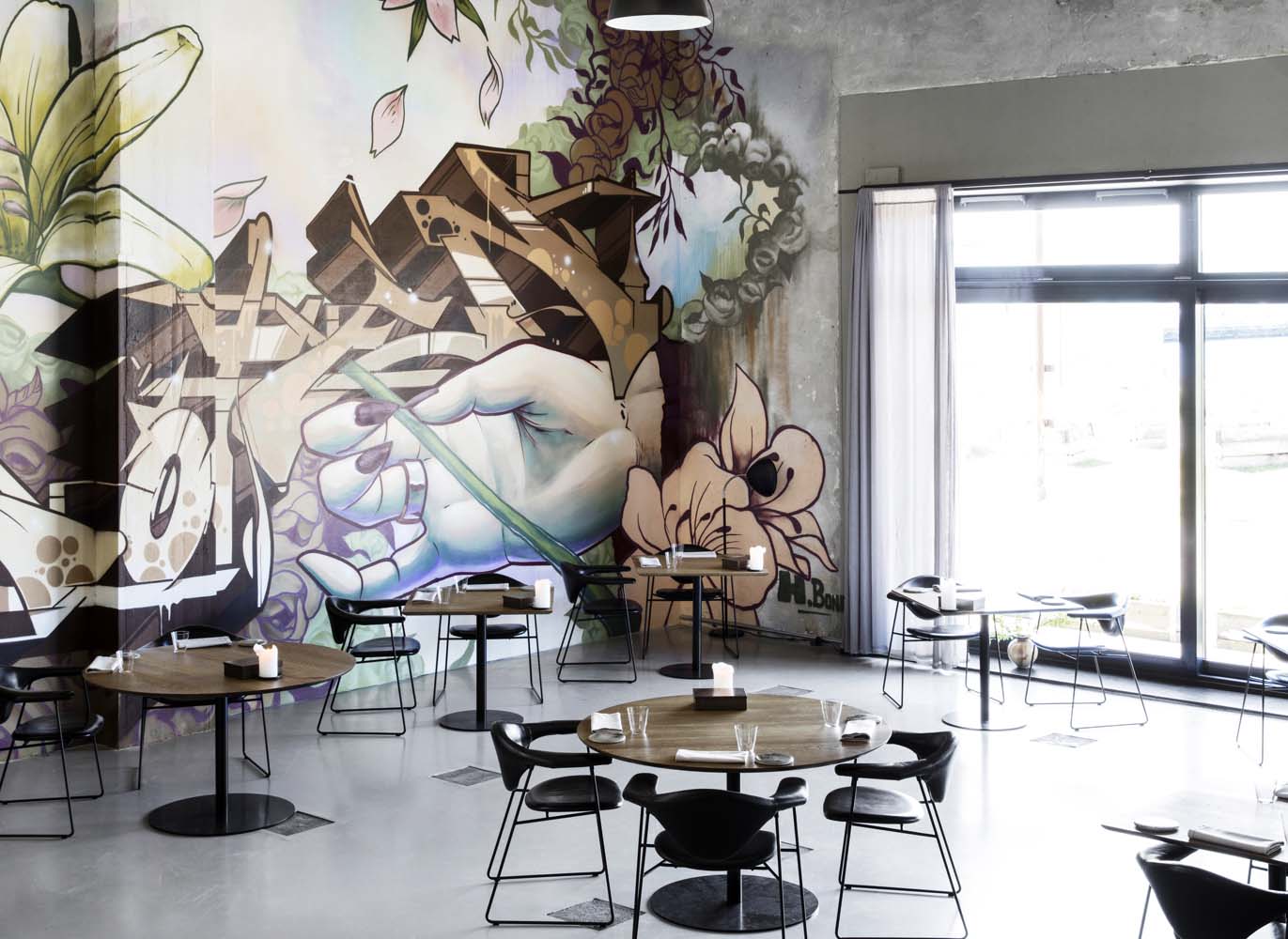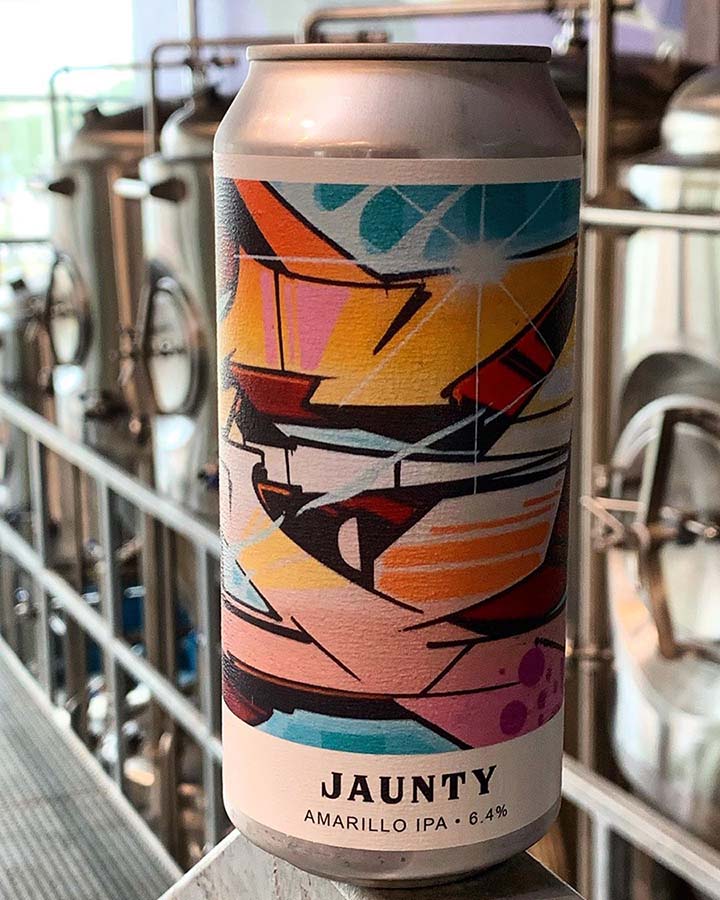 Broaden & Build, Jaunty Amarillo IPA.
As Copenhagen's Broaden & Build began rolling out their beers in 2019, their visual language took shape by embracing the graffitist style of both the brewery and sister restaurant, Amass. Each release embracing a cropped section of street art, Jaunty's stood out for old skool swagger.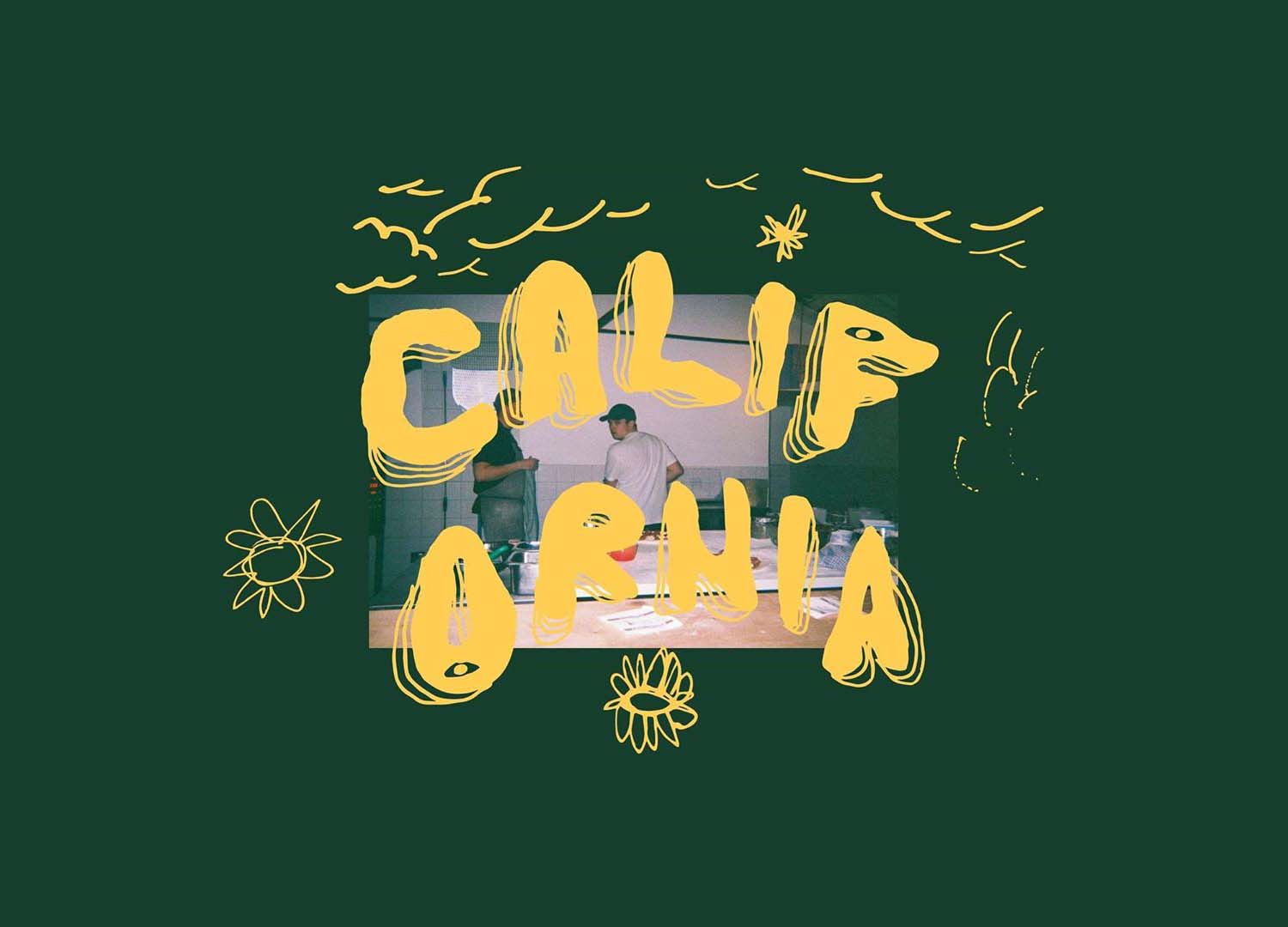 Dig Brew Co., California: Grapefruit and Apricot Fruited Smoothie Sour.
Dig Brew Co.'s fifth incarnation of their California series debuted in August as an apricot smoothie sour; the label starring a now familiar fusion of photography and chaotic hand-drawn typography. Another fresh approach for beer art in an ocean of illustration and graphics, this is one of those effortlessly hip designs you simply have to Dig.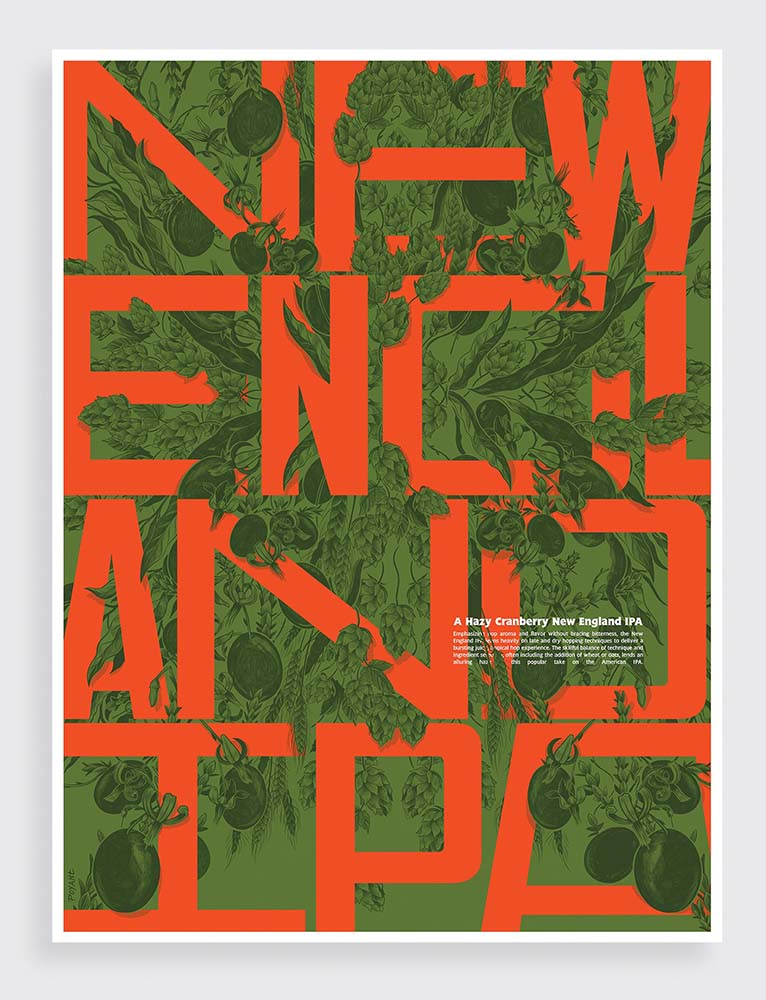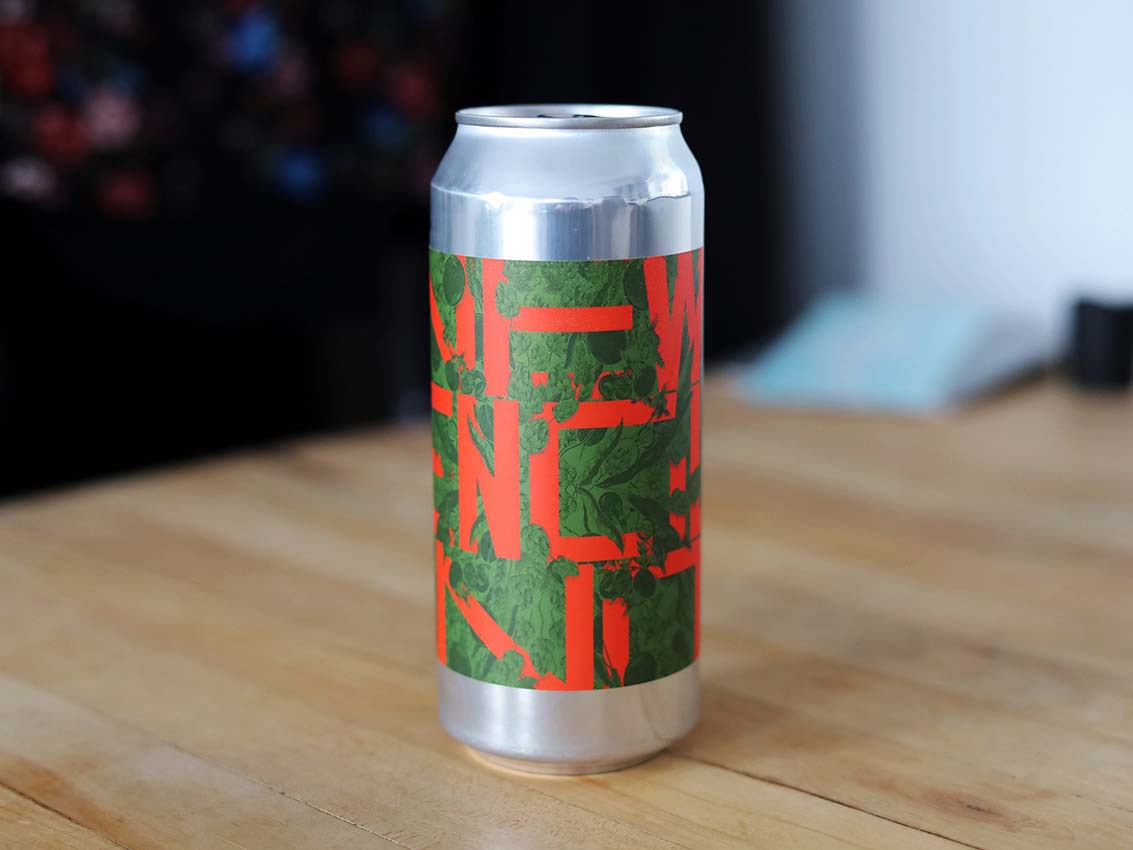 Backlash Beer Company, Backlash 28.
A collaboration between Backlash Beer and Bay State Design Shop (BSDS), New England Brew saw 28 designers producing 28 prints; the profits from which were donated to Artists for Humanity, who help under-resourced youth into paid employment in art and design. Along with the beer-inspired prints, Backlash put each design onto a can and released them out into the wild.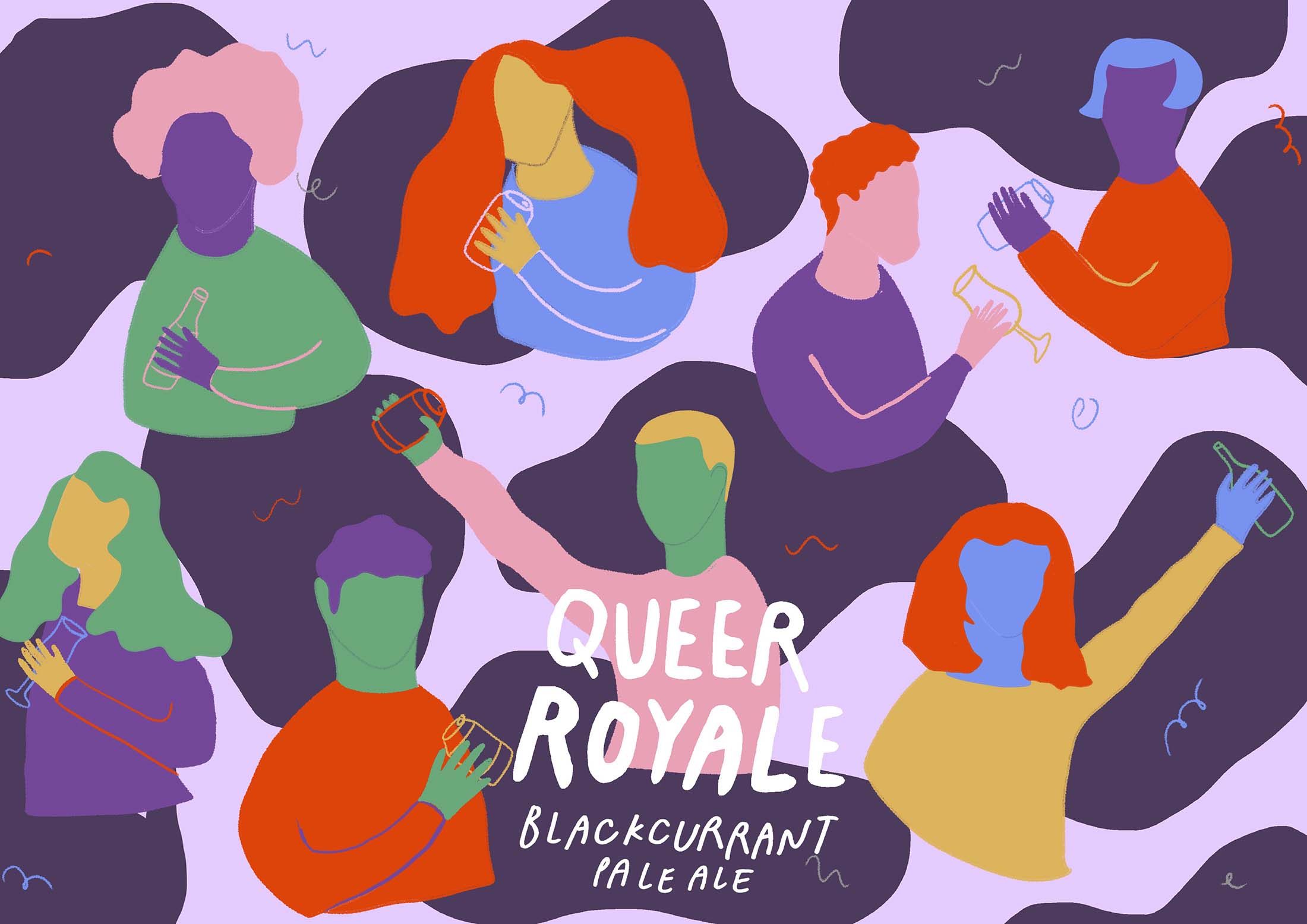 The Queer Brewing Project x Affinity Brew Co., Queer Royale.
When we spoke to Lily Waite about the rapid success of her Queer Brewing Project in August, we got in touch with Queer Royale artist, Tida Bradshaw, to ask for an unbranded version of the Affinity Brew Co. collaboration to use as the lead image in our interview. Because it's brilliant. It still is, and stands as one of the very best label designs we encountered in 2019; even if Waite's inspiring project turned up a few other worthy candidates as it continued accumulating high-profile collaboration brews.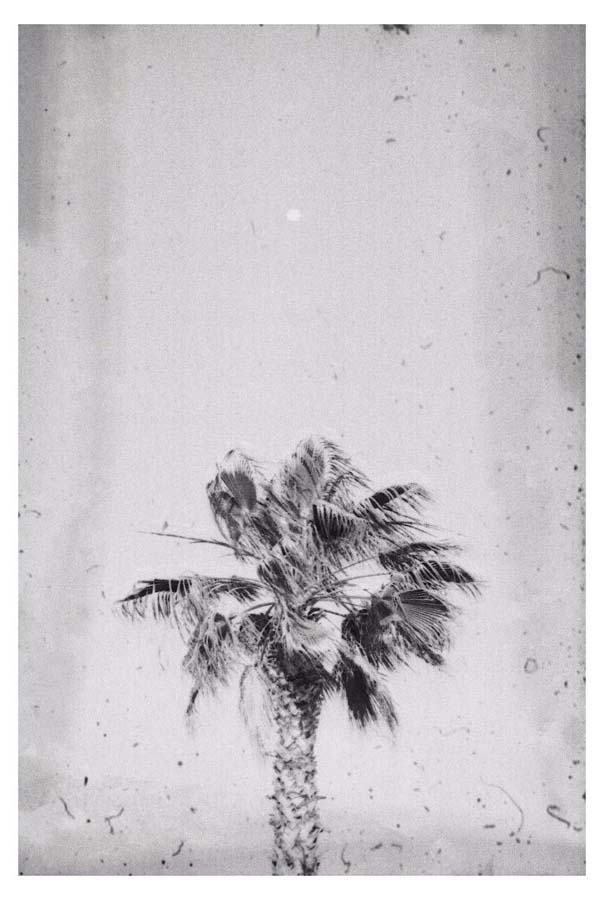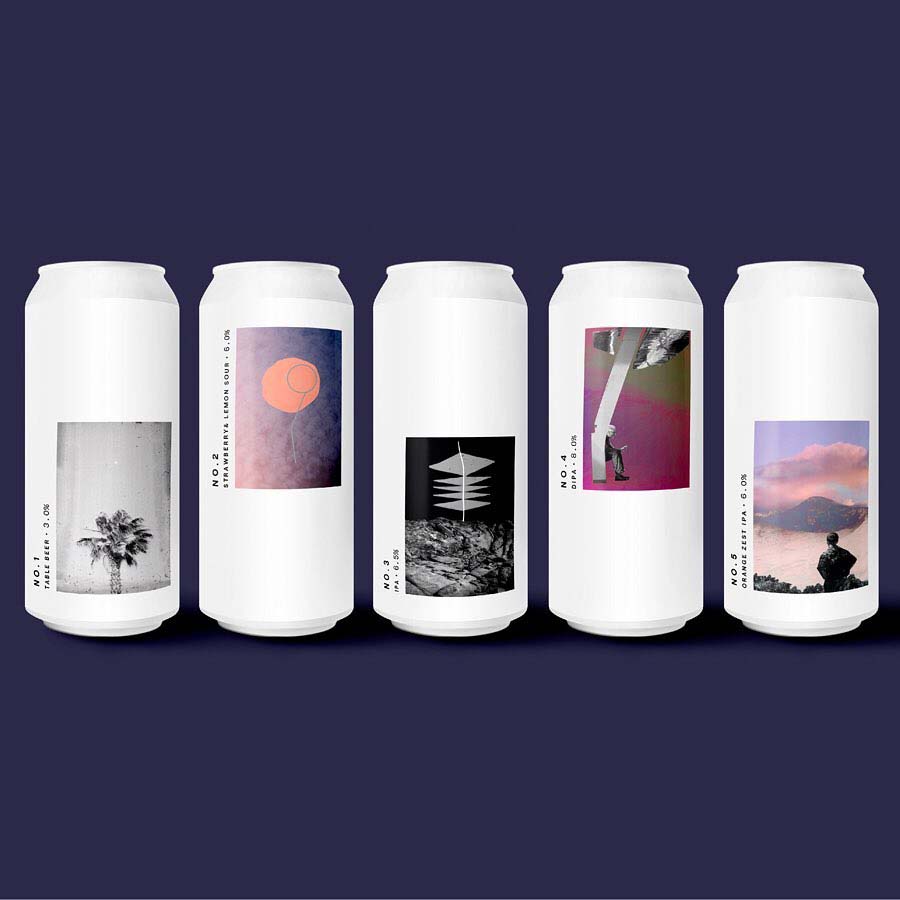 Track Brewing 5th Birthday Cans.
Manchester's Track celebrated their fifth anniversary in considerable style, the lauded brewery collaborating with photographer Elle Brotherhood and her studio, On The Brink, on a series of five beer releases that stood head and shoulders above the crowd in practically every bottle shop lineup we saw toward the end of the year. Centred around the concept of travel——founder Sam Dyson citing his two year cycle around the world as inspiration for starting the brewery——the release was accompanied by a limited edition series of A3 fine art giclée prints.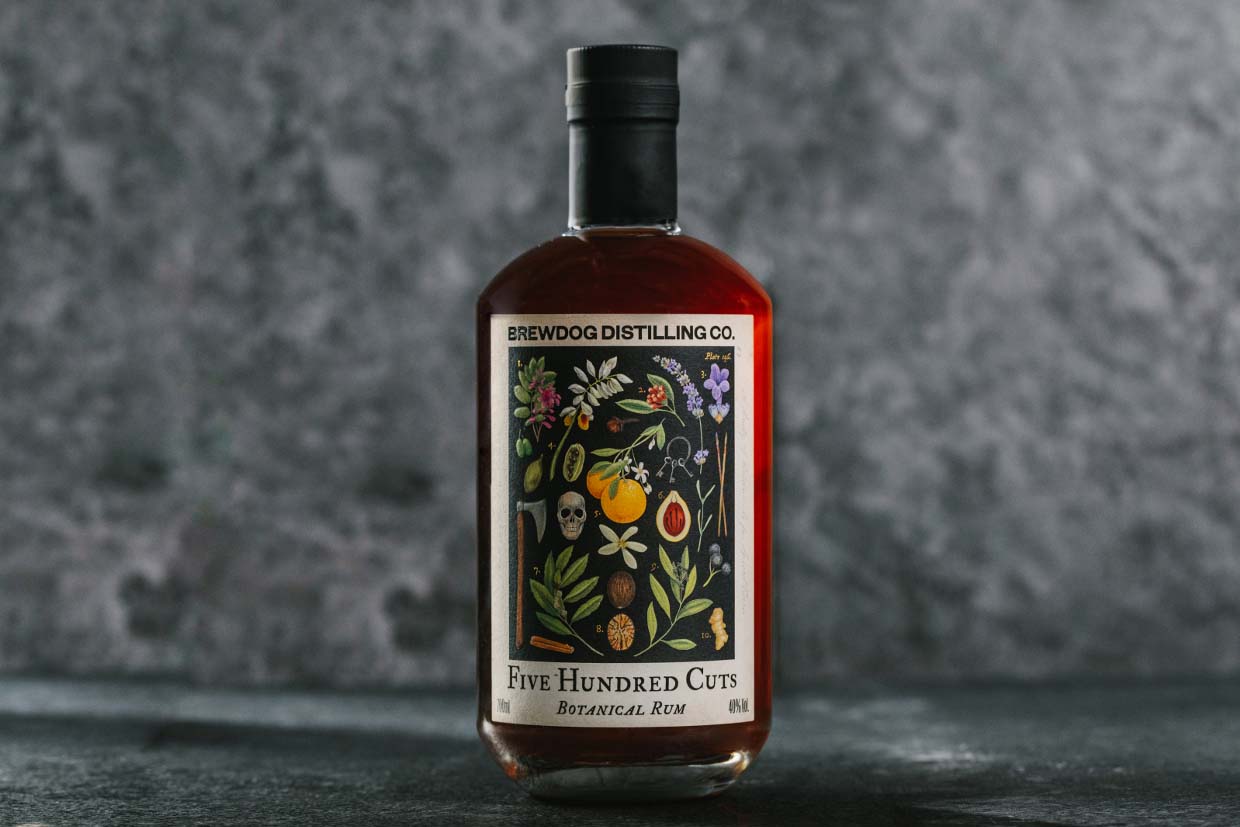 BrewDog Distilling Company, Five Hundred Cuts.
Not strictly a beer, this artisan rum sneaks into the list by way of being produced by the BrewDog Distilling Company; a link we've exploited to show off a design that could teach its parent brand a few lessons. The botanical rum and its design have been inspired by Aberdonian heroine Elizabeth Blackwell, who wrote a pioneering guide to herbal medicine in 1734. Despite being crippled by debt, Blackwell's husband was holed up in a debtor's prison, the Scot illustrated and engraved the 500 botanicals featured in A Curious Herbal herself; the success of the book eventually allowing her to free her husband.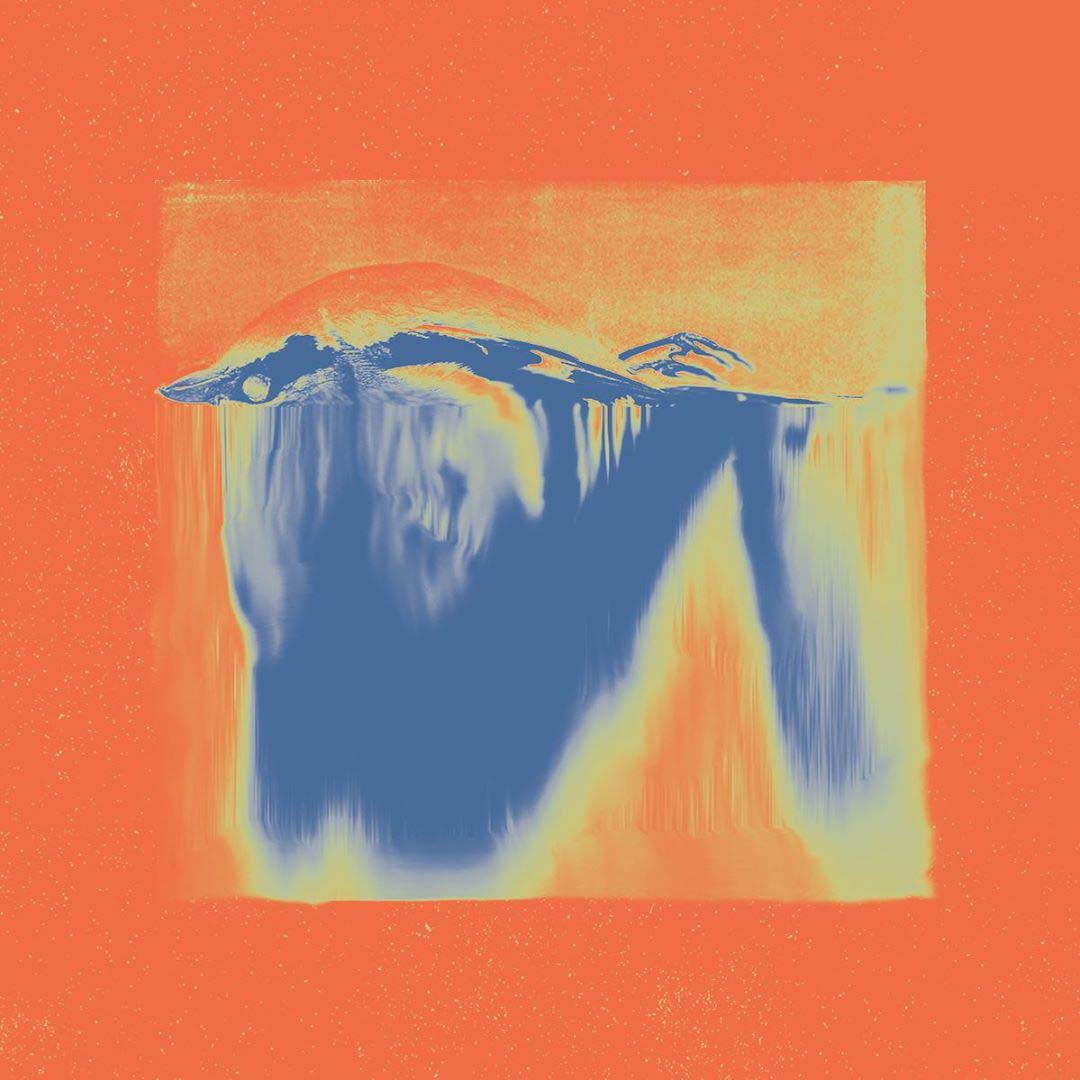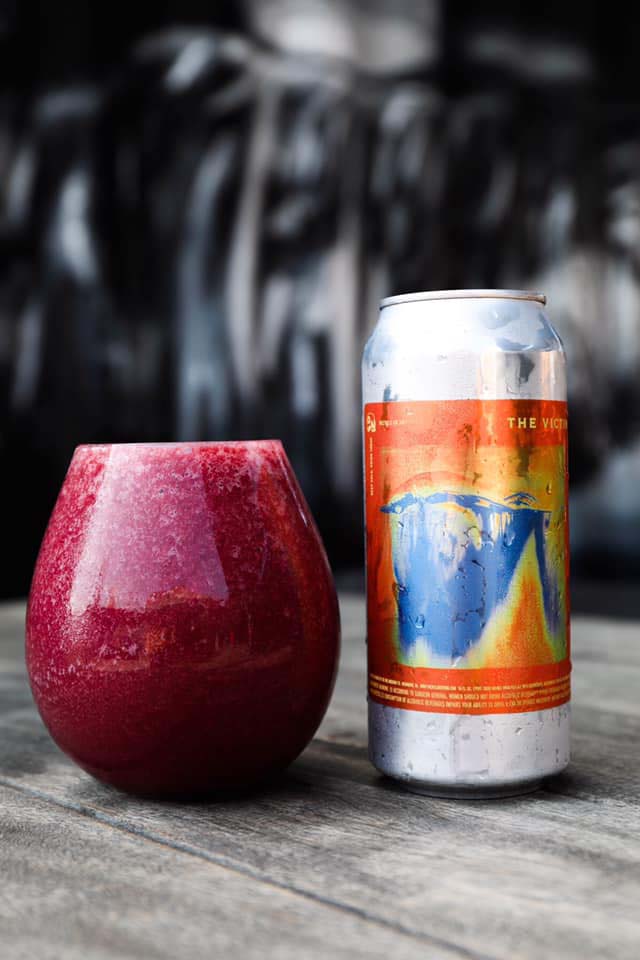 The Veil, The Victim.
This abstract work from long-time The Veil collaborator, Tim Skirven, wouldn't look out of place in the post rock section of any record shop you care imagine; that it adorns a mere regular release from the Richmond brewery is testament to both the designer's prolificy and calibre and The Veil's high standards in beer label design.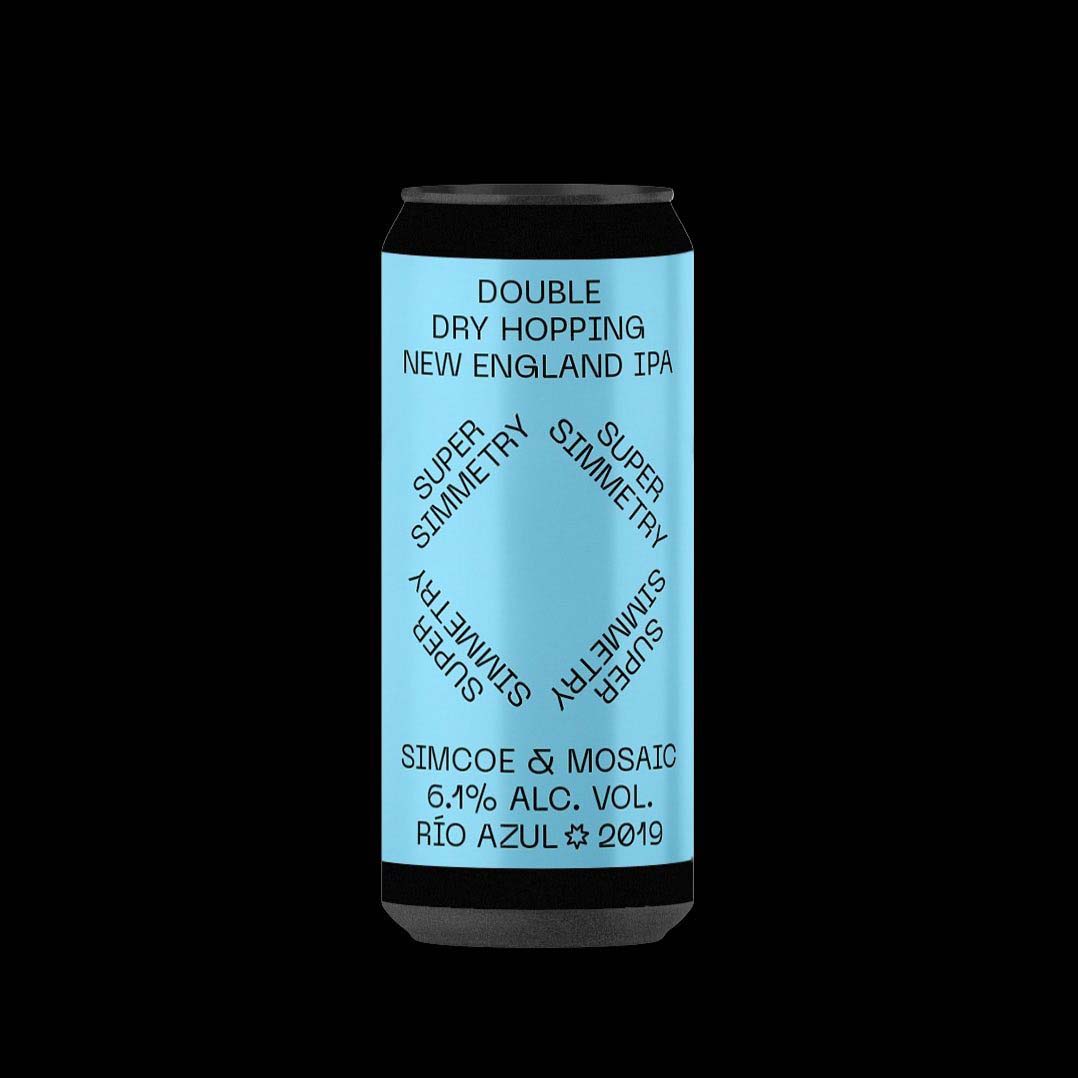 Cervezas Río Azul, Super Symmetry.
Sevilla's Río Azul got some fresh visual appeal last year, with some standout typographic designs from excellent art director Ausias Pérez, whose client work includes Barcelona's super cool Casa Bonay hotel, as well as the darling of the Catalan capital: Rosalía, the urban music star who ruled 2019. As for Pérez's beer work, this minimal approach with an exceedingly on-point typeface felt like something craft beer art had been missing.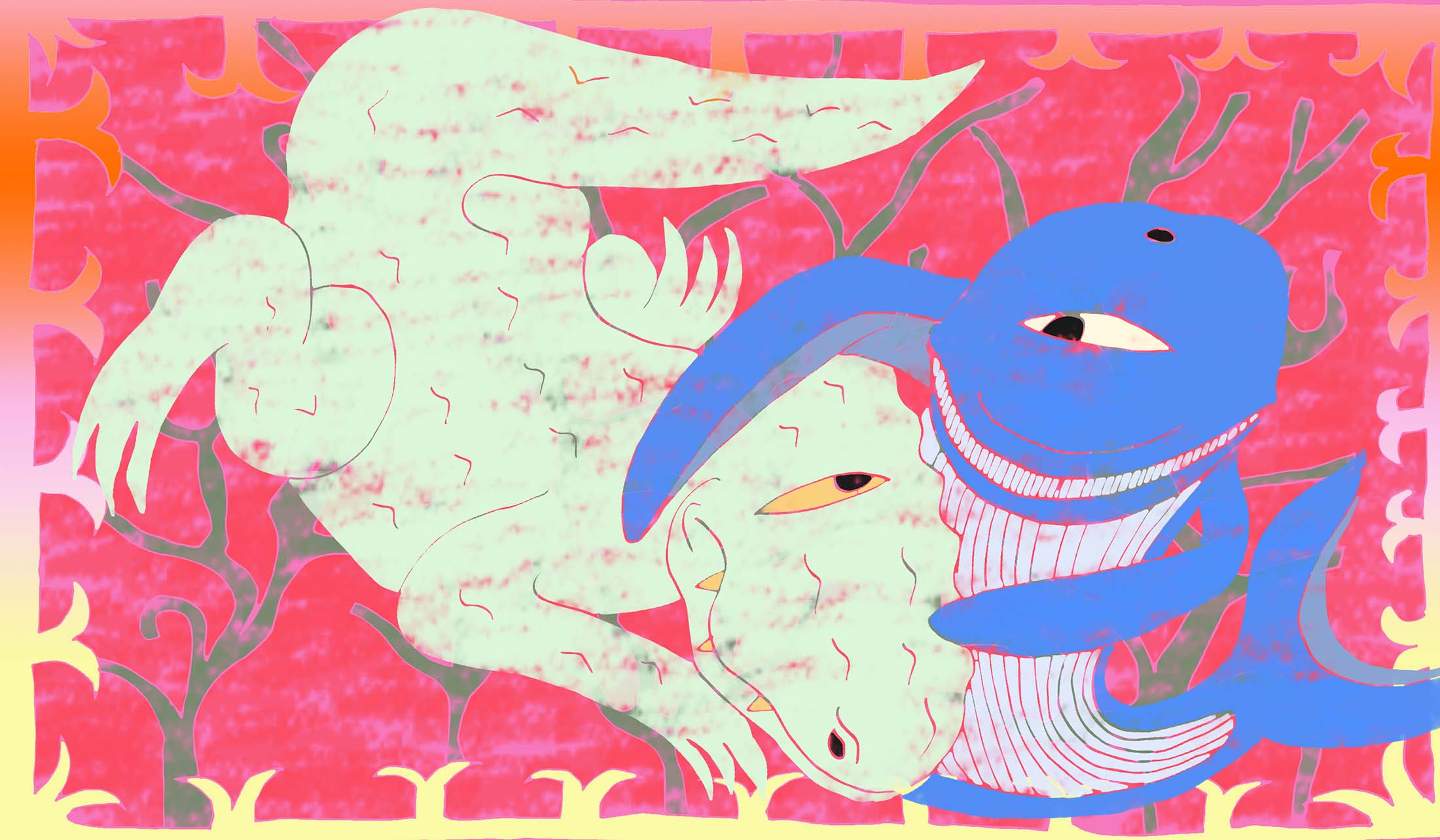 Deya x Finback, Cyclops.
A one-eyed whale hugging a one-eyed T-Rex, you say? Cyclops is a collab between Deya and Finback, and its label is probably artist Thom Hobson's best for the Cheltenham brewery to date. As James P. Sullivan's trusty companion famously said: "That's Wazowski … with one I, get it?"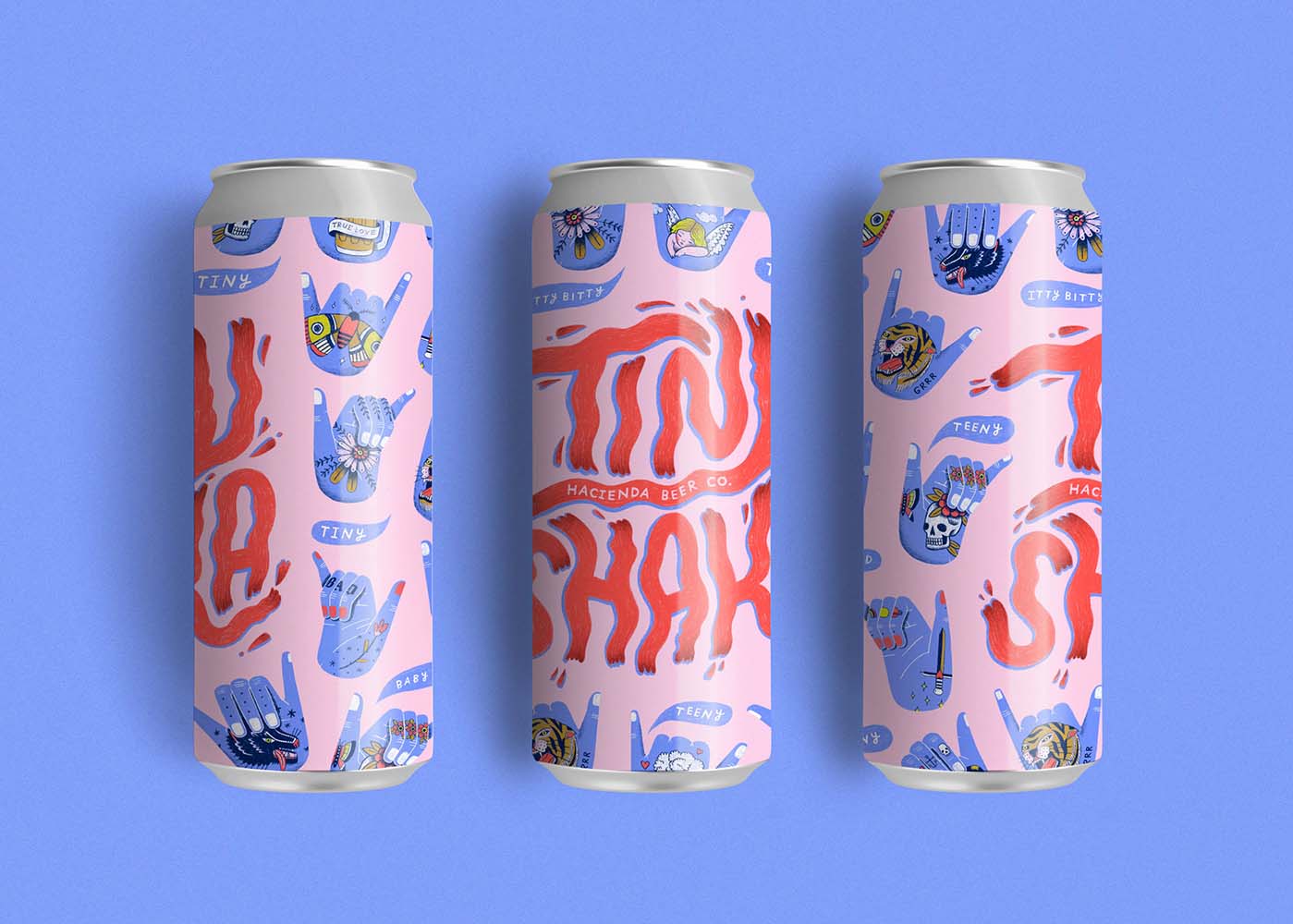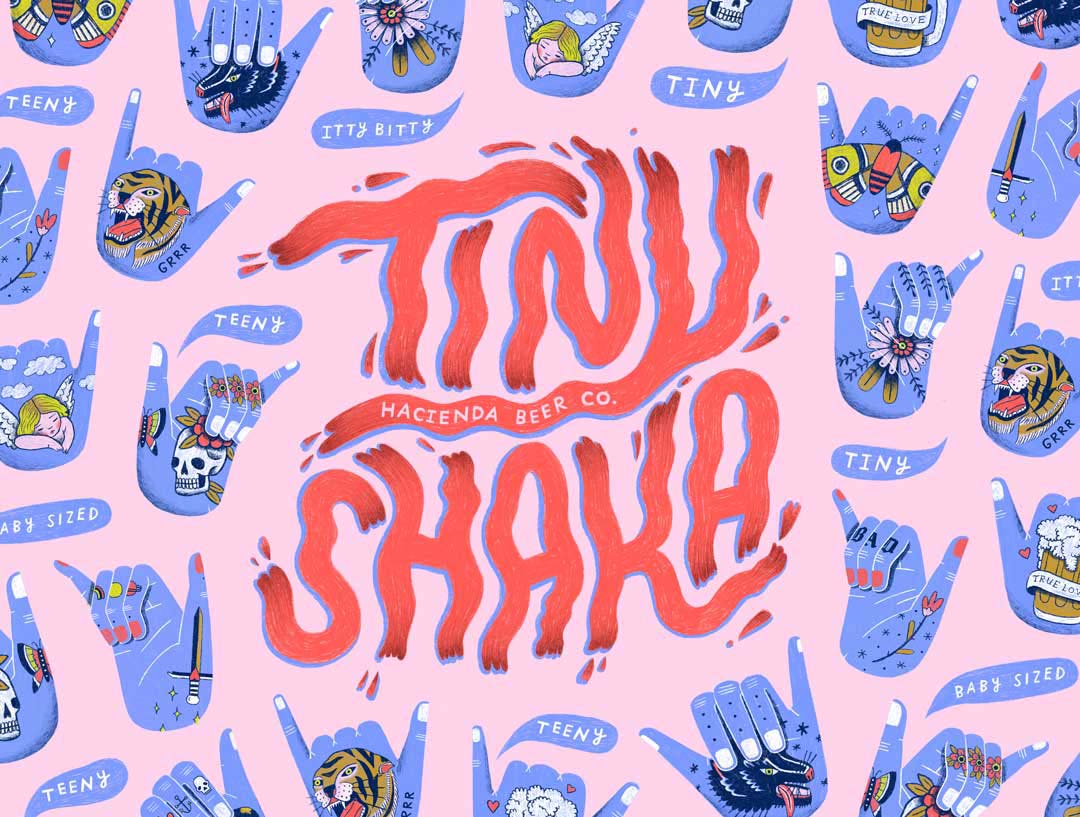 Hacienda Beer Co., Tiny Shaka.
Milwaukee-based illustrator Melissa Lee Johnson was invited by fellow Wisconsinites, Hacienda Beer Co., to design two labels and, whilst the nonchalance of How Dare You Speak to Me was almost too loveable to resist, the aesthetic exuberance of Tiny Shaka won out; its pops of colour and tattoo parlour appeal securing its place as one of the most grabbable can designs on this list.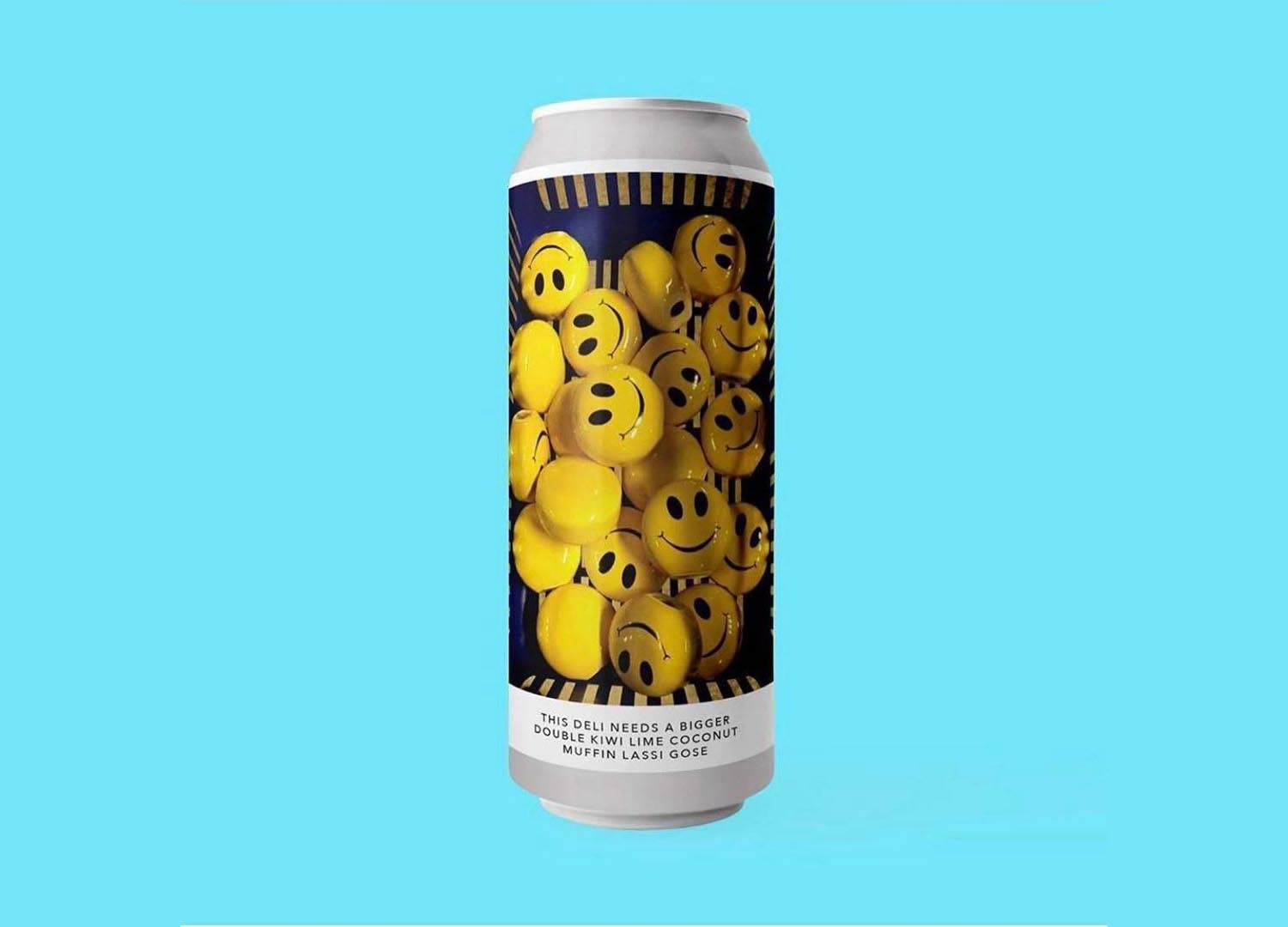 Evil Twin NYC x Omnipollo, This Deli Needs a Bigger Double Kiwi Lime Coconut Muffin Lassi Gose.
Since opening up Evil Twin NYC, the design stature of Jeppe Jarnit-Bjergsø's brews has soared; their photographic approach adding visual irony to those infamously confrontational names. Needing equally little introduction is the work of Karl Grandin for Omnipollo. Mix them together and add rave culture's most ubiquitous icon? Sign us up.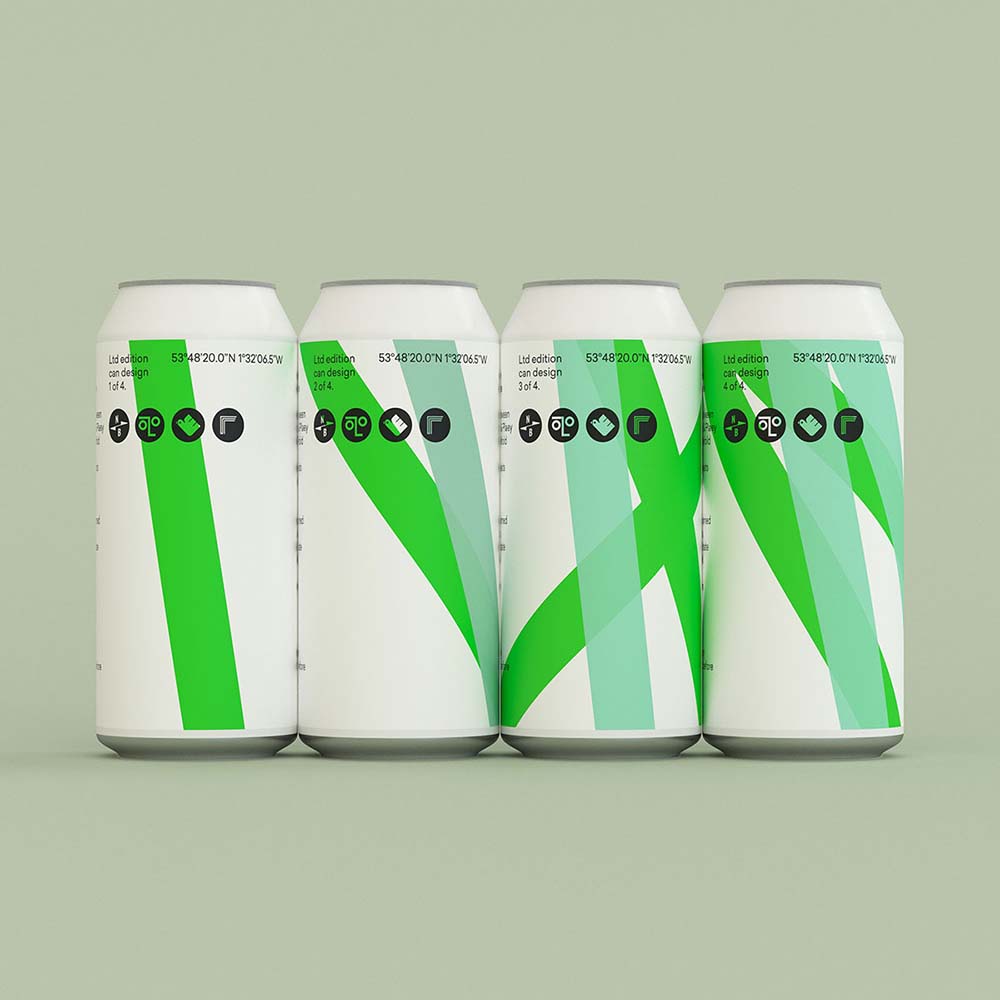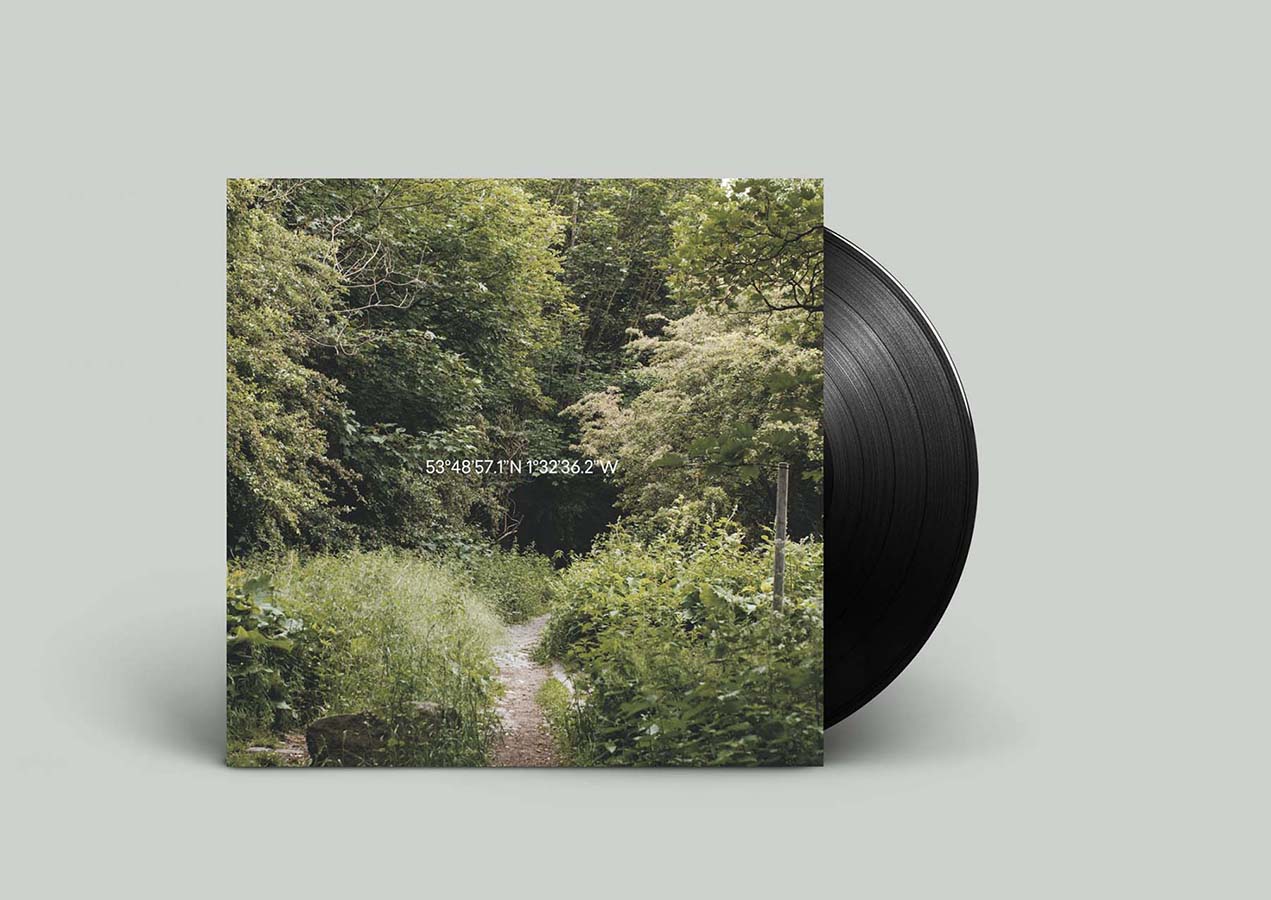 North Brewing Co., Ute.
As we wrote in August: "Ute is a remarkable cross-creative body of work that extends beyond each of their usual remits; a memorable collaborative effort that breathes fresh ideas and energy into the release cycle." A craft beer, audio and art collaboration between North Brewing Co., furniture-maker Plaey, designers Studio.Build and Refold, and photographer Jo Crawford, Ute was a project that pushed the boundaries of what a craft beer release can be.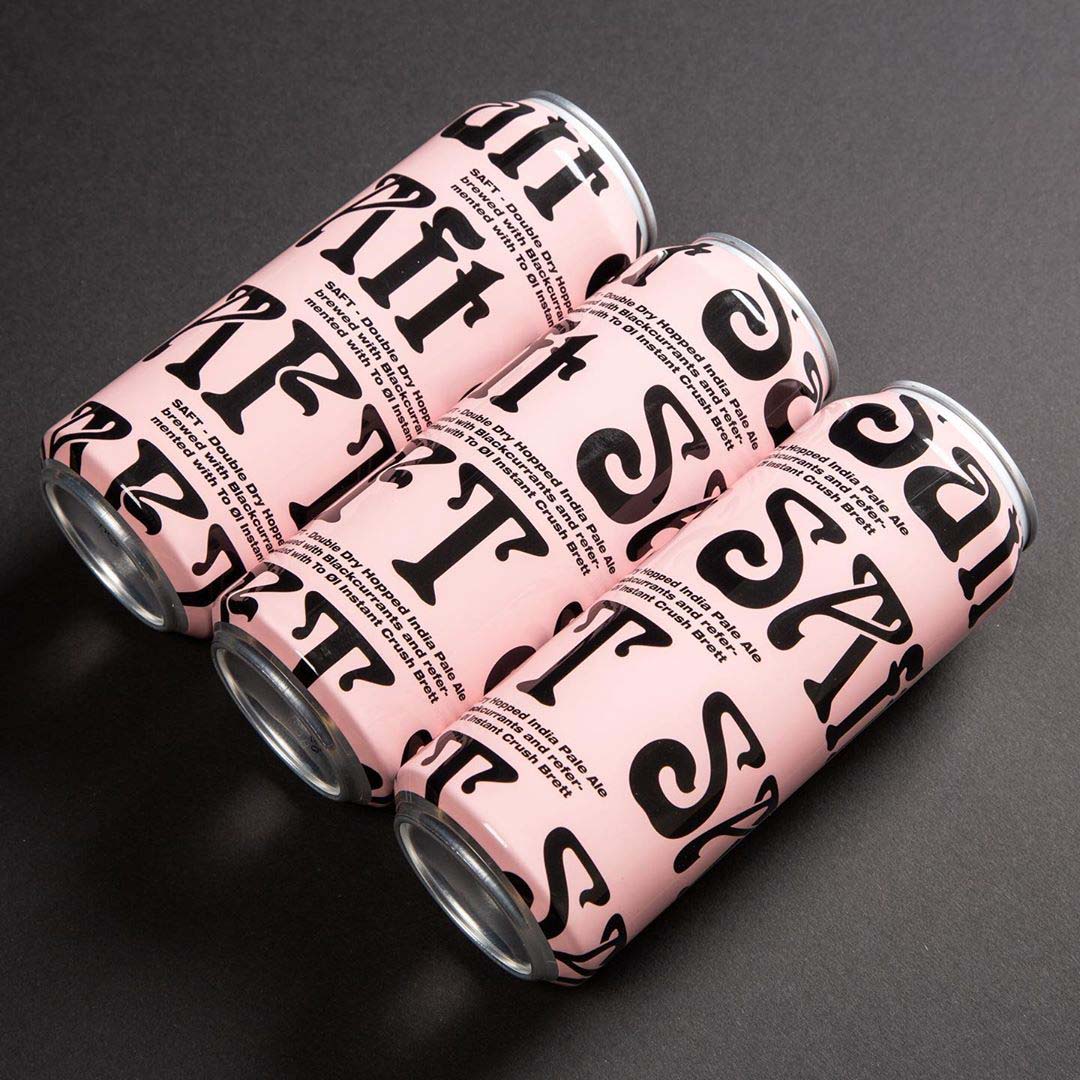 To Øl, Saft.
Another one to file under: More Brilliant Typography in Craft Beer, Please. To Øl's Kasper Ledet did it again in 2019, the 50cl can of Saft setting the Art Nouveau typeface, Arnold Böcklin (designed in 1904 by foundry Schriftgiesserei Otto Weisert), in bold black on top of irresistible baby pink.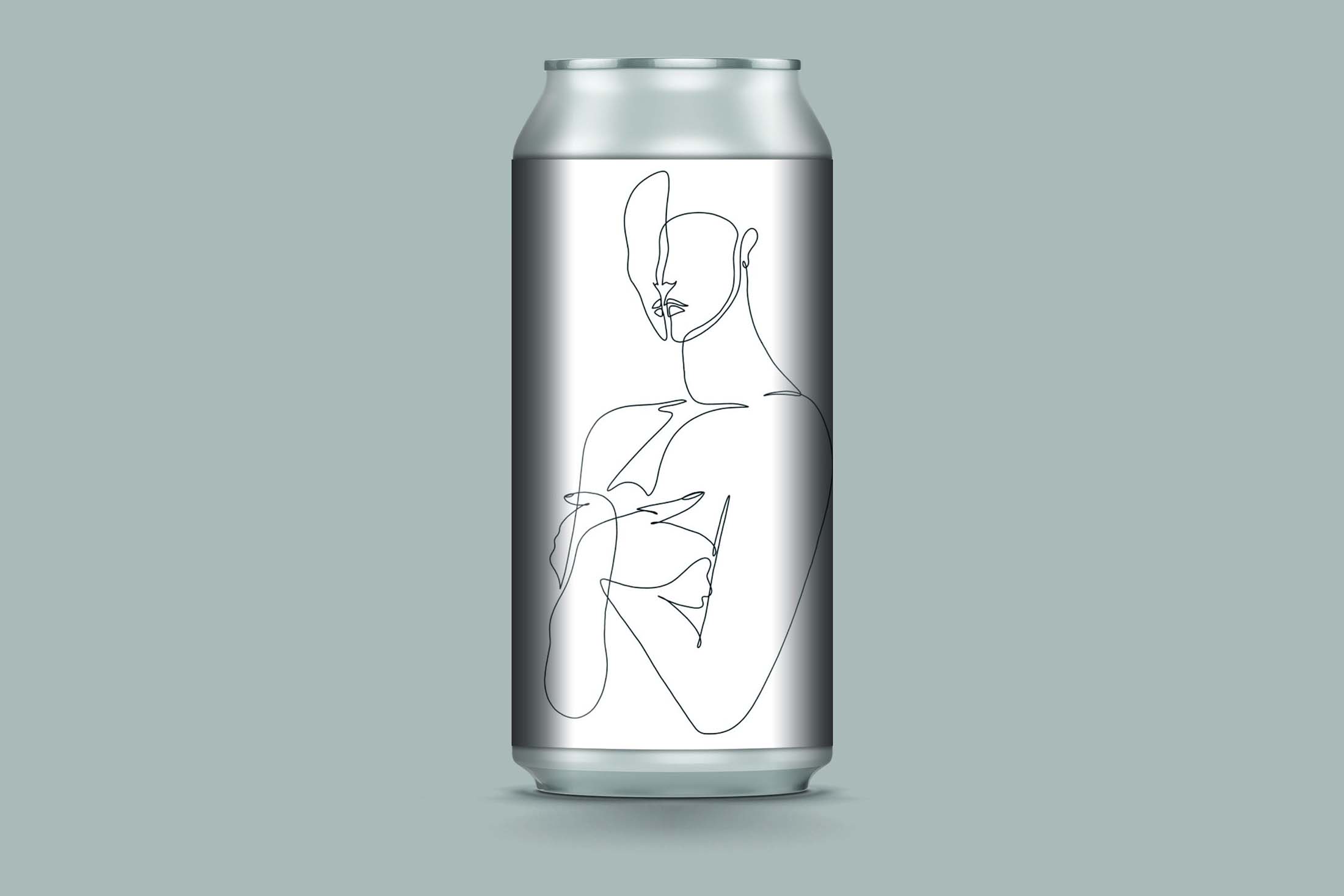 Northern Monk Patrons Project 21.02.
Again going against the grain, this hyper-minimal illustration from Nottingham artist Sam Nicklin provided stark contrast to the colourful racks of bottle shops throughout Europe. A part of Northern Monk's ongoing Patrons Project, this collaboration with Neon Rapter, Loughran Family Malt and Indie Hops demonstrated that less can certainly be more.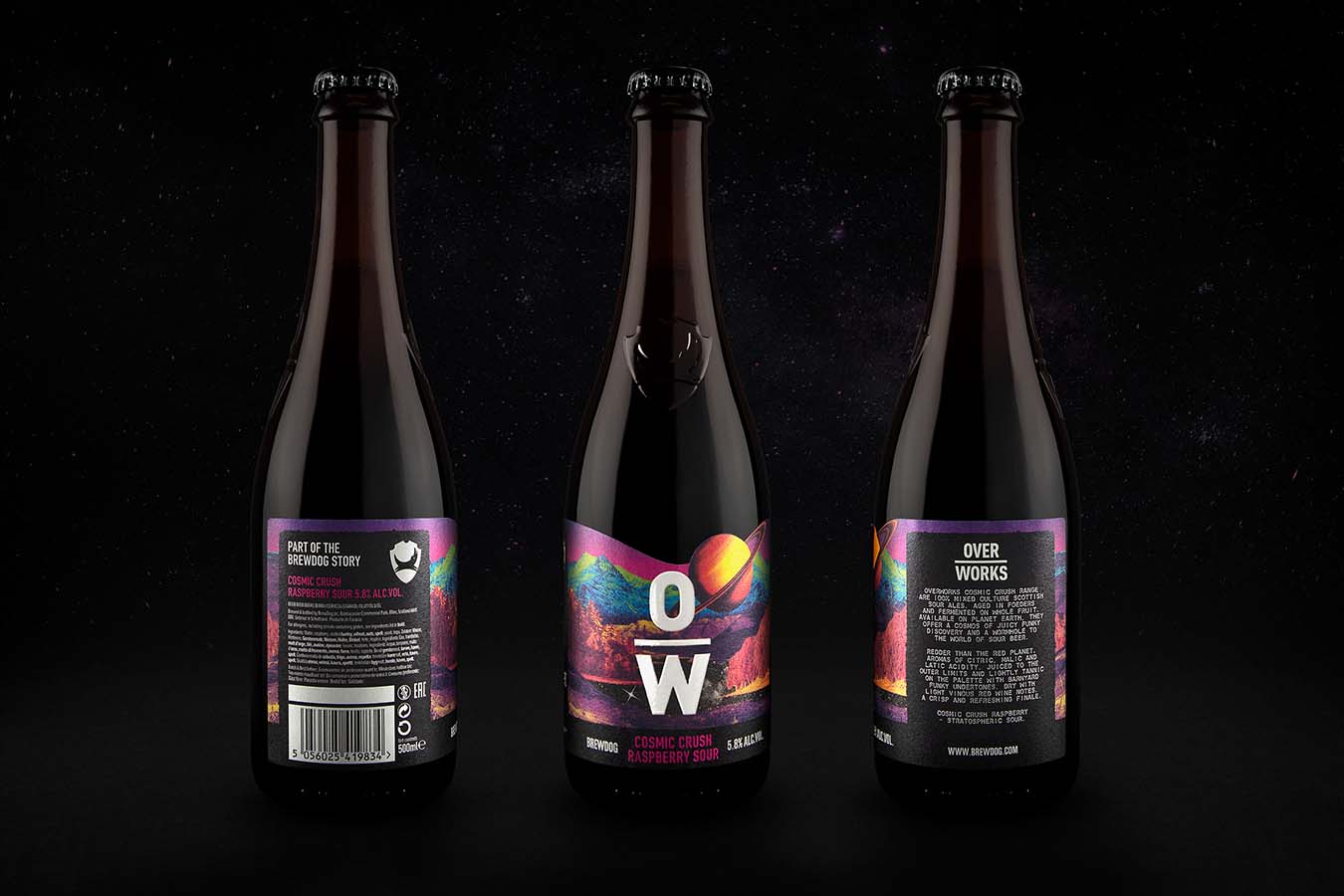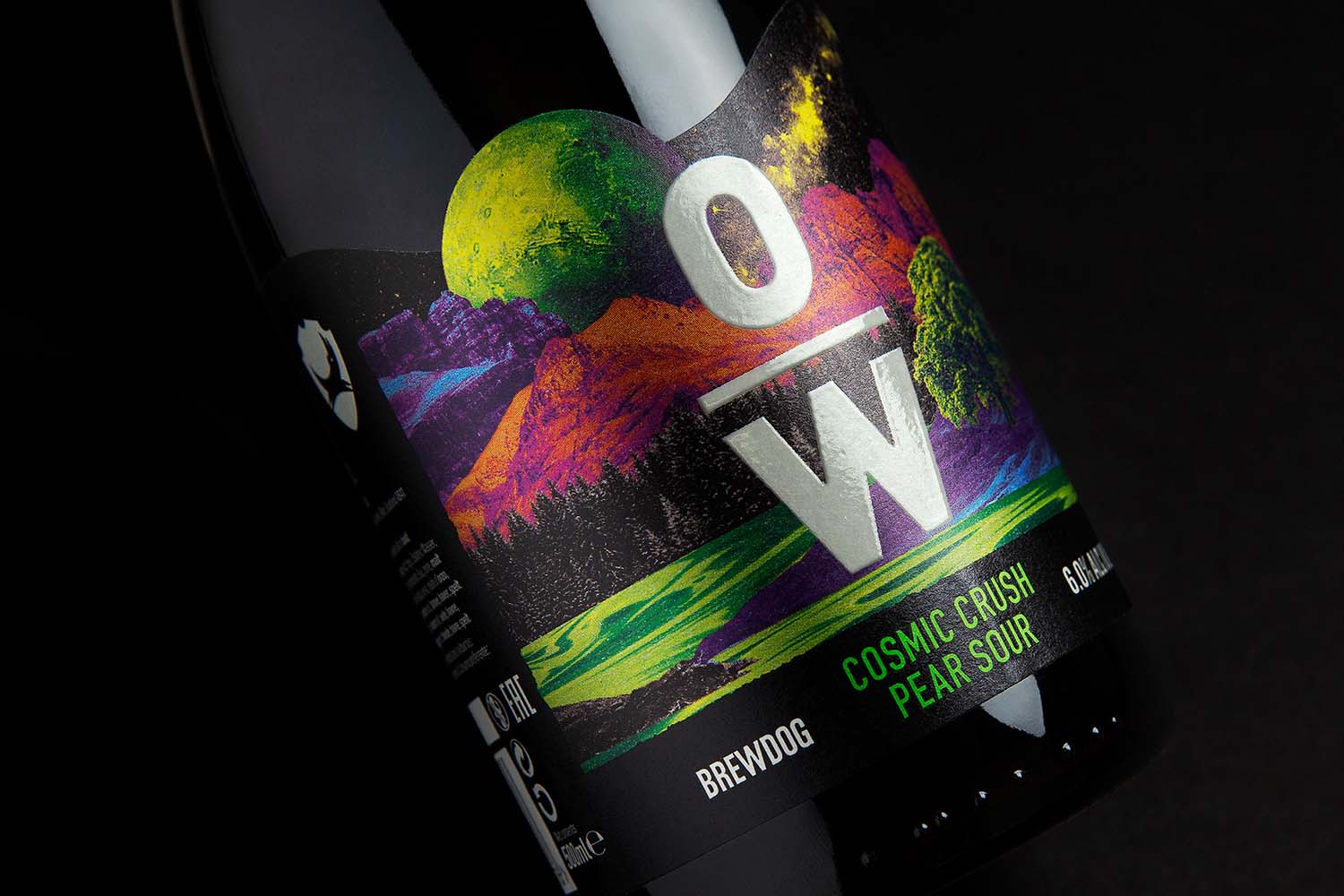 BrewDog OverWorks, Cosmic Crush Series.
Taking inspiration from the magic of spontaneous fermentation, designers Robot Food looked to the unknown for their BrewDog OverWorks designs; an intergalactic cosmos depicted by elements of the Scottish landscape recreated in an acidic colour palette.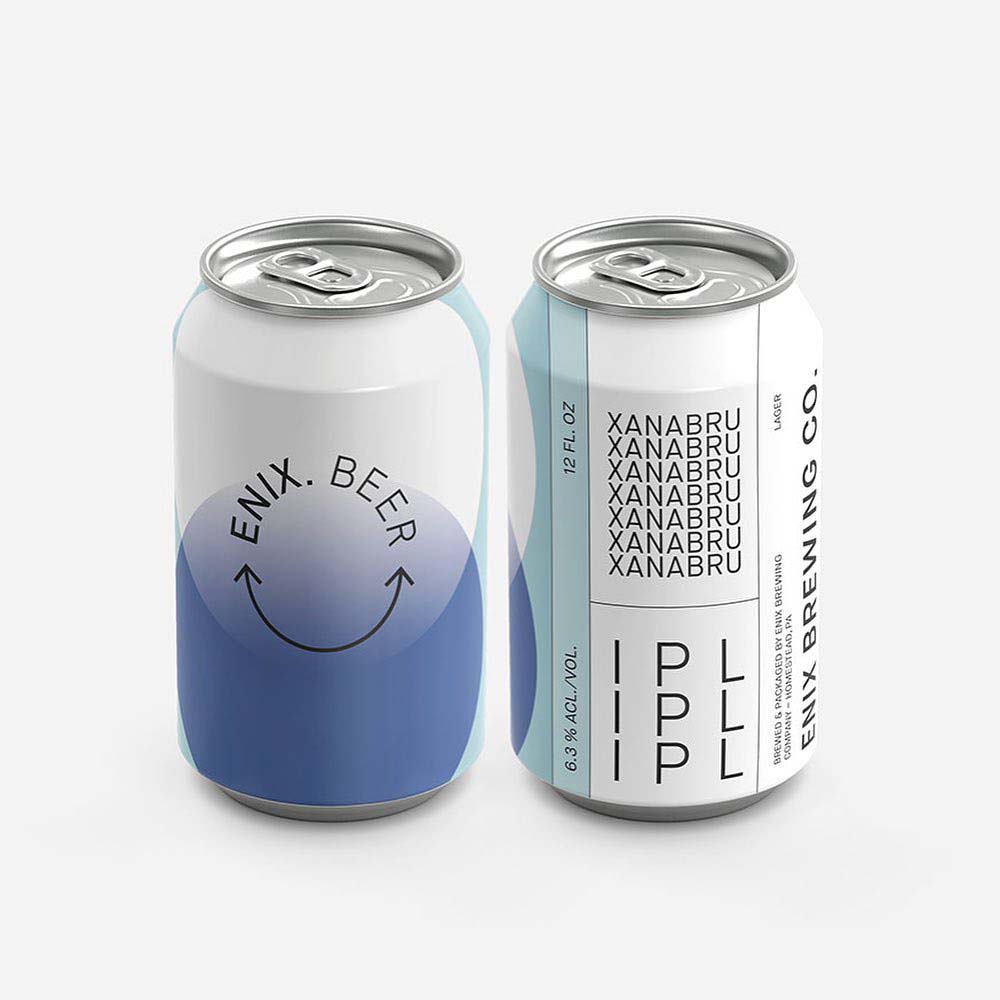 Enix Brewing, Xanabru.
Another new one for us, Enix Brewing's sophisticated style was pieced together by Madrid-based designer Jose Maraver; his type-heavy approach for the Pittsburgh brewer's India pale lager offering an innovative slant on the crowded market of 'house beers'.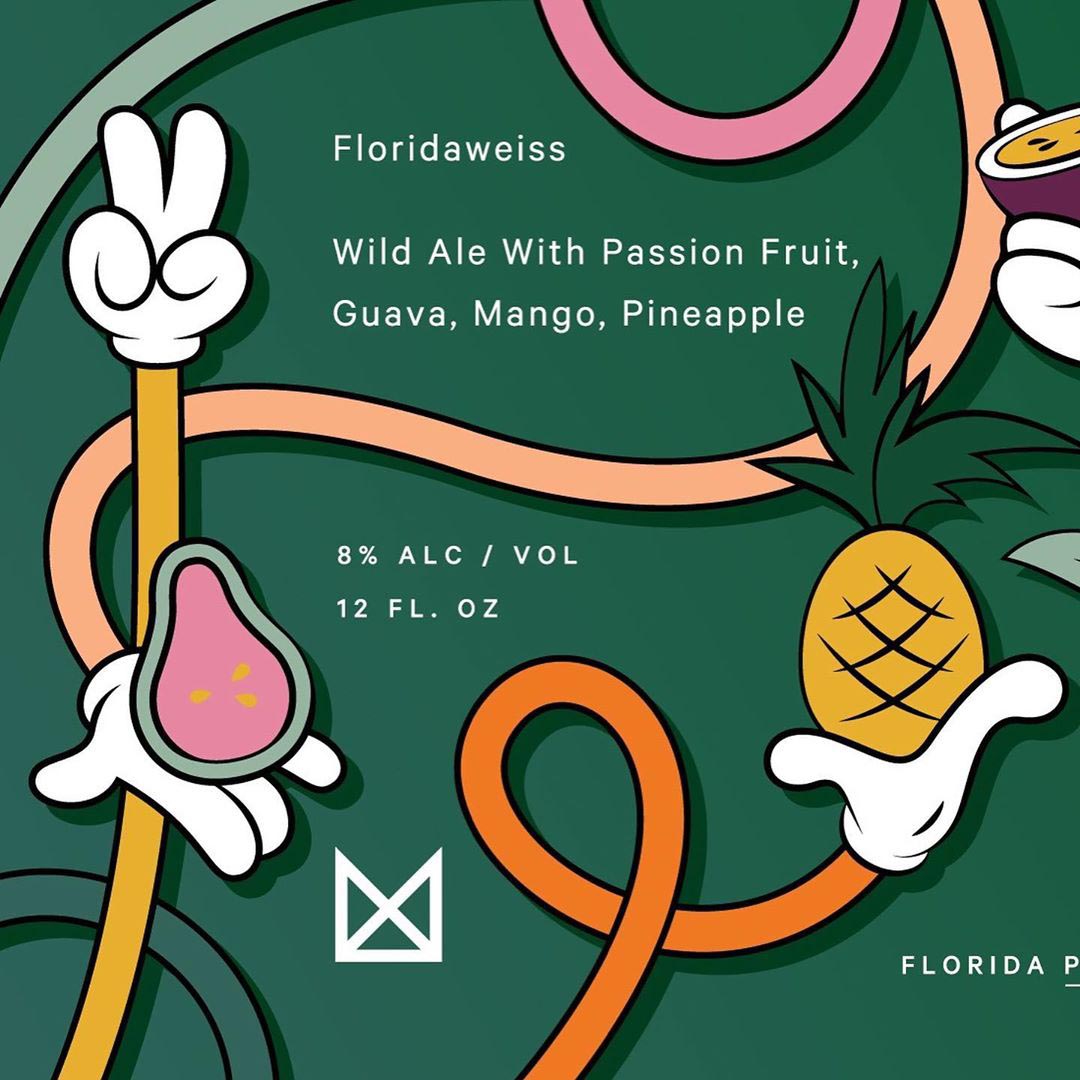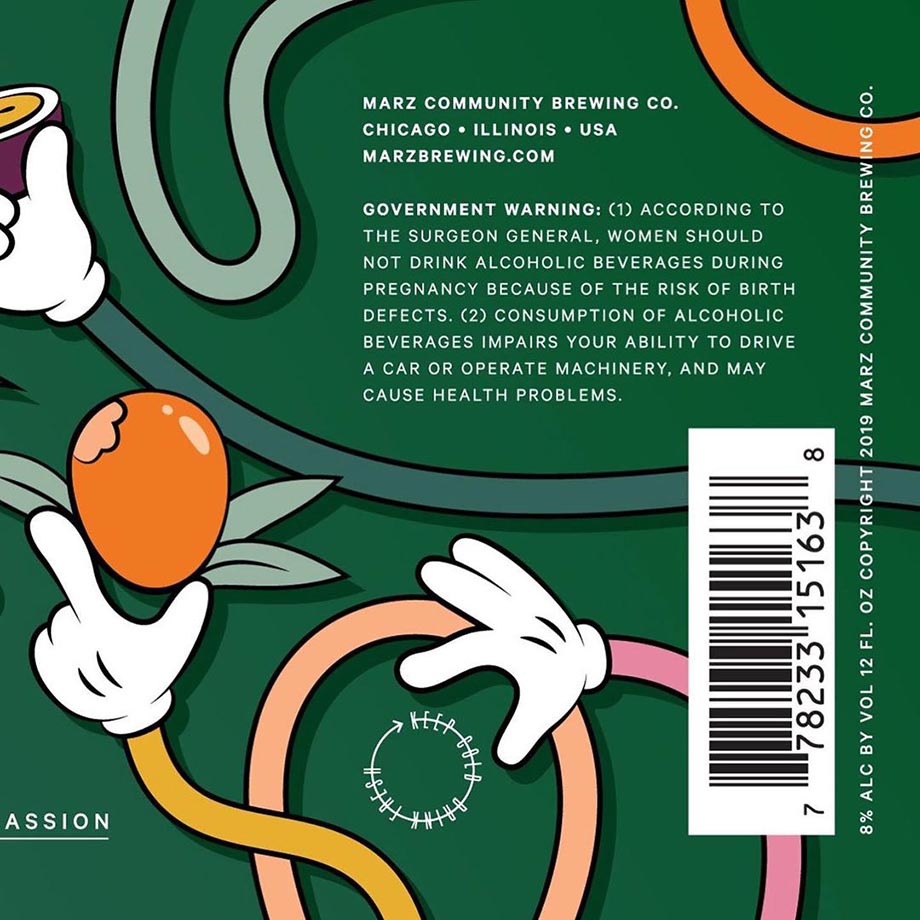 Marz Brewing, Floridaweiss.
Chicago's Marz were one of the highlights of 2018's roundup of incredible beer label design, and their output the following year was equally of note; their commitment to quality design makes for a difficult task in highlighting the best of a fine bunch. New York-based illustrator Ben Wagner, however, particularly wowed with his Disneyesque approach for fruity wild ale, Floridaweiss.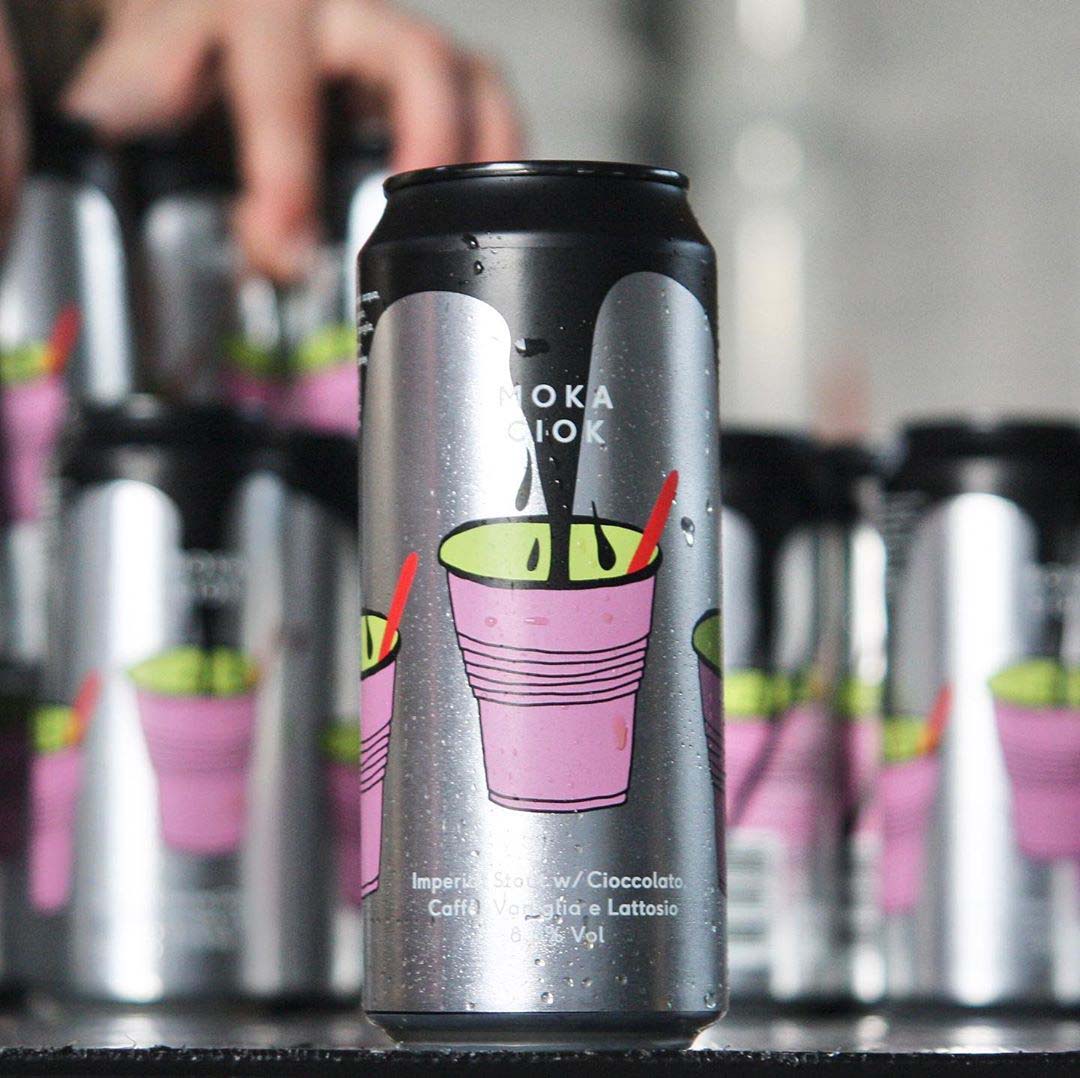 Crak Brewery, Moka Ciok.
Veneto brewery Crak continued their upfront style in 2019, this imperial stout design a lovely example of using space, colour and material to evoke a feel; the label design allowing the black can to ooze into its canvas.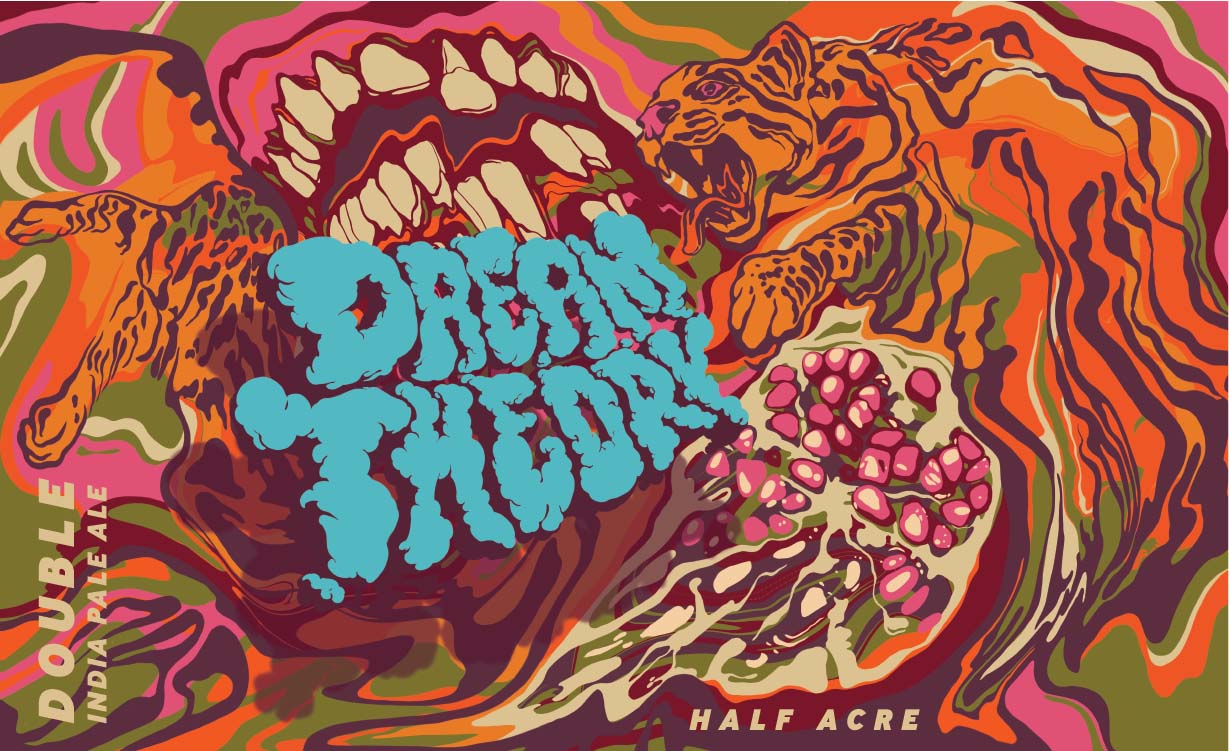 Half Acre Beer, Dream Theory.
For all the minimalism and restraint shown in may of this year's label designs, this work for Chicago-based brewery, Half Acre, is a case-in-point for more-is-more, and a nice reminder that craft beer artwork needn't always be too cool for school.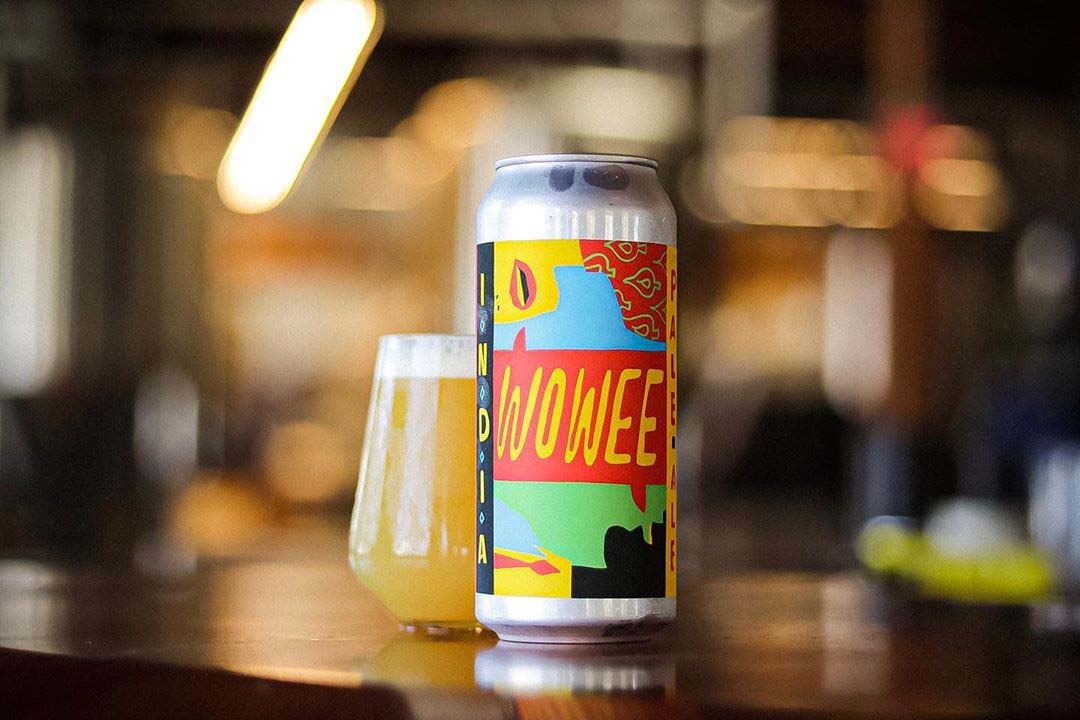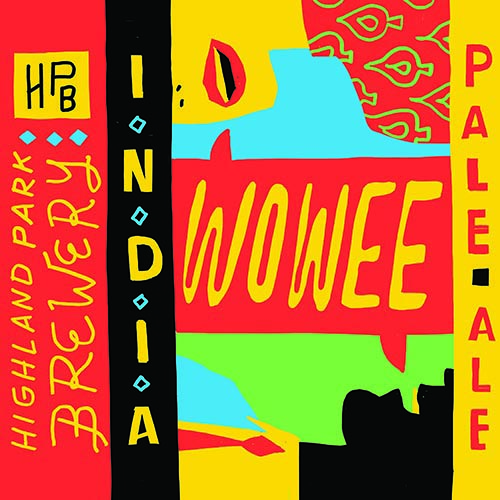 Highland Park Brewery, Wowee.
Wowee Zowee is one of the most underrated albums of all time. Wowee is a 7.3% hazy IPA hopped with 100% Nelson hops. The two are unrelated. Which is a shame, because Scrap Labs' design for the LA brewery's juice bomb is as unflustered laissez-faire cool as Pavement's third album.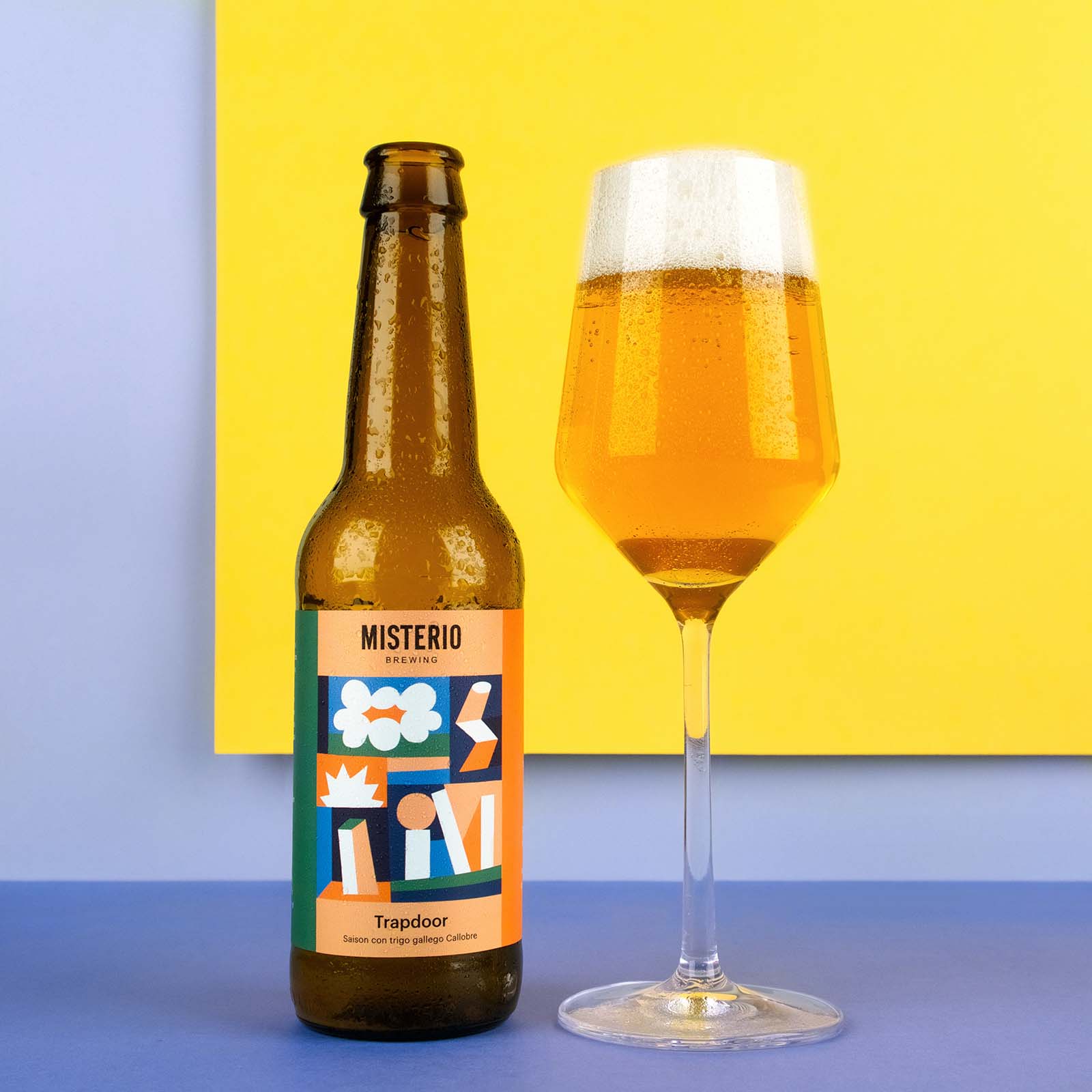 Misterio Brewing, Trapdoor.
Hugo Freijanes's thoughtful Misterio Brewing project featured in 2018's rundown of the best craft beer designs, and the Galician native's beer brand continued to demand our attention with their uncanny ability to unearth some of the best emerging creatives around. Marc David Spengler's illustration for Freijanes's farmhouse saison concocted with local wheat was a predictably excellent exemplar of his dedication to giving art and design as much weight as the beers themselves.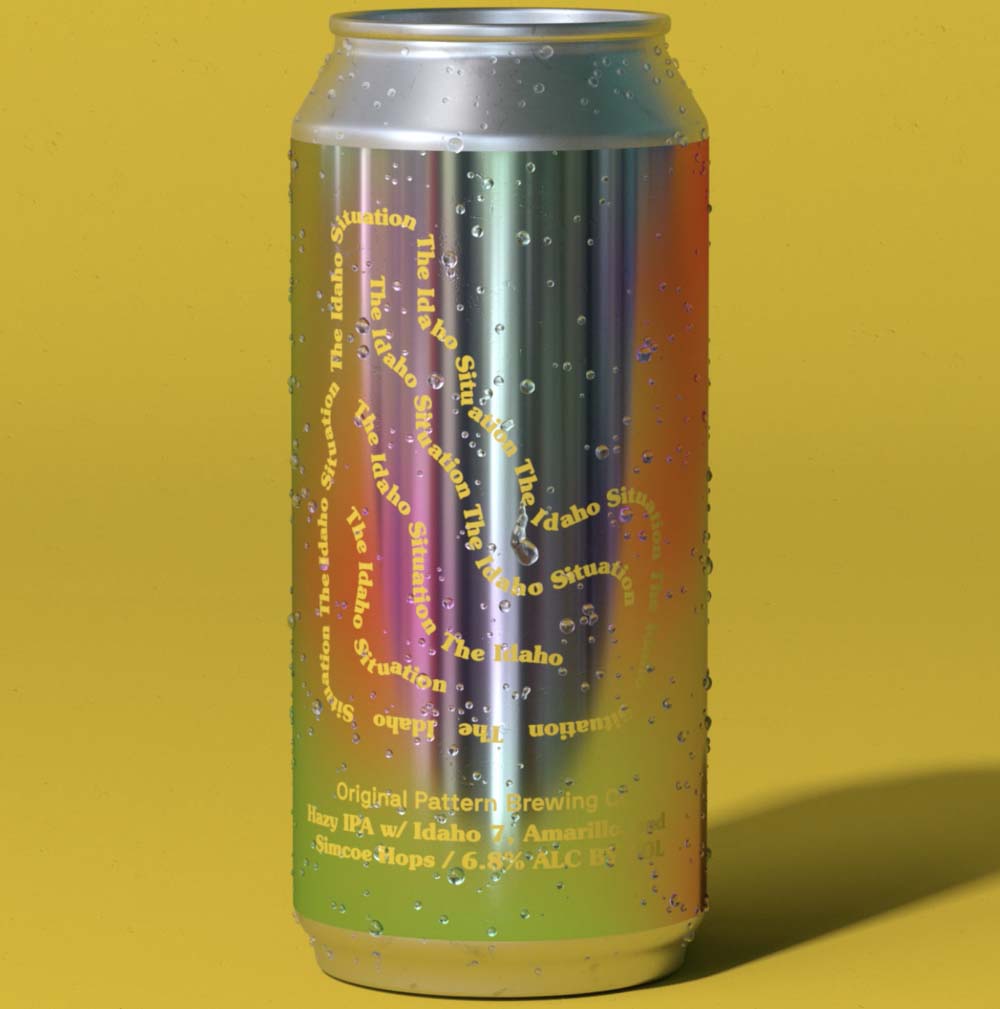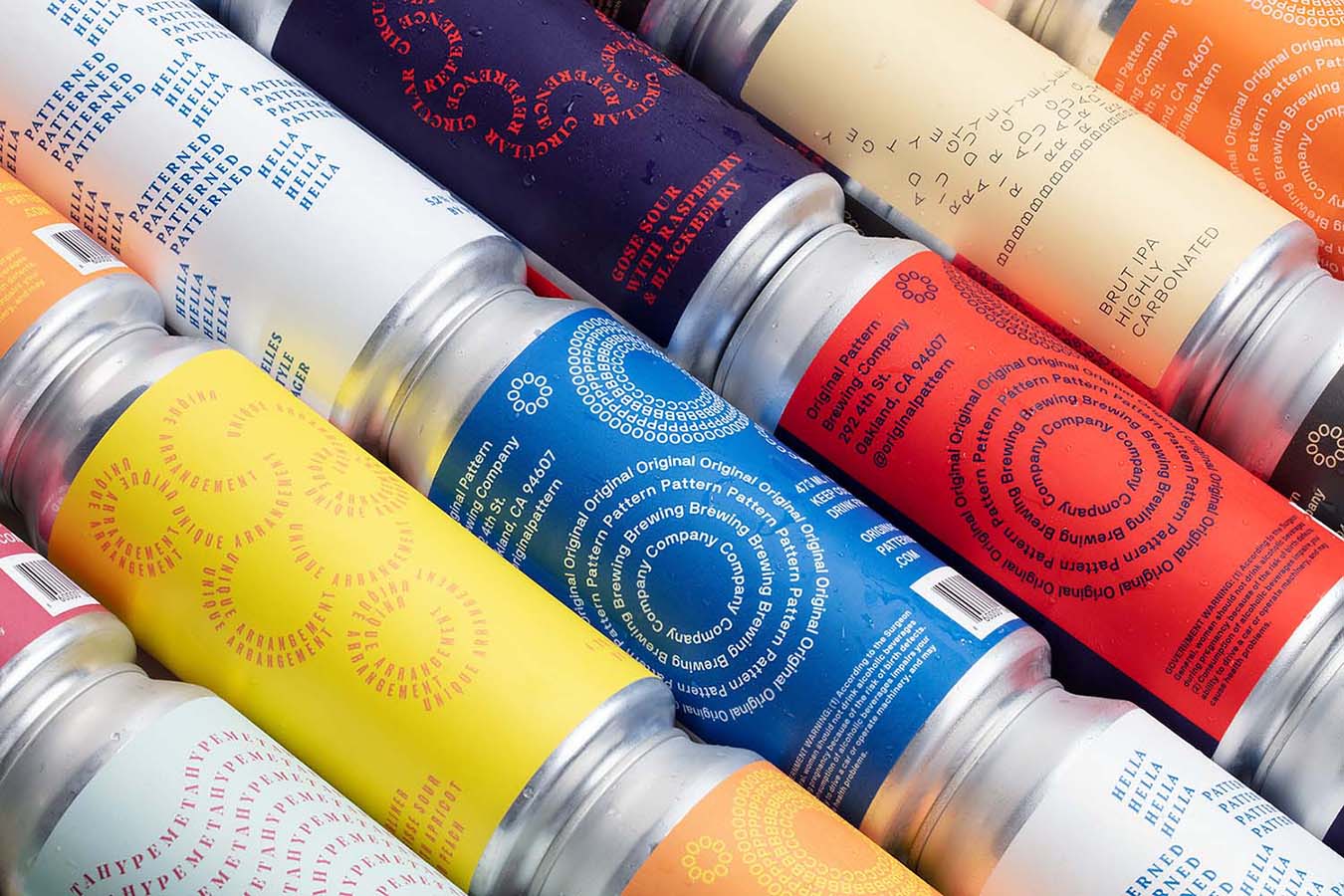 Original Pattern Brewing, Idaho Situation.
Another new one on our radar this last 12 months, Oakland's Original Pattern Brewing. And what a branding job from San Francisco studio, Play. (Incidentally, there's a great case study on the project here.) In a brazen move that sets the brewery miles apart from many others, Play have taken an entirely typographical approach to Original Pattern's overall design language; all from cans through merchandise to brewery signage embracing a swarm of type, spinning, tumbling and scaling.
Each can split equally between the uniformed house brand and the individual release's unique text treatment, Play have built in both a strong identity and room for experimentation; June's hazy IPA release, Idaho Situation, was our pick of the bunch for its holographic stock and woozy typography.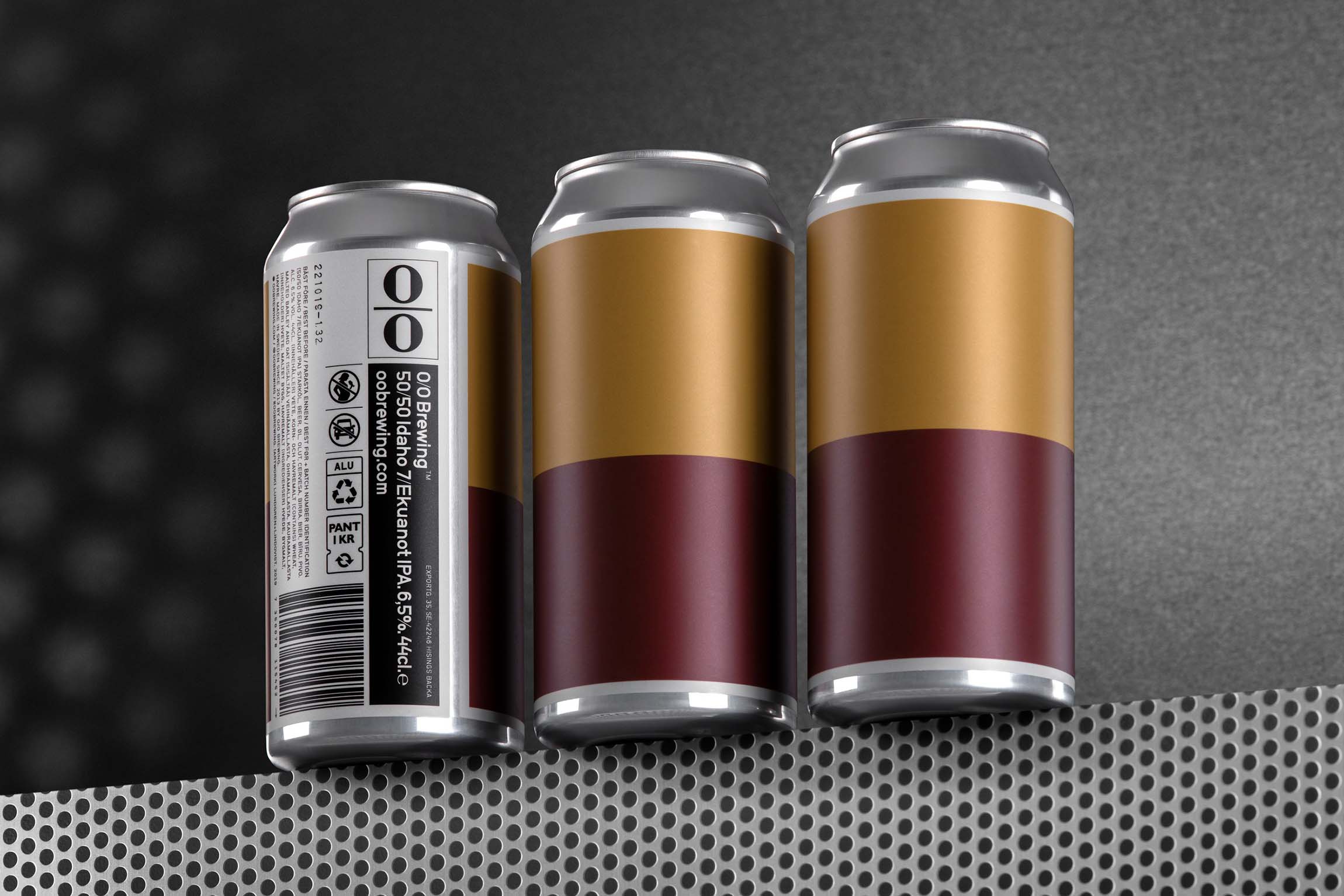 O/O Brewing, 50/50 Series.
From one strong branding job to another, this time Swedish studio Lundgren+Lindqvist updating their own work for O/O Brewing's ongoing 50/50 series, which——as the name suggests——pairs two hops in each release of the same recipe. Assigning each hop its own colour, this new design system is as wonderfully minimal as the Gothenburg brewery's signature series.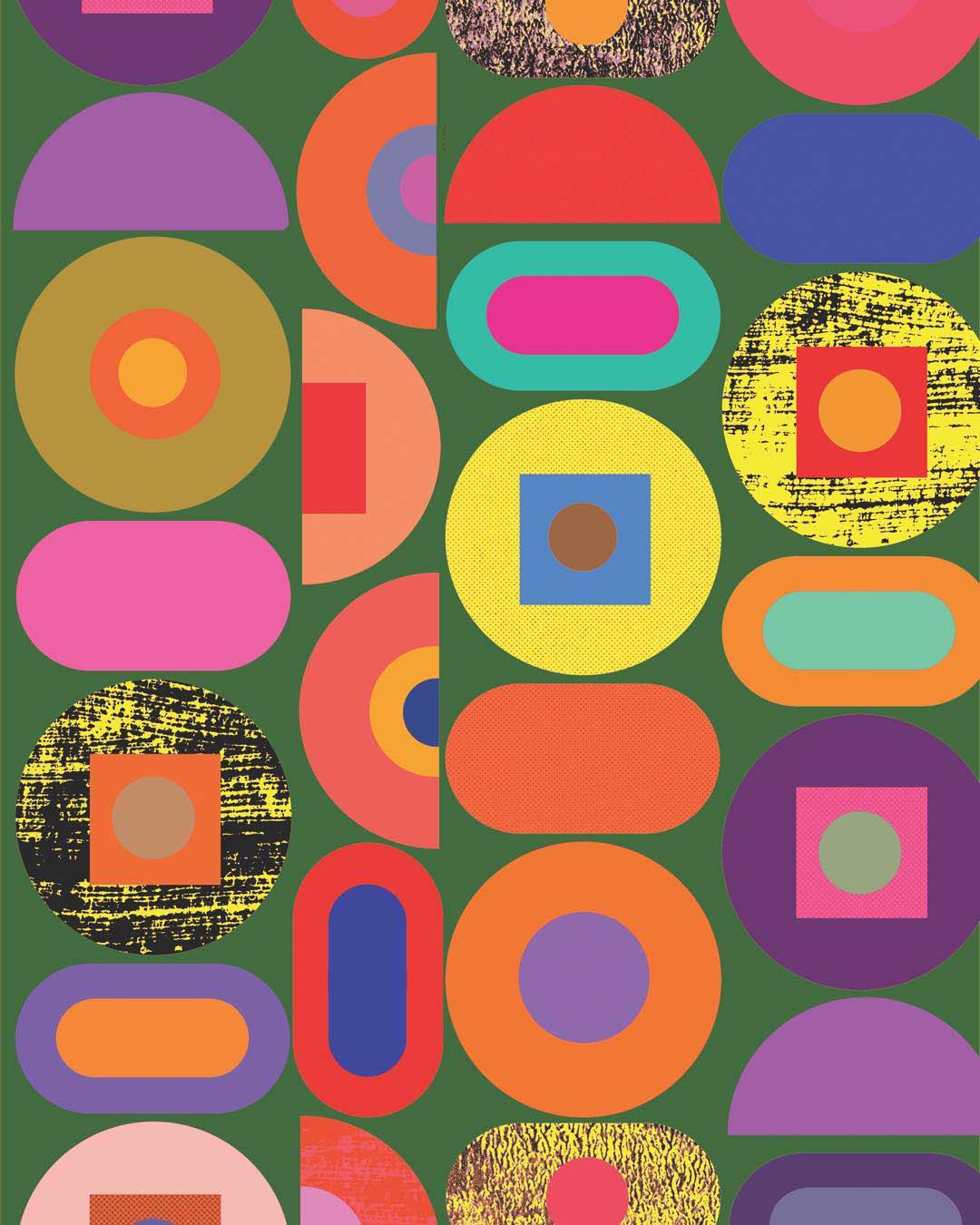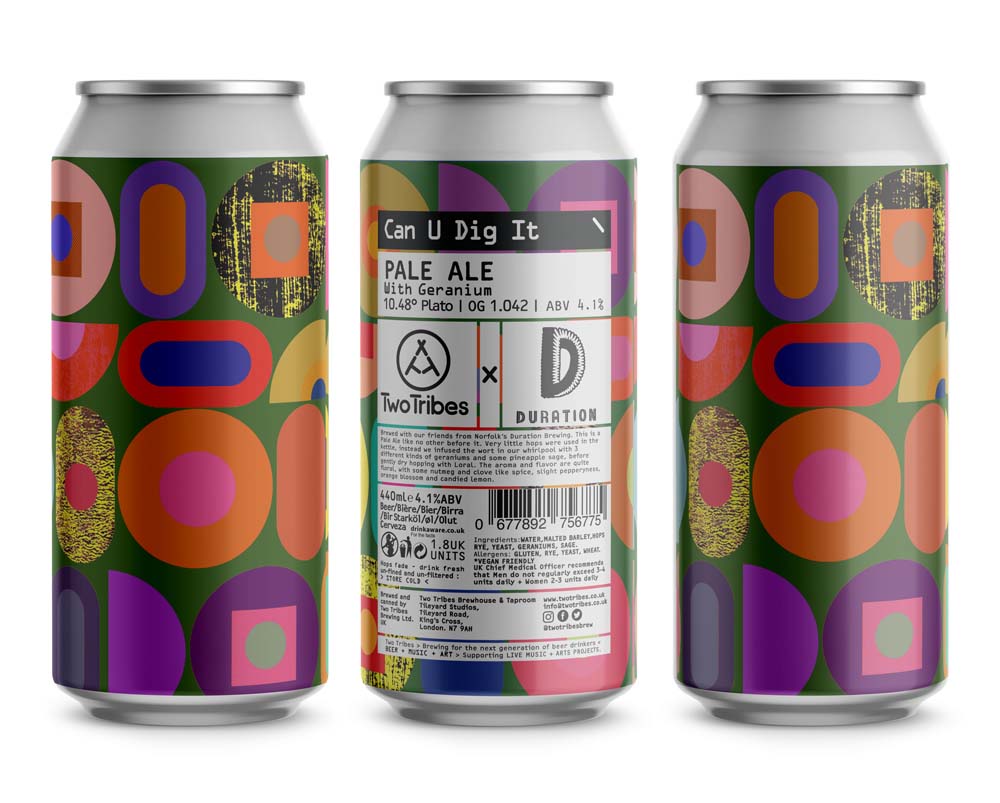 Two Tribes x Duration, Can U Dig It?
DJ, producer and multimedia artist, Leo Zero, is the man behind the aesthetic of London brewery, Two Tribes, and this pop art pattern for Duration collaboration, Can U Dig It?, was one of many hits for the multitalented creative throughout 2019.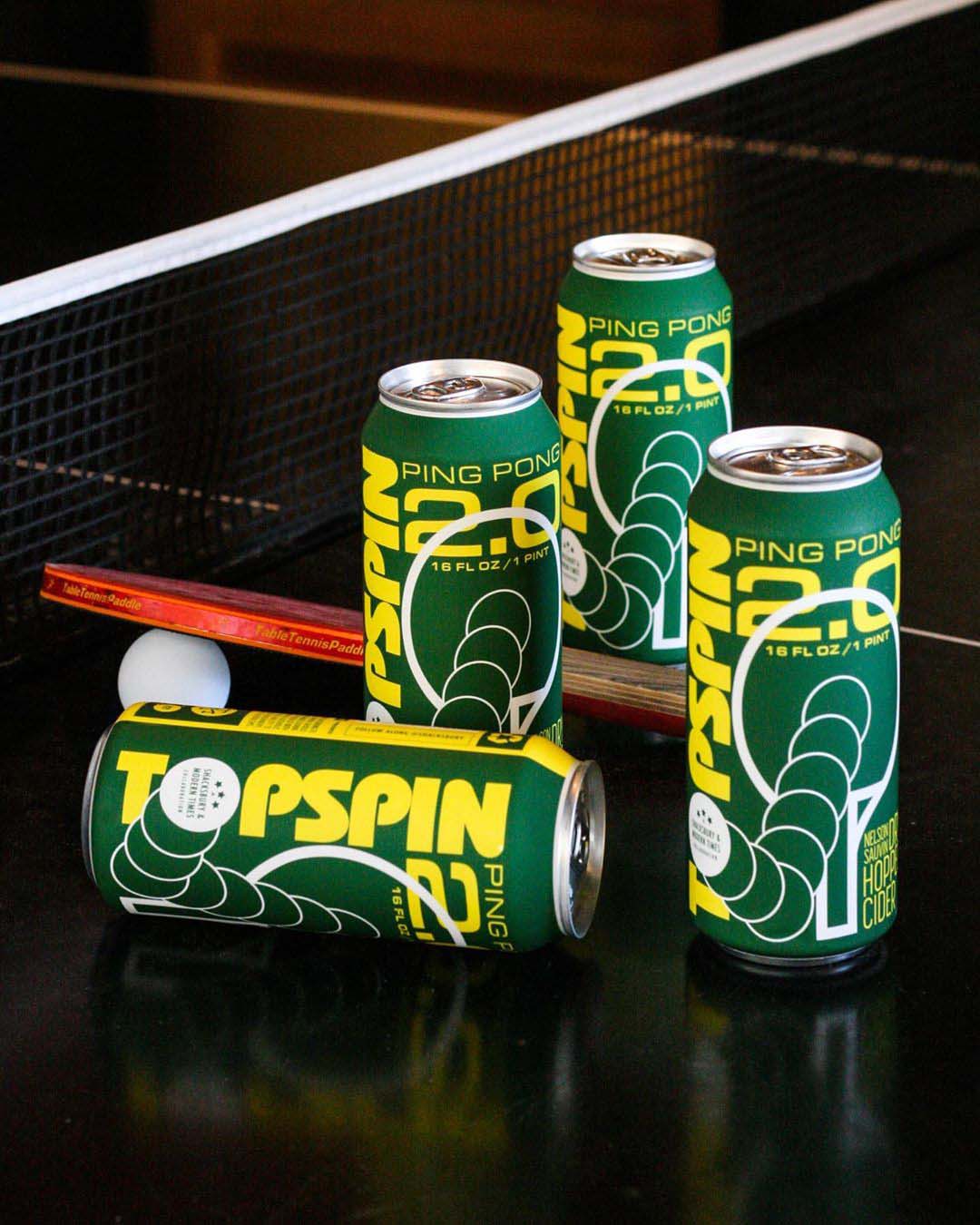 Shacksbury Cider x Modern Times Beer, Topspin Ping Pong 2.0.
Vermont's Shacksbury Cider lined up alongside San Diego's renowned Modern Times Beer for this recent collaboration; designers Sasso & Co. serving an ace with its bold graphical artwork. Coming off as a cross between a tube of tennis balls and an ode to the iconic 1970s Atari game, Topspin Ping Pong 2.0 beat its bottle shop competition game, set and match.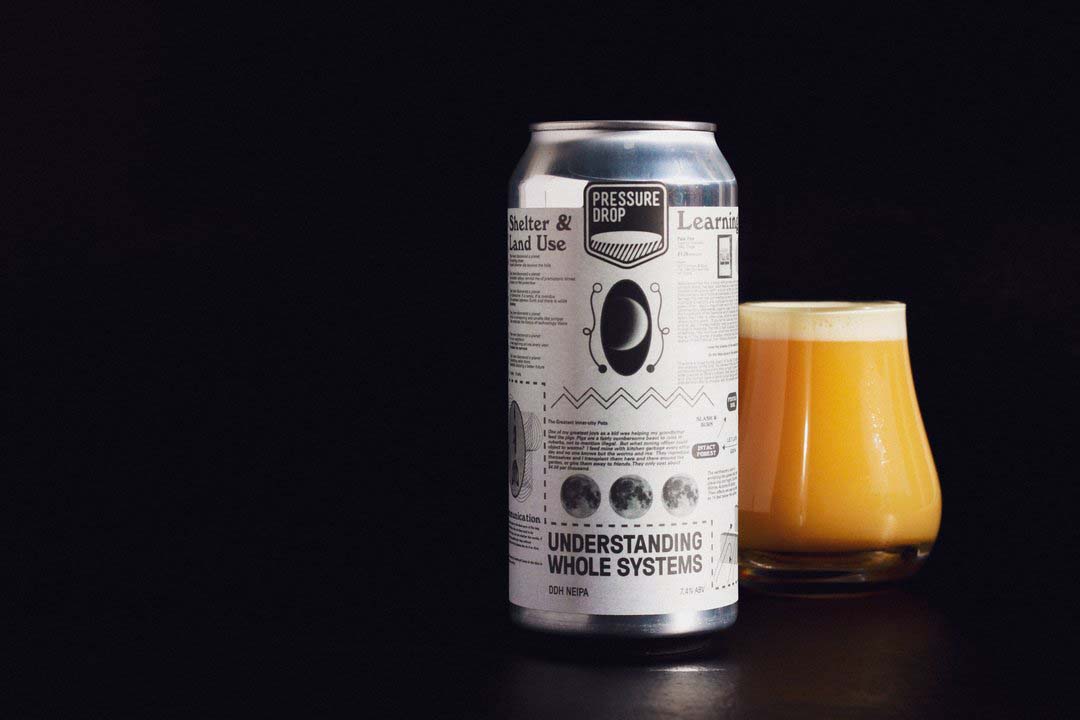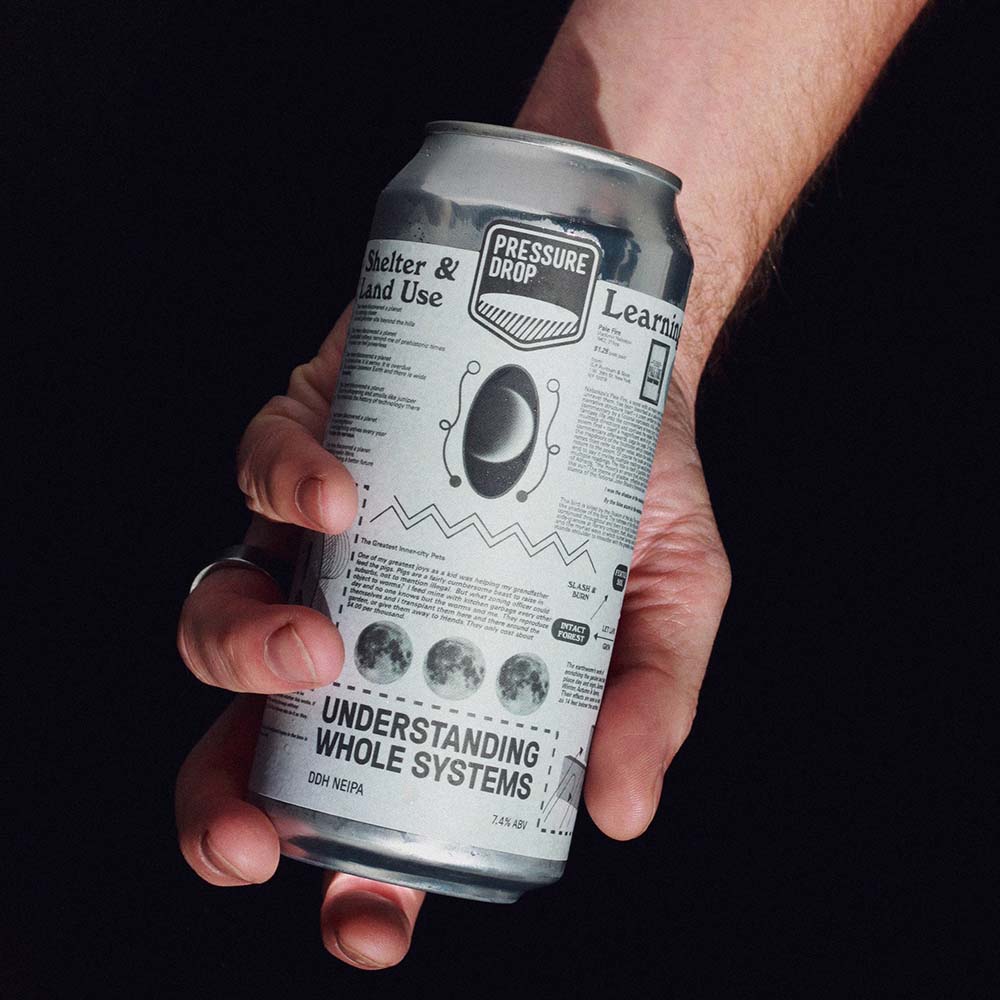 Pressure Drop, Understanding Whole Systems.
Tottenham brewery Pressure Drop's top-and-tail can design template allows them a wealth of freedom with their label art, something they revelled in throughout the year. This, though, was a standout for its capacity to conjure curiosity. Apparently showcasing entries from their own catalogue, the brewery implored us to 'methodically blow our minds' with this September release, quite how anyone can get scientific after a 7.2% NEIPA, though, is beyond us.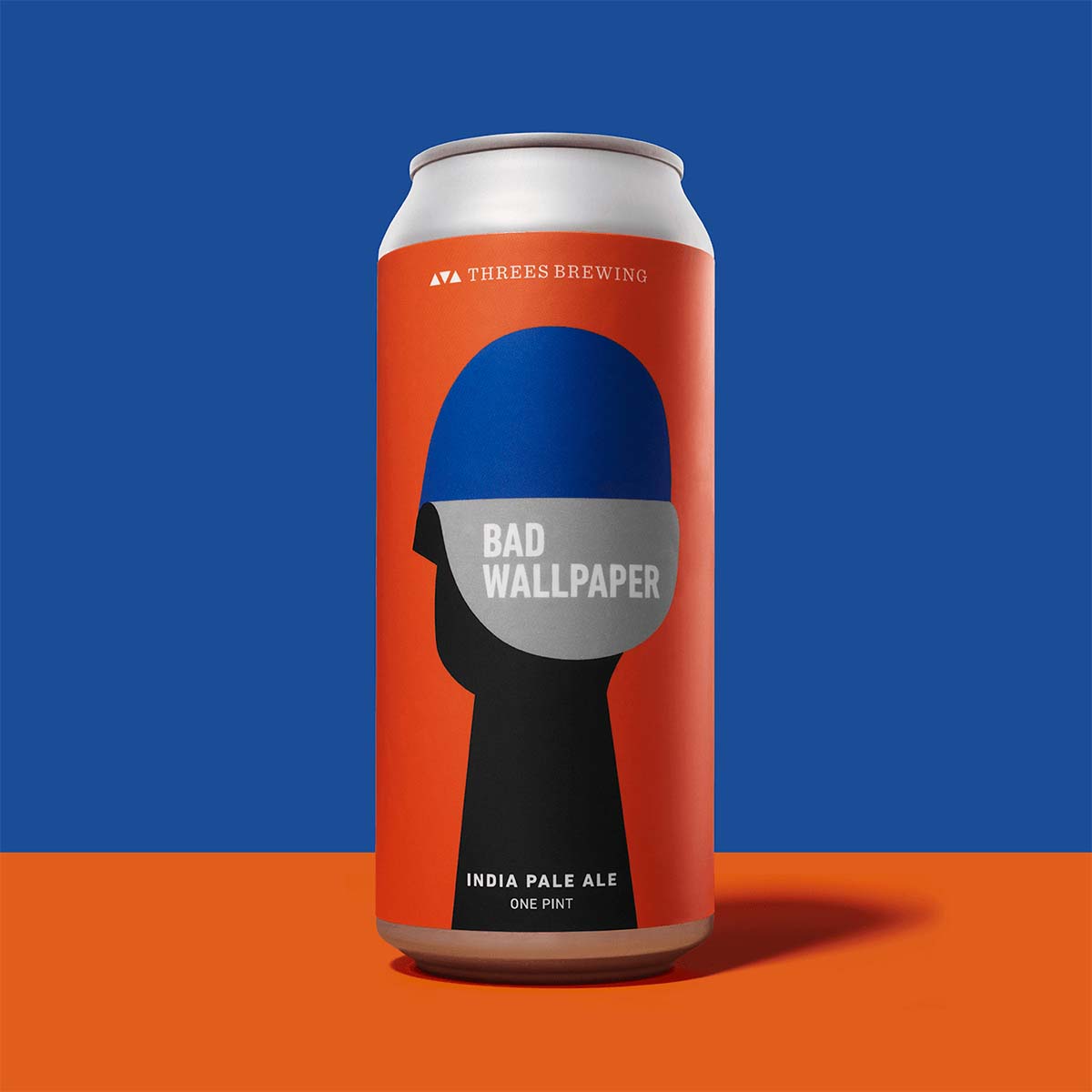 Threes Brewing, Bad Wallpaper.
Yard NYC were the agency behind Threes Brewing's quirky visual language, and illustrator Dan Lindsey——inspired by Cold War-era Polish posters——was the man responsible for this Hitchcockesque label that was impossible to ignore.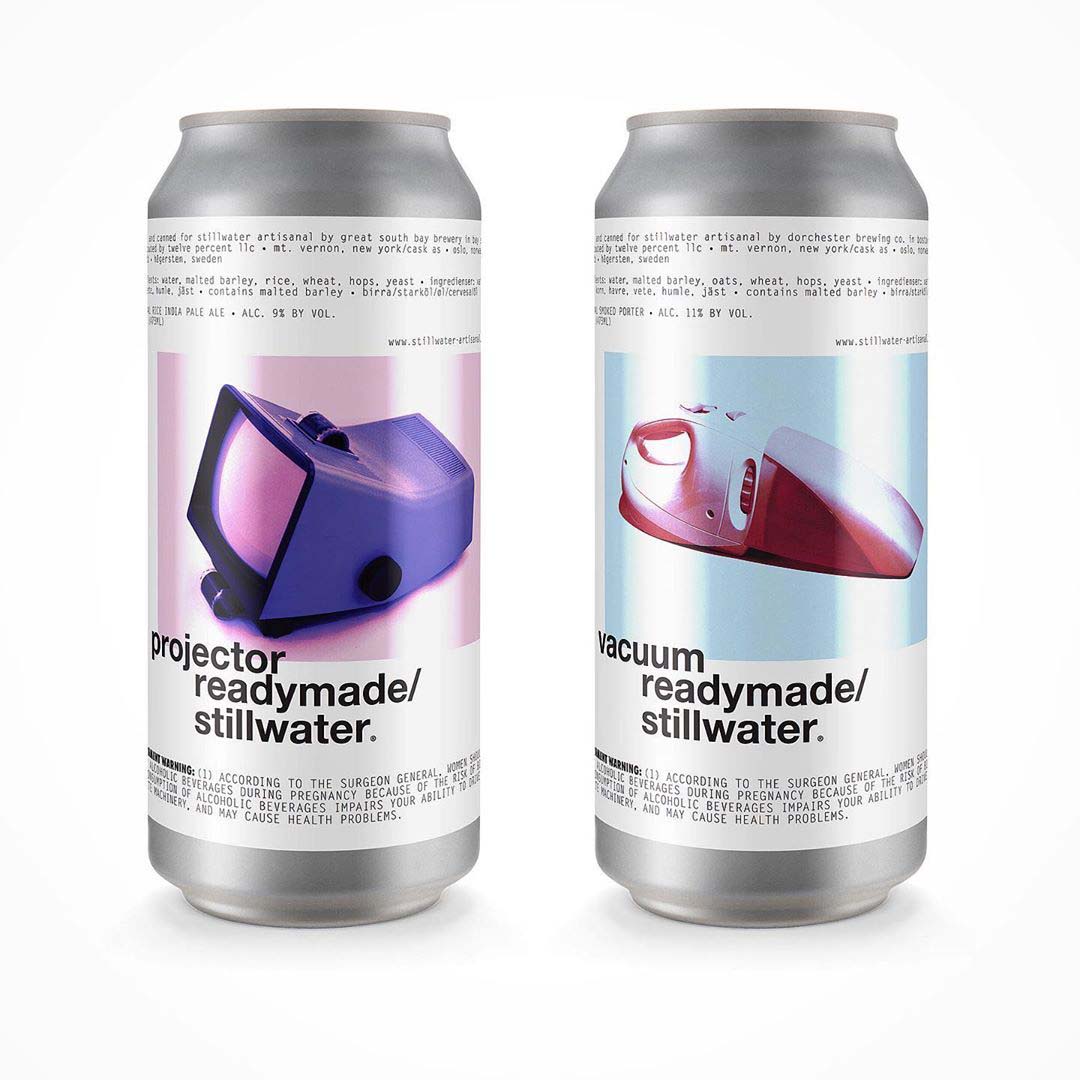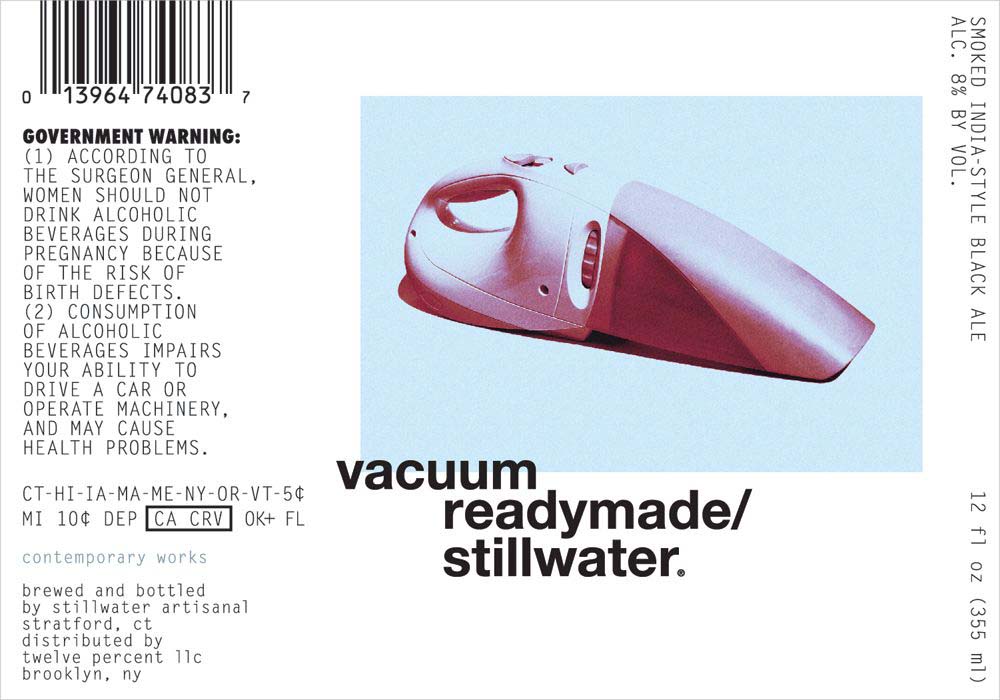 Stillwater Artisanal, Readymade: Vacuum.
Informed by the oxymoronic nature of a black IPA, Stillwater looked to retro Braun promo materials and Alfred Stieglitz's famous photograph of Duchamp's uncompromising readymade, Fountain, to further complicate this paradox. One for the fine art students.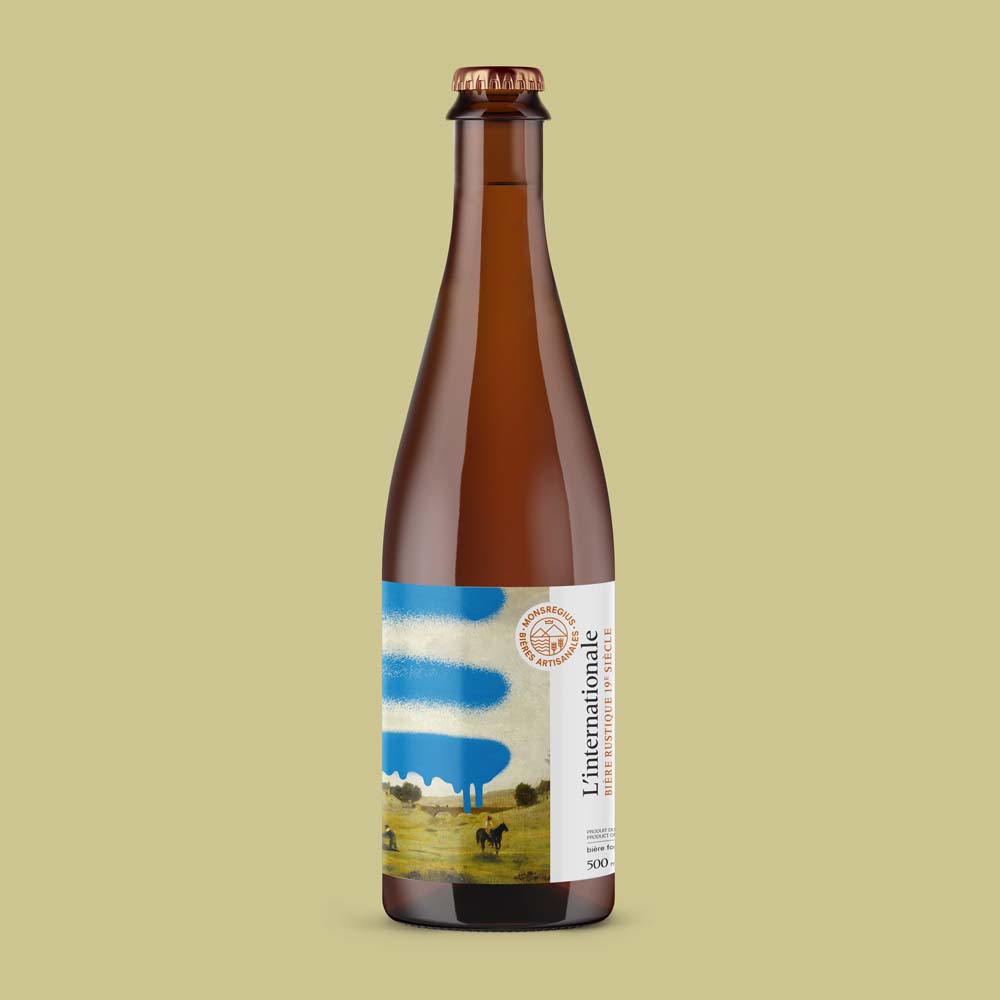 MonsRegius, L'internationale.
MonsRegius is a family-owned craft brewery from Quebec, and Martin L'Allier takes on the roles of brewer, co-owner and designer; the designer and beermaker dedicated to sophistication and classical essence, with a smattering of contemporary style. That fusion of old and new is best epitomised in L'internationale, a mixed-fermentation brewed in the spirit of 19th Century rustic beers, where the calm of L'Allier's clean and classic design is broken by the unexpected chaos of street art attitude.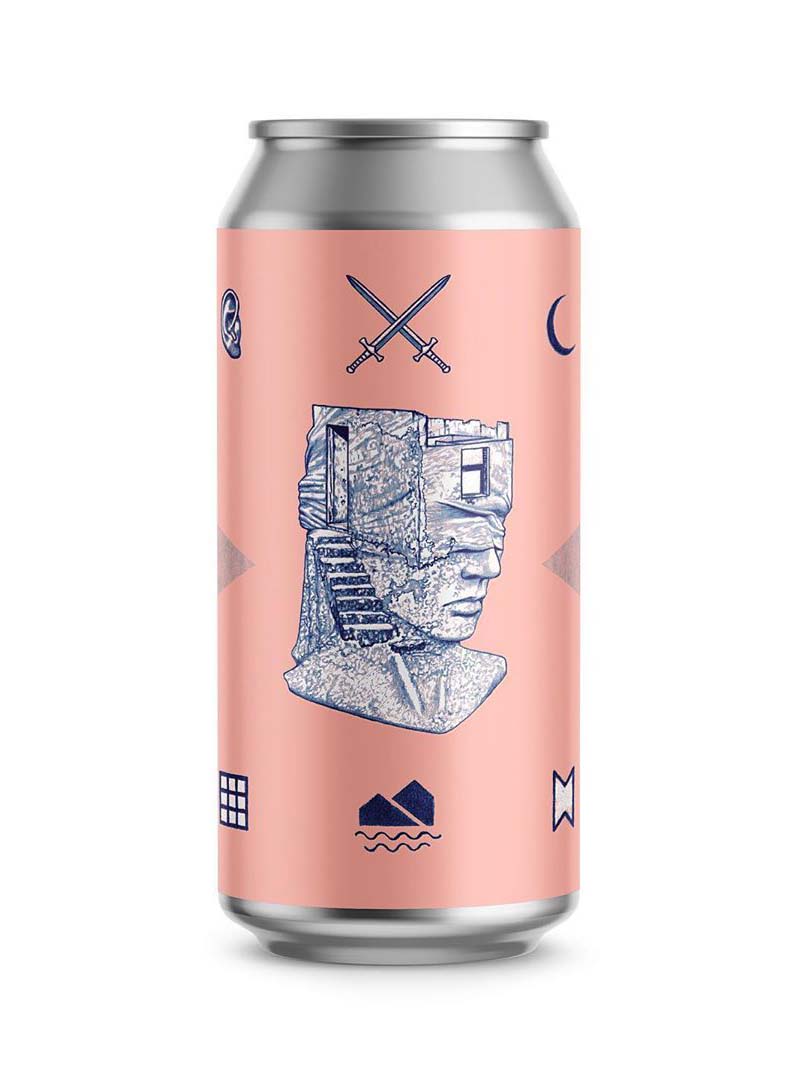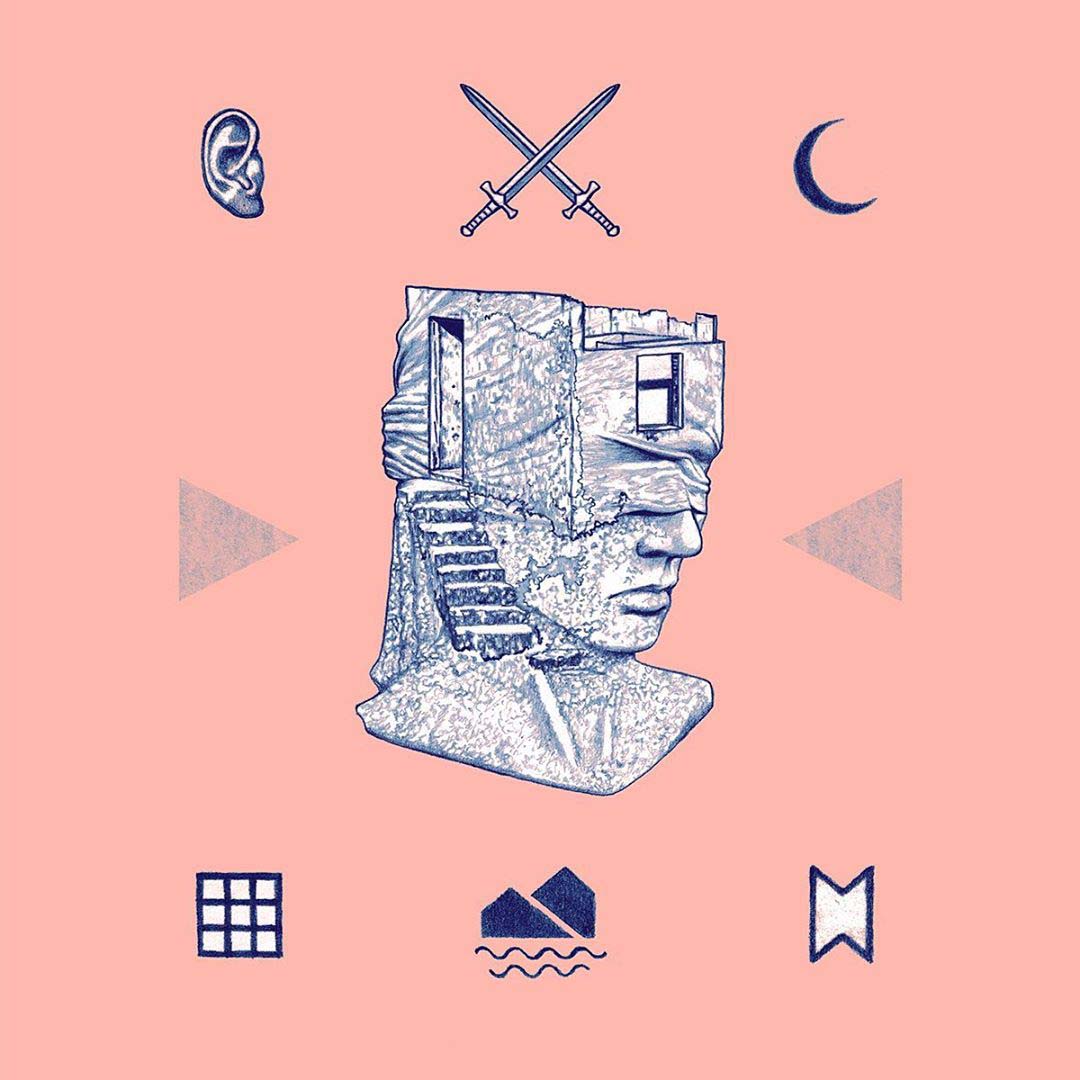 Wild Card Brewery x People Like Us, Demi Peche.
Inspired by cards from the Rider-Waite tarot deck, James Hayes' artwork for Wild Card's collaboration with People Like Us brings a mystical close to this roundup of 2019's best craft beer artwork, yet gives us a glimpse into the future; the Irish artist revealing that this is the first in a series of special edition artworks for forthcoming Wild Card brews.