In the post-silver service age, when the world's top chefs sought approval from foraging text books over Michelin stars, focus slowly shifted from the French tyre company's lauded guidebook to The World's 50 Best Restaurants. Of course creativity should exist free from subjective ratings, yet when names like El Bulli, The Fat Duck, The French Laundry and later, Noma (whose third star has long evaded them for lack of caring to conform), began to dominate that list, the culinary world took note. The World's 50 Best became a reference point for boundary-pushing in international kitchens.
In 2017, William Reed Business Media——the company behind the 50 Best Restaurants——took over from Drinks International in the management of The World's 50 Best Bars; a similar celebration of the best of the international drinks industry, now in its 11th year. Of course one doesn't typically stray far from the fantastical cocktail creations of the world's leading mixologists when setting foot in a bar of such high esteem, but craft beer is in considerable flux. Breweries are today looking to the innovation of the best restaurants for inspiration; they are employing strict sustainability programmes; driving the industry in new directions.
Bars are a place of solace, a place to be inspired and to experience. They have witnessed intense innovation in mixology over centuries. But, as craft beer moves into a new sphere, should the world's best bars be considering the humble brew as much as they do other beverages? Caña Magazine has appraised the craft beer credentials of the best bars, and the truth is bleak——read on to discover just how much emphasis the world's supposed best bars are placing upon beer. Or not. You might be surprised.
TL;DR: There's a lot of work still to be done.
*The missing bars either don't sell beer or do not share menus online and have yet to respond to our request for information. The list will be updated as and when we know more.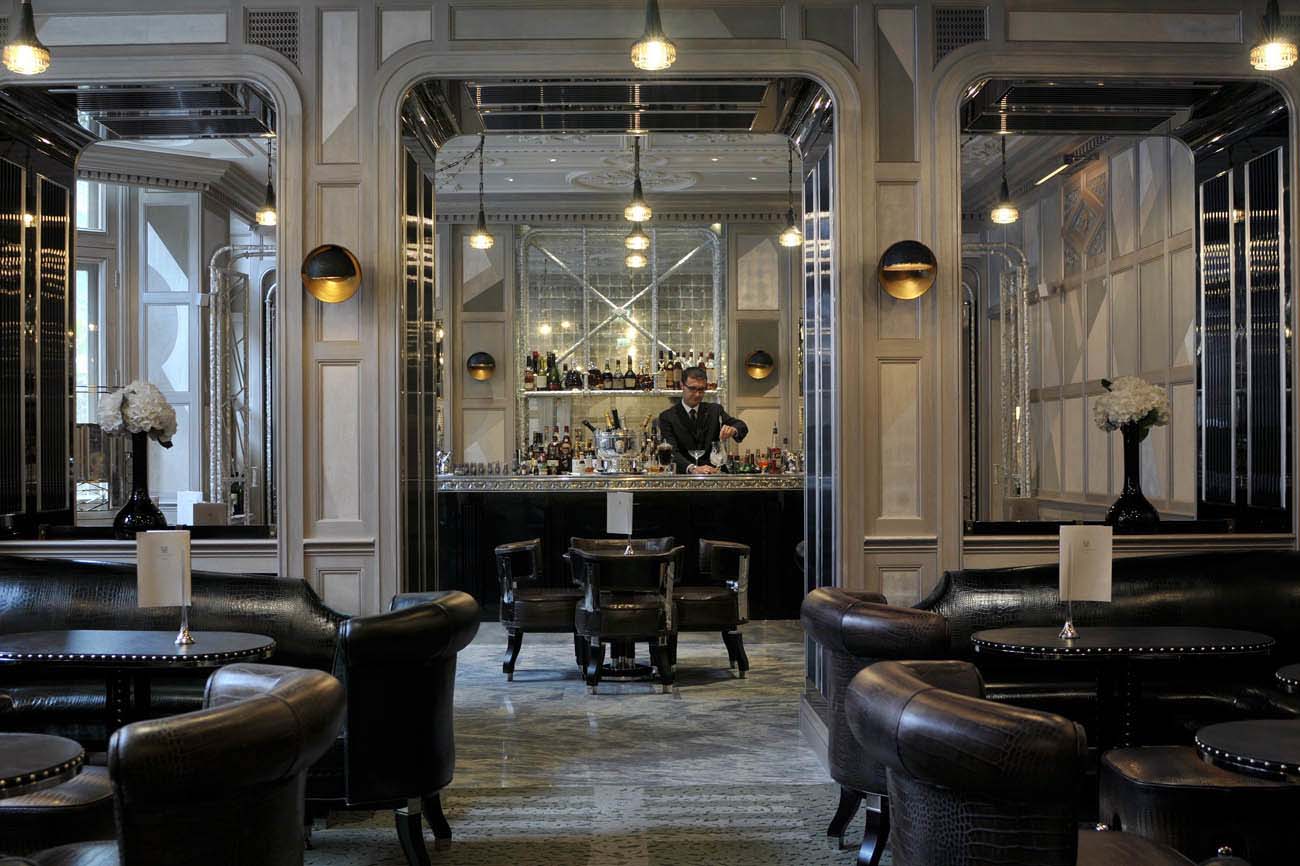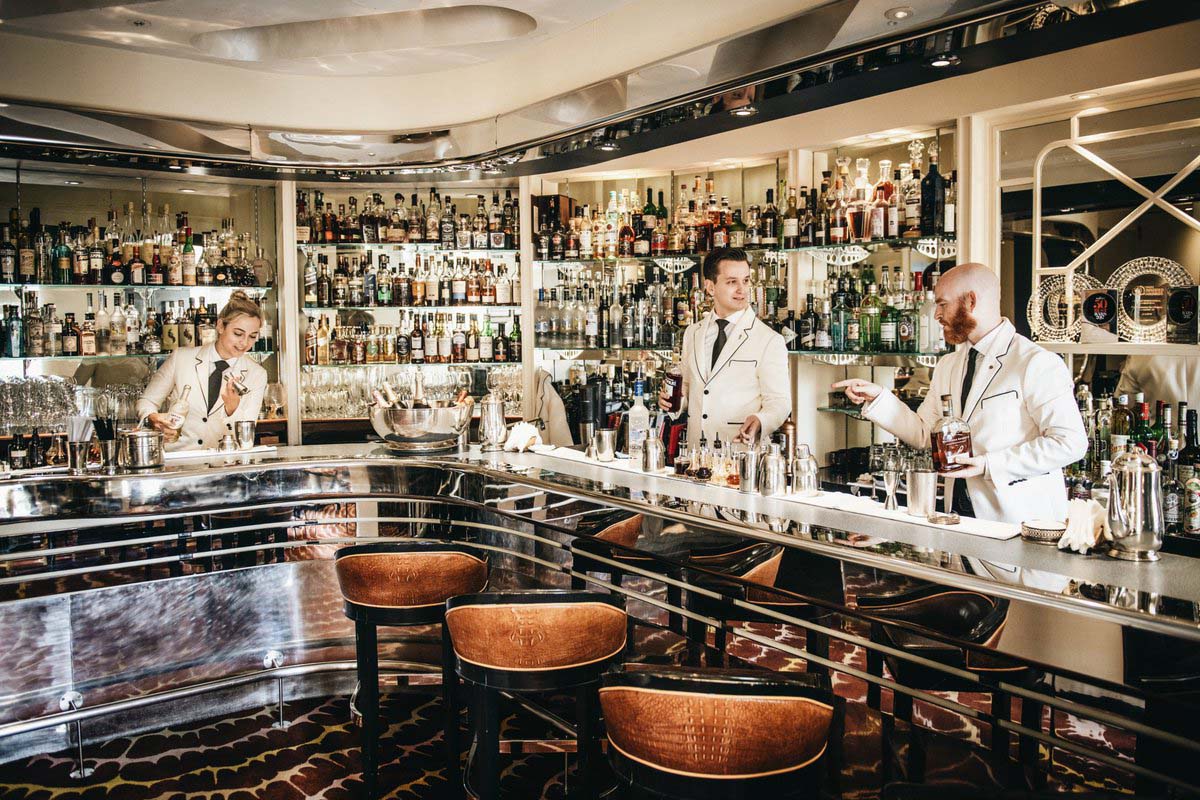 Number Two: Connaught Bar, London
Mayfair. London. The global epicentre of swank. Here one may drop six-and-a-half grand on a bottle of 1998 Pétrus; they may treat themselves to a £600 dram of Suntory Hibiki 30; a Havana Club Maximo Extra Añejo can be picked up for a meagre £350. Naturally, the signature cocktails are where it's at for the London elite——the £21 Bloody Mary is billed by the 50 Best as 'liquid perfection'——but craft beer in the world's second best bar? Think again.
The Connaught's selections are a supermarket pale ale from Iceland's Einstok at £11 a bottle (that's about £9 more than you'd pay in your local grocery store) and Noam, a kind of Bavarian reboot for people who don't like beer; its founder, a brand manager called Daniel Noah Sheikh——who has 'bounced between' London, Milan, Sydney and Berlin——having envisioned his beer as a "post-craft evolution to be served next to a champagne."
Beer selection: Hyper-posh Bavarian Helles for the bottle service crew and an £11 supermarket pale ale.
Number Three: Florería Atlántico, Buenos Aires
The world's third best bar is 2019's South American bar of the year. It is a clash of cultures, a speakeasy with open doors and a diverse clientele. It serves delicately crafted cocktails. And Heineken.
Beer selection: Undrinkable piss.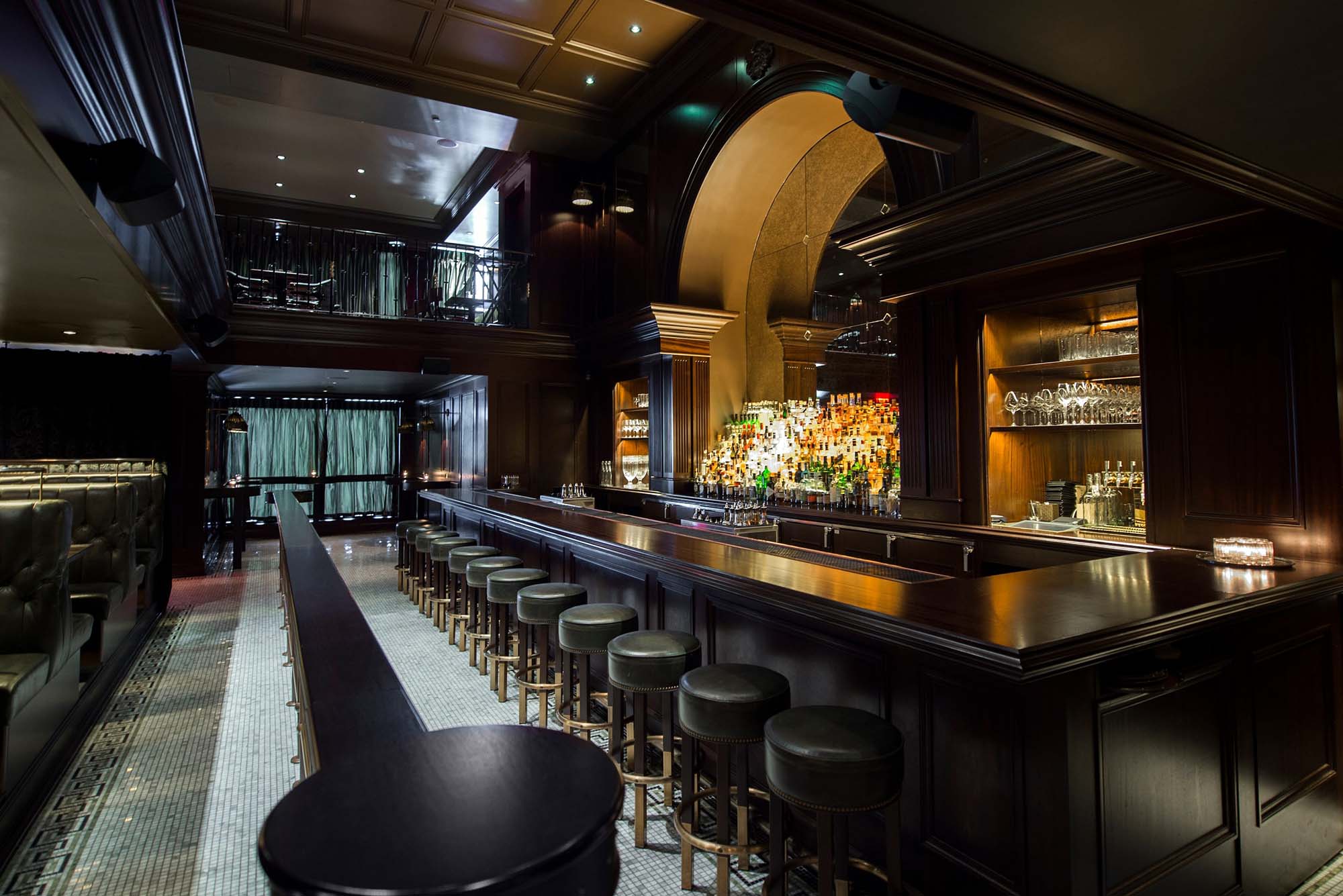 Number Four: The NoMad, New York
The eponymous bar of New York's stellar NoMad Hotel is helmed by chef Daniel Humm and restaurateur Will Guidara of three Michelin-starred Eleven Madison Park; a former winner of the World's 50 Best Restaurants. So it's good. Like, very good. It goes without saying that you can spend the same amount on a bottle of wine as a brand new family car, and you can burn $190 on a single glass of châteauneuf-du-pape ("I'm fine like wine when I start to rap"), but Humm's forward-thinking approach means beer has not been overlooked; draught beers come from names like Finback, Hudson Valley and Evil Twin. There's a selection of Goose Island reserve bottles on hand, as well as offerings from Oxbow Brewing Company, Five Boroughs Brewing Co., and a special collaboration with Brooklyn Brewery.
Beer selection: A decent option coming from local, national and international craft breweries.
Number Five: American Bar at The Savoy Hotel, London
Some bars need no introduction. 30 years old, home to some of time's most acclaimed bartenders and the classics they created. A piano bar as much as a cocktail bar, the latest menu celebrates favourites from chief pianist Jon Nickoll's repertoire. Number 12 on that list is face-palmingly 'inspired' by Amy Winehouse's Rehab, and is the only sniff of hops and barley you're likely to find here; 'Go Go Go' including an IPA among ingredients such as Patrón Silver Tequila, avocado and kumquat.
Beer selection: Find your IPA muddled with avocado and kumquat.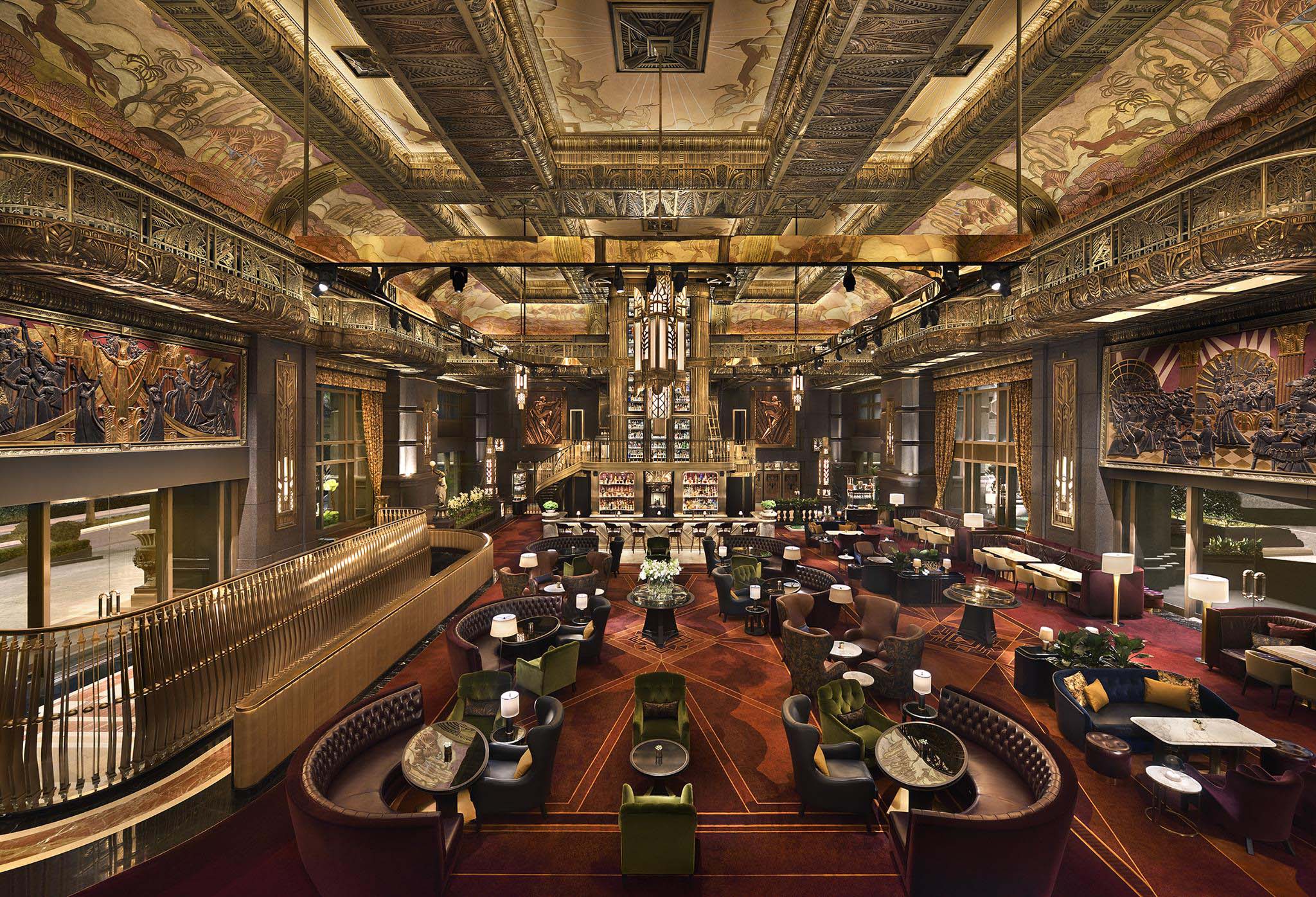 Number Eight: Atlas, Singapore
Designed to mimic a grand hotel with Great Gatsby feels, this is a bar on a monumental scale; a project of a billionaire property magnate who has watched too many old films. With 1,300 different labels on offer, its gin library is perhaps the world's most extensive. It's beer offering is not. Expect to pay some £12 for a Weihenstephaner, more for a Westmalle Tripel. "Beer, if drunk with moderation, softens the temper, cheers the spirit, and promotes health," runs the Thomas Jefferson quote at the bottom of a short selection topped by Pilsner Urquell on tap. If Atlas is the only bar you're drinking in, moderation should be easy.
Beer selection: Overpriced European standards.
Number 11: Manhattan, Singapore
Inspired by moments through Manhattan history, from the 1860s to 2000s, this bar at Singapore's Regent Hotel recalls the Golden Age of cocktails; the prohibition; swing and '70s hedonism. There are communal punches mixed table-side on a classic drinks trolley, and cocktails aged in oak barrels. There is also a cardinal sin in the shape of San Miguel.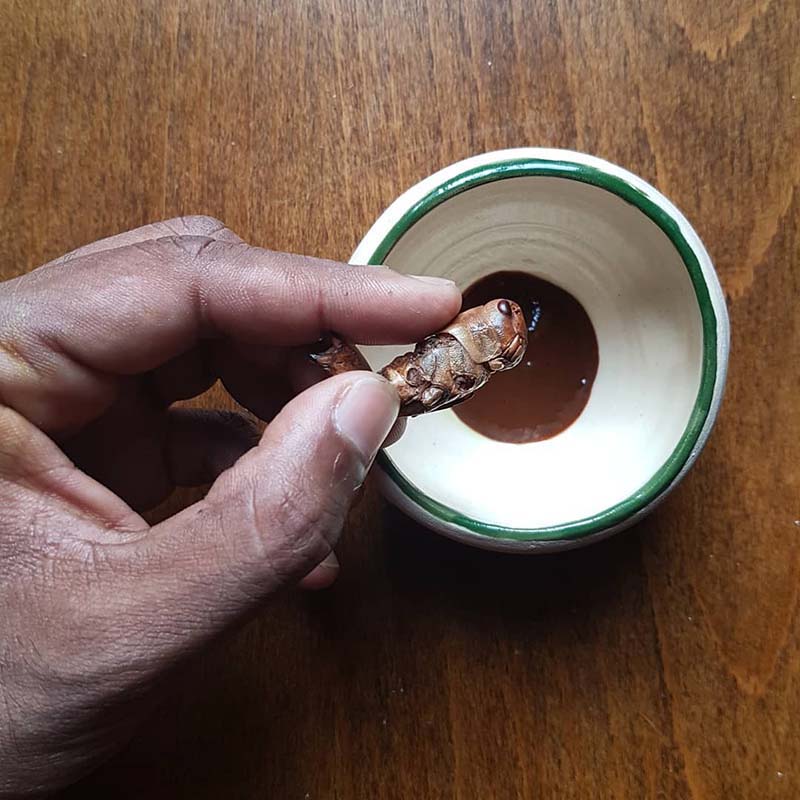 A Hitachino Nest at £10 perks the petite list up a smidgen, but the best offering is a bog-standard Stone IPA that's probably well past its best. Another lamentable example of how little 'the world's best bars' think of craft beer.
Beer selection: Basic at best.
Number 12: Native, Singapore
The headlines for the world's 12th best bar will surely go to its cocktail, Antz; Thai rum with crunchy ants and foraged, locally-grown pink jasmine blossoms prepared in a rotary evaporator. That Native are looking to the insect kingdom and foraging (10% of their ingredients are so) tells you a little of what you should know about their worthy commitment to sustainability; there is also an in-house compost and mini-garden, and no fresh citrus is used to avoid waste.
The good news is their forward-thinking also extends to beer——one such example being Crust, a locally-brewed pale ale using leftover bread cuts from bakeries in Singapore. Then there's the IPA, Binjai Brew, a story which began when three friends began brewing in their university pantry; other local selections come from breweries such as That Singapore Beer Project and Daryl's Urban Ales.
Beer selection: A well-considered showcase of Singaporean craft beer.
Number 13: Carnaval, Lima
Flying in at 13 and snatching the 'highest new entry' award is a bar true to its name; Carnaval is a place of experience, attention to detail, and good times. Cups are made by Peruvian artists, there is an ice room where an ice chef designs each of the bar's 20 types of ice, and some cocktails have even been made in collaboration with Virgilio Martínez; the chef-owner of Lima's Central (a regular top tenner in the 50 Best Restaurants) and London's Lima, the first Peruvian restaurant to be awarded a Michelin star in Europe. Things stay close to home on the beer side, too, with the country's leading craft brewery, Cervecería Barbarian, supplying the goods.
Beer selection: Keeping things local with Peru's leading craft brewery.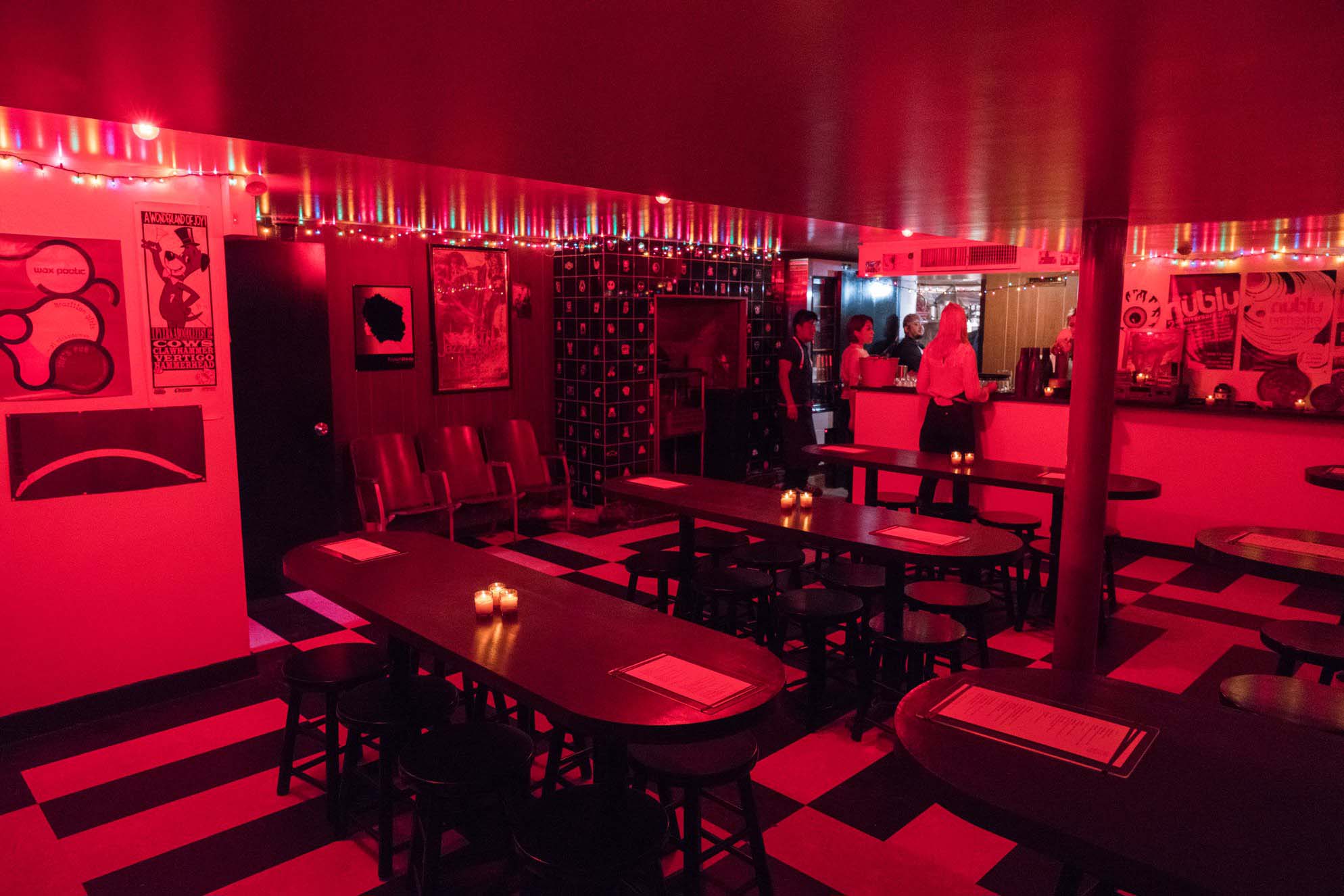 Number 14: Katana Kitten, New York
Masahiro Urushido's Japanese-inspired American dive bar might not be as 'divey' as that billing suggests, but it's certainly the most approachable yet. And there's Other Half on draught. It's not an extensive list, but with other offerings coming from Sixpoint, Anderson Valley, and Japanese craft breweries Far Yeast Brewing Company and Sekinoichi Shuzo, it's also far from the worst.
Beer selection: Other Half on tap.
Number 15: Guilhotina, São Paulo
It is unpretentious, fun-loving and heralded as one of Brazil's finest bars, yet the beer at São Paulo's Guilhotina leaves a lot to be desired. A two-beer list——namely one IPA from the city's Blondine and our good old green-bottled friend from Amsterdam——frankly picks itself.
Beer selection: One local IPA is all any sane beer drinker would choose.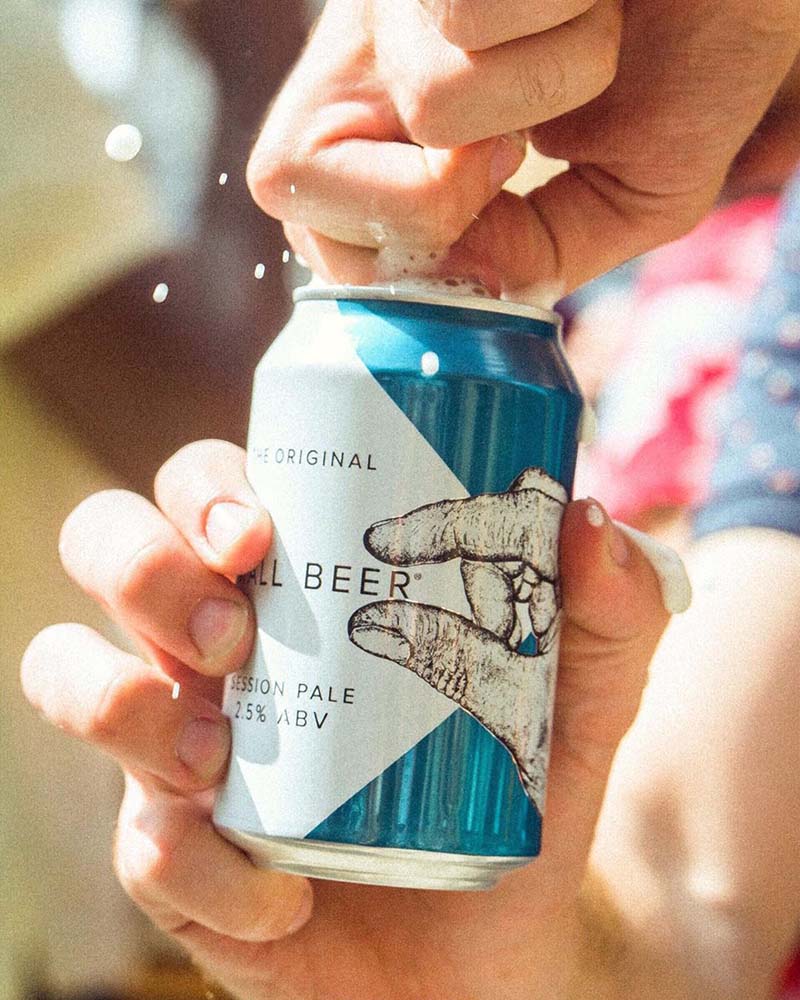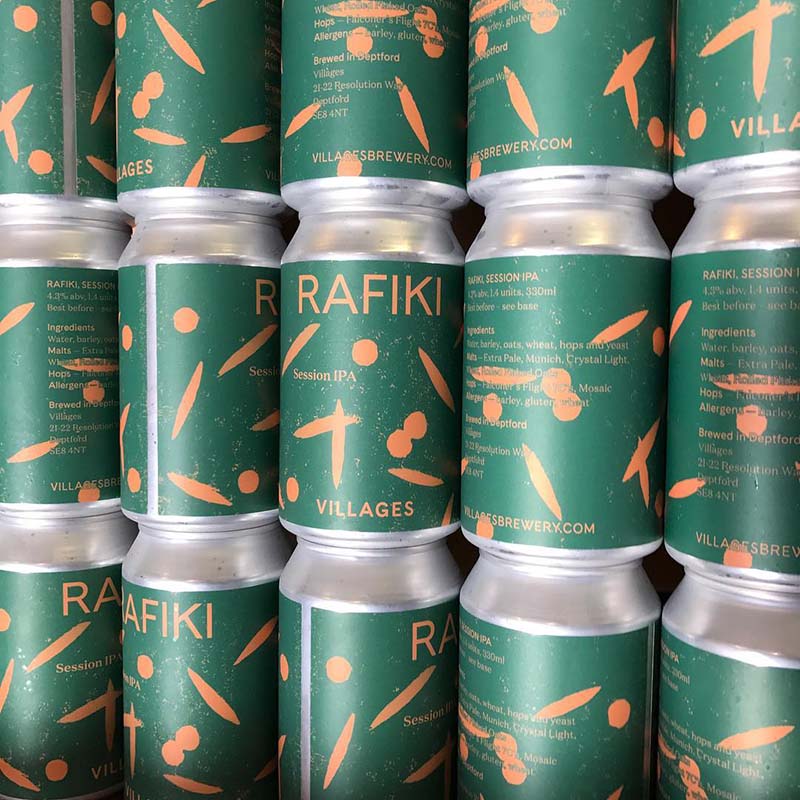 Number 16: Three Sheets, London
Bar names that imply getting drunk are fun, aren't they? Ordering their celebrated cocktail list simply by measure of strength (one sheet, two sheets, three), the unassuming aesthetic at Max and Noel Venning's East London bar is equally as minimalistic. So too their beer selection, which, albeit small, has some favourable options. There's a straight-up lager from Thornbridge, alongside local craft beers from Deptford's Villages and low-ABV brewery, Small Beer Brew Co.
Beer selection: Minimal but considered.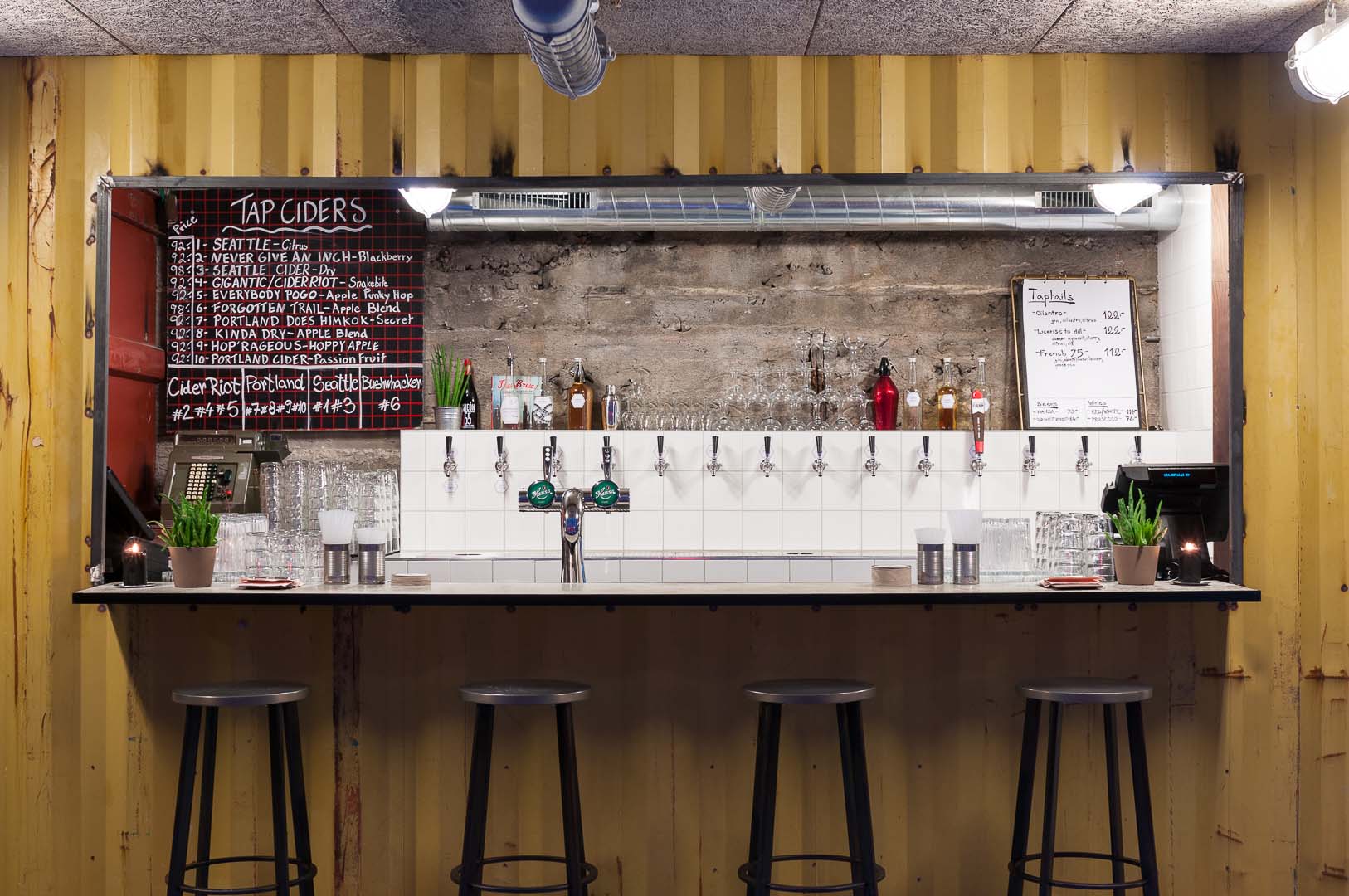 Number 17: Himkok, Oslo
Impressive in size and its dedication to the culture of contemporary drinking, Oslo's Himkok is an unmissable spot at the forefront of craft spirits; nearly 80% of all spirits used here are made in-house at a tiny distillery. With small bars throughout the building, one even occupying a barbershop upstairs, craft beer is most definitely not overlooked at this downtown institution; the esteemed Lervig, Norwegian farmhouse brewers, Lindheim Ølkompani, and Oslo brewpub, Crow bar & bryggeri, keeping the craft flowing.
Beer selection: First-rate Norwegian craft beer.
Number 22: The Dead Rabbit, New York
Perhaps the only of the World's 50 Best Bars where you should drink a Guinness. Redefining the traditional Irish pub, owners Jack McGarry and Sean Muldoon have won countless accolades for The Dead Rabbit since arriving from the Emerald Isle over six years ago. McGarry having been celebrated as 'bartender of the year', top-notch cocktails are inevitably the order of the day, especially so upstairs in The Parlour; although the no-airs-and-graces Taproom does have an OK selection of beer, including the bar's own Irish red.
Beer selection: It's all about 'New York's best Guinness'.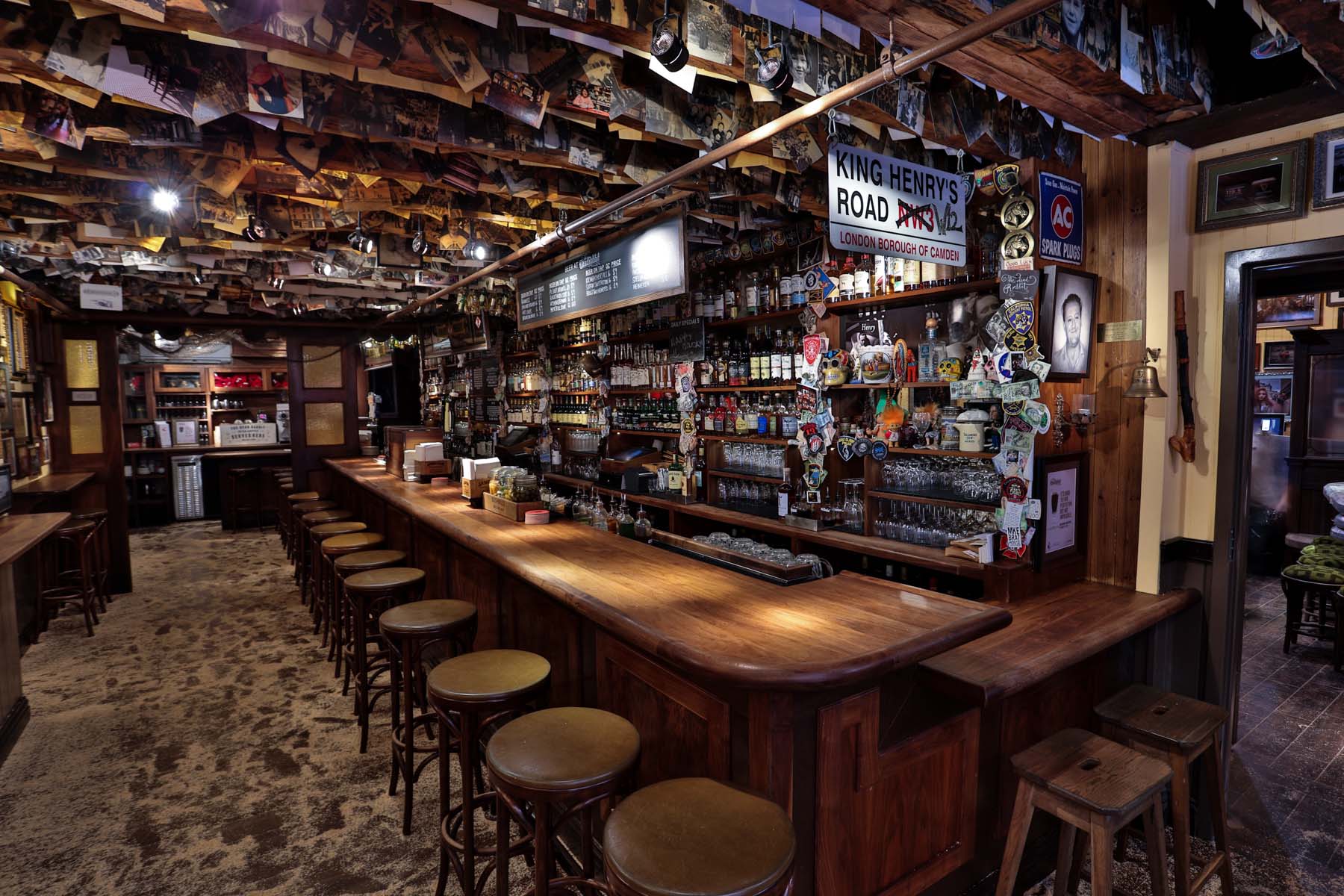 Number 28: Scout, London
The world's 28th best bar has East London written all over it. Literally. It's creative basement space, Gold Tooth, has a dive bar feel with scrawling on the walls and regular gallery nights with local artists. Upstairs, acclaimed bartender Matt Whiley has conceived menus with a conscious sustainable approach; zero waste food, foraged ingredients and house-made ferments. And they even have their own craft beer, The Inkspot Brewery ("two friends brewing beer in a barn") creating a range that includes a black lager, IPA and low-ABV brew.
Beer selection: Their own in-house craft beer range produced in collaboration with London's The Inkspot Brewery.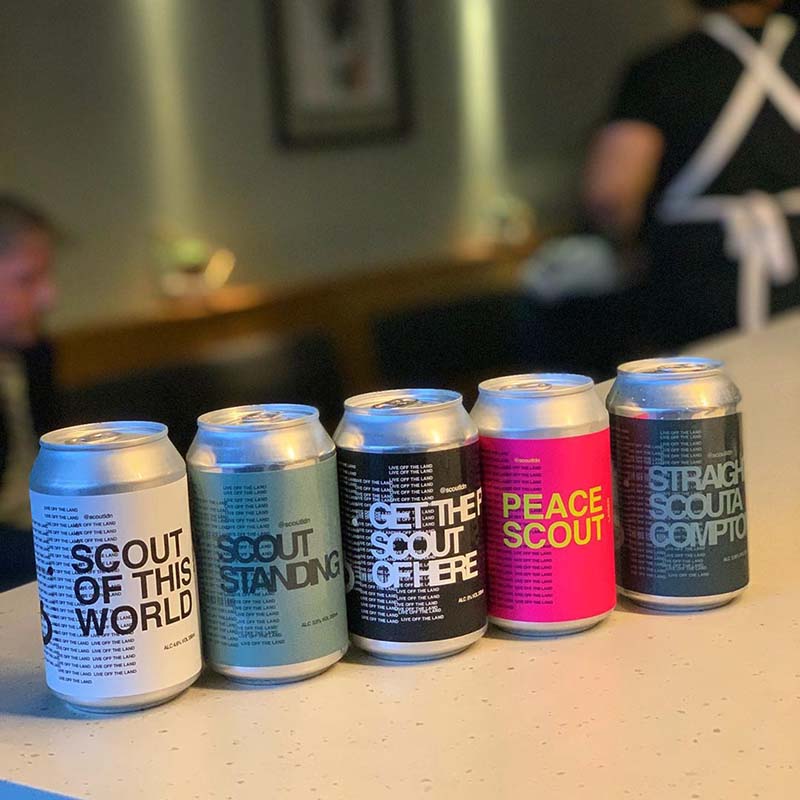 Number 30: Operation Dagger, Singapore
Another bar pushing things pleasingly far, Operation Dagger has a house-fermented natural wine programme using ingredients such as cabbage, beetroot or rhubarb instead of the traditional grapes, whilst cocktails have a culinary edge; the Oyster Ice Cream a concoction of fino sherry, house-distilled matcha, citrus cream, and matcha sherbet topped with oyster leaf, the plant world's salty answer to bivalves. Beer is craft——a small selection from Singapore's Trouble Brewing——but far from as forward-thinking as the rest.
Beer selection: Minimal offering from one local craft brewery.
Number 31: Baba Au Rum, Athens
We have a complex rum Negroni topped with grated tonka bean; bergamot paired with tomato water, lemon and orange flower aromas; a punch in honour of Dadaist icon, Marcel Duchamp; and a cocktail that somehow brings together toasted almonds, marzipan, Disaronno, vanilla with tomato-molasses, and Jamaican rum. And then there's Budweiser Budvar. There's Greek craft beer from breweries Blame The Sun, Noble Men, and Kirki, but little as avant garde as their cocktails.
Beer selection: Slim pickings from Greek craft breweries.
Number 37: Tjoget, Stockholm
Here we go, a multi-use space that comprises a dining room, cocktail bar, wine bodega, and its own 'beer café'——we simply must be onto something here … 'cept the world's 37th best bar, in the city Omnipollo call home, serves "excellent beer served Czech style from tankovna." Which means unpasteurised Pilsner Urquell.
Beer selection: Unpasteurised Pilsner Urquell.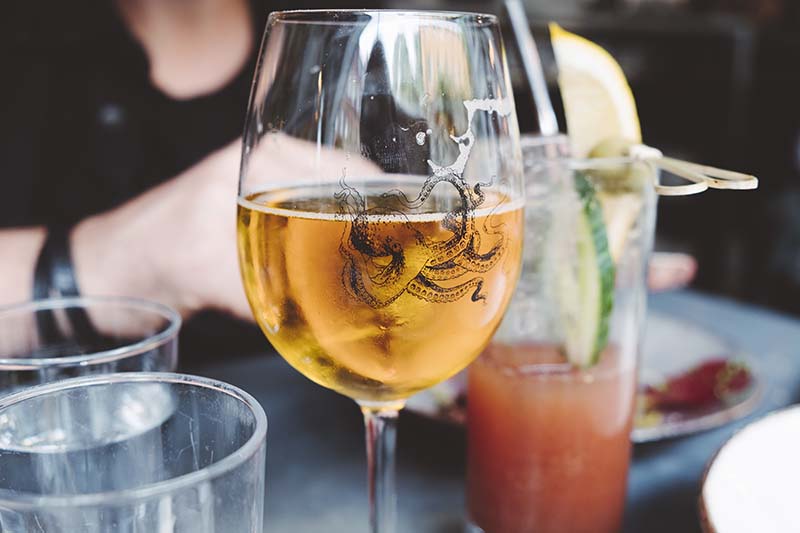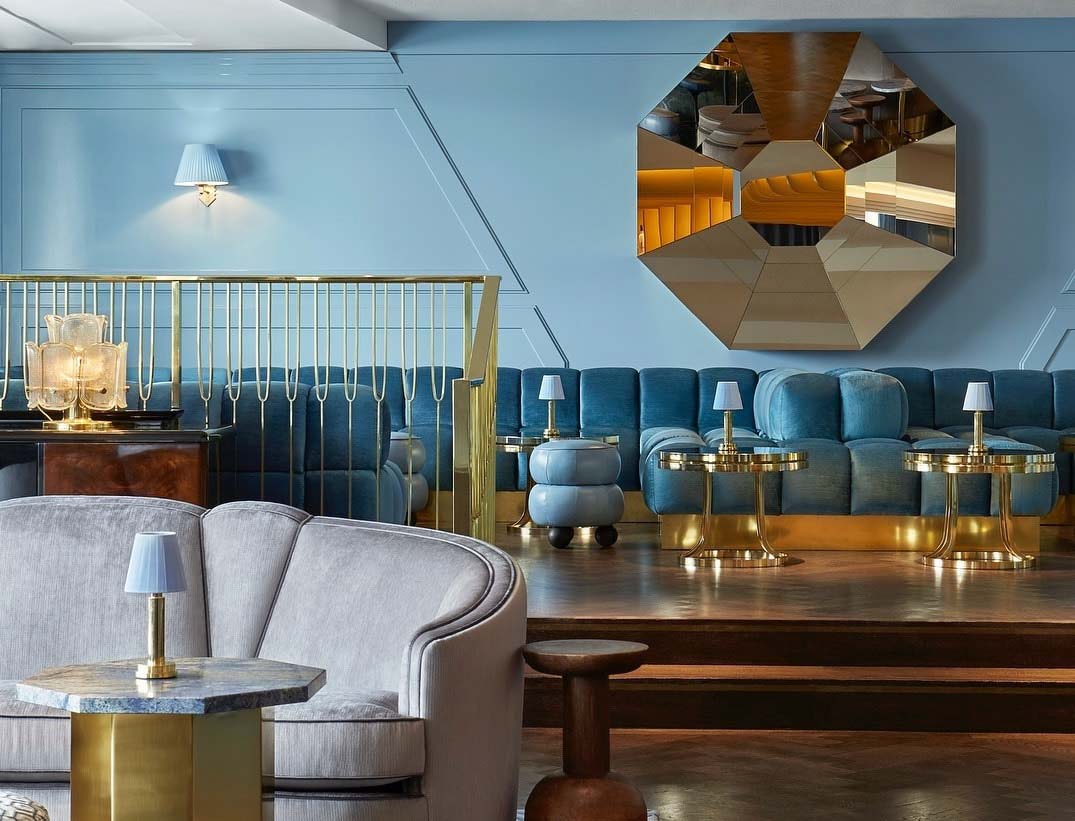 Number 39: Lyaness, London
Ryan Chetiyawardana——aka Mr Lyan——has wrote new rules in the bartending business. After his Dandelyan won first place in the World's 50 Best Bars last year, he closed it; opening Lyaness before taking his innovative approach to mixology out to Amsterdam's Super Lyan in the same year. Alongside revered zero waste chef, Doug McMaster, Chetiyawardana opened sustainable restaurant cum cocktail bar, Cub, in 2017, and Silver Lyan, his first US bar, is set to open soon. However. His appreciation of beer seems somewhat limited. The beer list at Lyaness looks like a bar attempting to enter the foray of craft beer. There's Magic Rock's Salty Kiss, Wild Beer's Millionaire, Siren's Yulu. And fucking Heineken. Again.
Beer selection: D+, "I've heard about some British craft breweries but don't really know much about them."
Number 43: Maybe Sammy, Sydney
The Best Bar in Australasia. A place where speciality coffee has been respected as a peer to speciality cocktails. A place of old world glamour and style. A place where the draught beer options are two brews from Little Creatures, the Western Australia brewery controlled by Lion (and, at large, Kirin Holdings Company Limited), the company who acquired a 100% stake in Magic Rock earlier this year.
Beer selection: Australian faux-craft.
Number 46: Electric Bing Sutt, Beirut
Electric Bing Sutt is a cool-ass looking space; all exposed concrete, open frontage and neon glow. And, whilst one may expect cocktail creations from a globally-awarded mixologist, there's a sense that this Beirut bar exists primarily as a hip hangout spot. Which is nice. No white jackets nor bowties here. Beer at Electric Bing Sutt comes and goes seasonally, and one might expect to find anything from Japan's Far Yeast Brewing to Lebanese microbrewery 961Beer, the latter of which EBS encourage you to consume as part of an infamous South Korean drinking ritual: take a Jinro Soju shot, drop it in your beer, stir with a chopstick for a 'bubble tornado' and, as they say, "BAMMMMM💥, party time." Quite.
Beer selection: South Korean party time.
Number 48: Artesian, London
You're probably not wanted at the Langham Hotel's flagship bar, which might be the reason they've chosen to sell Peroni Nastro Azzurro at £7.50 per 330ml bottle. But then it's more likely that the Italian brewery have brilliant salesmen offering great deals to appear exclusive to folk who know nothing about beer. Whatever the case, you can also enjoy——among throngs of bankers and oligarchs——a Partizan Brewing pale ale or Meantime pilsner for the same price. One of the world's best bars? You rather think this old dog is hanging around because nobody has the heart to put it down.
Beer selection: Beer.